Five Bars Behind Bars—Things You Should Know About Inmate Text Messages
Sending texts to inmates isn't as simple as texting friends or family on the outside. There are numerous laws and regulations in place that determine when and how you can text or write letters to someone in prison. They vary drastically from state to state, which is why you must familiarize yourself with prison regulations and local laws for texting inmates.
If you want to become pen pals with a prisoner but don't have the first clue about how to contact them—DoNotPay will lend a helping hand. Texting isn't as straightforward as writing letters to inmates, but it's possible with the right tools.
Is It Possible To Text an Inmate?

Some prisons allow inmates to send and receive texts. The prisoners can't use their phone (as the Cell Phone Contraband Act forbids them), but prisons may provide adequate texting devices.
These are called Chirping devices and are rented to the inmates for approximately $4 per month. The prison administration specifies the cost of text messages, and the bill may be covered by the prisoner or a friend or family member from the outside.
The recipient options are limited. Messages between prisoners are forbidden, for example. The prison staff will monitor incoming and outgoing texts for any suspicious activity.
Facilities that don't allow inmates to text directly can offer to relay texts in written form to and from the inmate.
What Should I Do Before Texting an Inmate?
Maintaining contact with a loved one behind bars can be challenging, especially when it comes to sending texts. You can't start texting them without consulting the prison administration first. There are a few issues to address:
Which prison is your loved one located in?

Does the prison allow inmate texting?

How does the inmate receive your texts?

Is texting limited to friends and family?

What are the rules for texting inmates, and what type of content is forbidden?
Your best bet would be to consult the administration or check out their website for information about texting regulations.
DoNotPay Helps You Find Your Incarcerated Loved Ones

To text an inmate or contact them in any way, you need to know their exact location. With numerous correctional facilities and incarcerated individuals, finding the right prison is not always easy.
DoNotPay provides you with a database and search engine to help you find an inmate in no time. Once you open our app in your , you'll be a few steps away from locating your loved one. Here's how it works:
Sign in to DoNotPay

Use the search box to find the

Connect With an Inmate

feature

Choose the

Locate Someone

option

Input as much info as you have, and choose a facility from the matches provided
DoNotPay will find their most current location and give you the option to draft your message.
How Do I Text an Inmate?
There's no universal answer to how you can text an inmate. It depends on the facility they're located in and the laws and regulations of the state. There are a few different scenarios you might run into:
Inmates are provided with devices that they can use to text others

The facility handles messages and relays them to the inmate

No texts are allowed
For the first two options, there is a legal path to contacting your loved one in prison.
How To Send Texts to an Inmate's Device
If the facility provides an inmate with a functional device, you have different avenues of contacting them directly:
Requesting their phone number from the prison administration

Installing a third-party app that can find their number and send direct messages

Asking the prisoner for their phone number
The last two options require that the facility allows the inmate to share their number. Keep in mind that there's no privacy in prison—the staff will monitor every text.
How To Have Your Text Forwarded to an Inmate
Prisons that don't provide chirping devices to inmates might allow you to send them messages indirectly. It's not as instantaneous as texting, but you can be sure that your prison pen pal will receive the message. Here's what you should do to establish contact:
Call the prison administration

Provide identification and find out if you're allowed to send messages to an inmate

Request the inmate's phone number or the number of the individual that forwards the text
Once you're given permission, you can send your texts, and they will be relayed to the prisoner.
What Can't I Send to an Inmate?
There are strict limitations to what you can and can't send to an inmate. Whether it's a text, letter, or package, you have to adhere to these rules, or both of you could get in trouble. Here's an overview of what you mustn't send to an inmate:
| | |
| --- | --- |
| Text or Letter Content | Packages |
| Sexual content | Sharp items |
| Large photos | Contraband |
| Photos of people involved in the inmate's crime | Drugs |
| Non-approved books | Sex toys |
| Laminated cards | Items that could incite violence or help them escape |
| Stickers or decals | OTC medication |
Anything that isn't approved by the jail administration will be confiscated. If what you send is illegal, it may be used as evidence in a criminal investigation.
Use DoNotPay To Send Inmate Text Messages

Staying in contact with a prisoner can be a challenging endeavor. Few prisons allow their inmates to receive direct texts, so you'll often have to settle for letters. You should choose a more convenient option and use DoNotPay to contact an inmate.
With our help, you can send and receive messages as quickly as possible, given the circumstances. We'll even show you how to address your letter to an inmate before you send it.
Once you've found an inmate using our Locate Someone function, it's time to get in touch with them. Our app keeps it simple and straightforward. Follow these steps to contact an inmate:
Navigate to the

Connect With an Inmate

tab

Choose the

Send a Personalized Letter

option

Input the name and ID of the prisoner

Draft your letter and choose whether or not you wish to send a photo

Customize the letter and submit
DoNotPay will make sure the message reaches the inmate. You can also choose to enable inmate replies to your Virtual Mailbox, located under the same category. The inmate's letter will be digitized and available in our app.
Take a Look at Some Other Things DoNotPay Can Do To Help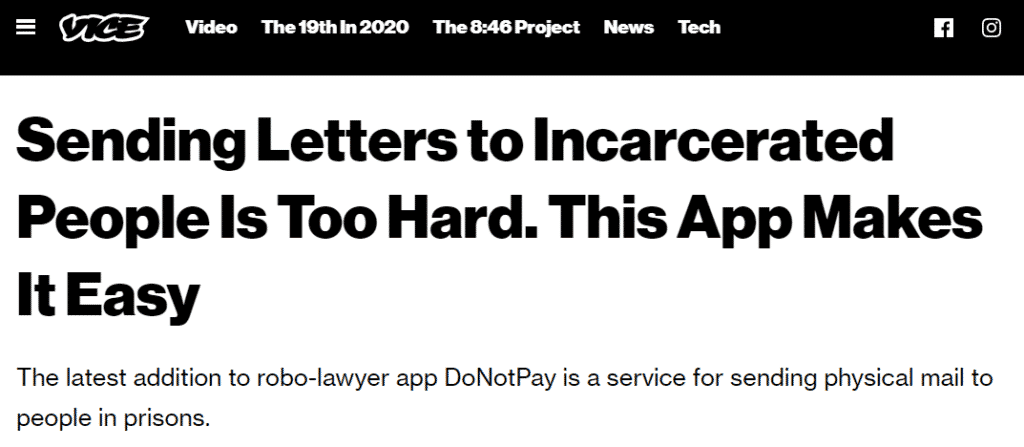 When it comes to staying in contact with prisoners—no app does it better than DoNotPay. Wondering how to get inmate visitation privileges? We'll make it a piece of cake. Want to know when inmates receive mail or how to marry an inmate? DoNotPay has all the answers you need. Use our app to find an inmate in Texas, send them emails, and even get them care packages.
Once you open our app in your , you'll be able to use a variety of DoNotPay's features. Here's a handy list of mundane tasks we'll help you take care of:
Fighting speeding tickets

Disputing traffic tickets