All About Prison Pen Pals in Ohio
The support from family and friends is crucial for getting inmates through their time in prison. When that support is lacking, it's good for prisoners to have a pen pal to chat with and stay connected with life on the outside.
Many websites facilitate finding a prisoner open to having pen pals, but DoNotPay can make the writing and sending letters to inmates go seamlessly.
Who Can Be a Prison Pen Pal?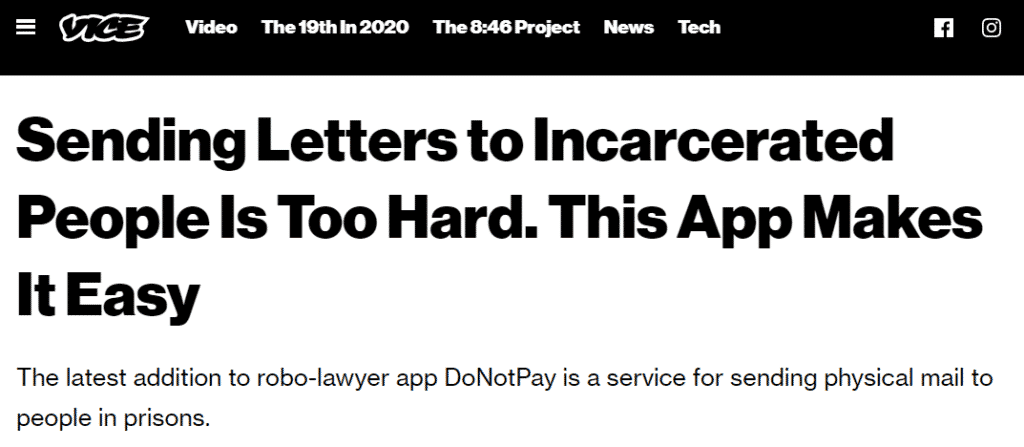 Inmates looking for pen pals seek friendship with someone understanding and non-judgmental. Some prisoners view pen pals as a gateway to the outside world. Pen pals are their motivation to keep going and turn their lives around. Pen pal connections don't have to be this deep—you can be pen pals and share only your day-to-day. There isn't a unified way of doing it.
If you are over 18 years of age, think you have a kind word to share with an inmate, and can follow the inmate mail rules and regulations, then you can be a prison pen pal.
What Are the Benefits of Having a Prison Pen Pal?
According to research, prisoners who have pen pals usually:
Feel accepted

Don't feel isolated

Are less likely to re-offend

Seek educational and job opportunities
The prisoner is not the only one that benefits from this correspondence—the person on the other end also feels a sense of accomplishment for helping someone in need. They could gain a friend, be a mentor to someone, share a laugh, and have fun.
What To Keep in Mind Before Contacting Ohio Prison Pen Pals
You could be sharing your thoughts and feelings and building a genuine friendship with a prison pen pal. No matter how close you get, there are some details you shouldn't share with your pen pal to protect yourself.
If you're not sure about what to share with your pen pal, here are some tips:
What You Should Do
What You Shouldn't Do

Encourage them

Write about your daily life

Share jokes and anecdotes

Discuss what you have in common

Talk about why you chose them as your pen pal

Talk about anything illegal

Mention your family members' names

Reveal your full name, phone number, or address
Aside from being careful to protect your safety, you should follow the prison's mail rules. Every correctional facility is different, so it's best to contact them and check. Some general mail restrictions that are common in most prisons are as follows:
Putting perfume on letters

Sending musical or pop-up cards

Talking badly about the prison or prison staff

Sending hardback books and adult magazines

Using glitter, stickers, colored paper, or colored pens

Adding a polaroid or pictures larger than 4x6 inches
How To Find Prison Pen Pals in Ohio
You don't have to comb through numerous jail websites to find a prison pen pal. There are plenty of websites working together with prisons to connect inmates with potential pen pals:
Depending on the website, you can search inmates by their age, gender, or U.S. state. Typically, you can see their photos, a short bio, their interests, reasons why they're looking for a pen pal, and why they're in jail.
You can write to different inmates and change your mind if you don't want to continue writing to someone. Inmates are also not obligated to write back.
Send Letters to Ohio Prison Pen Pals Using DoNotPay

When you choose an inmate you'd like to be your pen pal, you can also use DoNotPay to exchange letters. DoNotPay is the best tool for writing a prisoner because you:
Don't have to go to the post office

Can include photos with your letters

Don't have to worry about

addressing the letter

correctly

Can write and read letters on your phone, iPad, or computer

Choose different templates to make your letters special (e.g., for holidays and special occasions)
Thanks to our AI-powered technology, sending your letter with DoNotPay is efficient and convenient. All you need to do is open DoNotPay in your and do the following:
Choose the

Connect With an Inmate

feature

Click on

Send a Personalized Letter

Type in the prisoner's full name

Enter their Booking Number

Write your letter
DoNotPay's Virtual Mailbox
DoNotPay allows you to receive your prison pen pal's letters and access them through our virtual mailbox. You can forget about going to the post office, renting a P.O. box, or worrying about the letter getting damaged or arriving late. All of your pen pal's letters will be stored in one place so that you can access them easily and refer to them when you write your response.
Locating a Prisoner With DoNotPay
Another one of DoNotPay's features is locating an inmate. If you happen to forget your pen pal's address or they get transferred, and you don't know where they are—don't despair! DoNotPay can find any inmate in under two minutes.
This is how it works:
Access DoNotPay in your

Select

Connect With an Inmate

Tap on

Locate Someone

Fill in the prisoner's full name and U.S. state

Answer a few questions

Click on

Submit
We'll inform you about your inmate pen pal's current address so that you can go back to communicating with them as soon as possible.
Ideas on What To Talk About With Your Ohio Inmate Pen Pal
Once you break the ice, pass the small talk, and start getting to know your pen pal, you may run out of ideas on what to talk about. DoNotPay can help get you back on track!
Check out our articles on inmate love letters, creative letters, creative mail ideas, and sample letters of encouragement to inmates. These may inspire you to start conversing on new topics, play games, and show your love and support to your prison pen pal.
Other Ways To Contact My Ohio Prison Pen Pal
Written correspondence is not the only way to keep in touch with your pen pal. If you want to, you can also reach out to them by:
Be aware that inmate calling is more complex than it sounds. You cannot call them—they need to call you.
Every prisoner needs to comprise a list of contacts, and their prison has to approve it. There are also designated calling hours, typically from 8 a.m. to 11 p.m. In a letter, you can ramble on for ages, but calls are limited to no more than fifteen or thirty minutes, depending on the correctional facility.
Visiting an inmate is also a serious matter. It would be best to contact the prison they're located in and ask about the visitation rules, the inmate's behavior, and whether it would be risky to come.
DoNotPay Fast-Tracks Your Administrative and Legal Processes

Apart from helping you meet an inmate in various ways, there's so much more we can do for you.
Access DoNotPay in your and count on us if you need help:
Appealing your speeding tickets

Fighting your traffic tickets