How To Write a Prisoner on Death Row—A Complete Guide to Sending Letters to Death Row Offenders
Being stuck in a prison cell for up to 23 hours a day while awaiting death sentence frequently causes fear, anxiety, and depression. Prisoners on death row, on average, wait for their execution for more than a decade, which gives them a lot of time to reflect.
Not everyone makes peace with their sentence—hence the anxiety and fear of death. Having a pen pal to write to in those times can be of significant help.
How To Find and Write to Inmates on Death Row
Prisoners have the opportunity to apply for website listings and have their name, picture, and address visible to those who want to write them. You can browse through the websites dedicated to finding prison pen pals and meet inmates available for correspondence.
These are some of the most popular websites that help you find addresses of death row prisoners:
Website
How To Find Inmates on Death Row

Visit the website

Click on the dropdown menu of the

Inmate Profiles

tab

Select

All Inmate Categories

Select

Death Row

Write down the name, ID, and address of the offender you'd like to write to

Visit the website

Click on

Death Row Prison Pen Pals

on the right side of the dashboard

Click on

View Complete Profile

below the description of the inmate you'd like to write to

Find and write down the necessary info
Essential Things To Know About Mail Rules and Regulations in Prison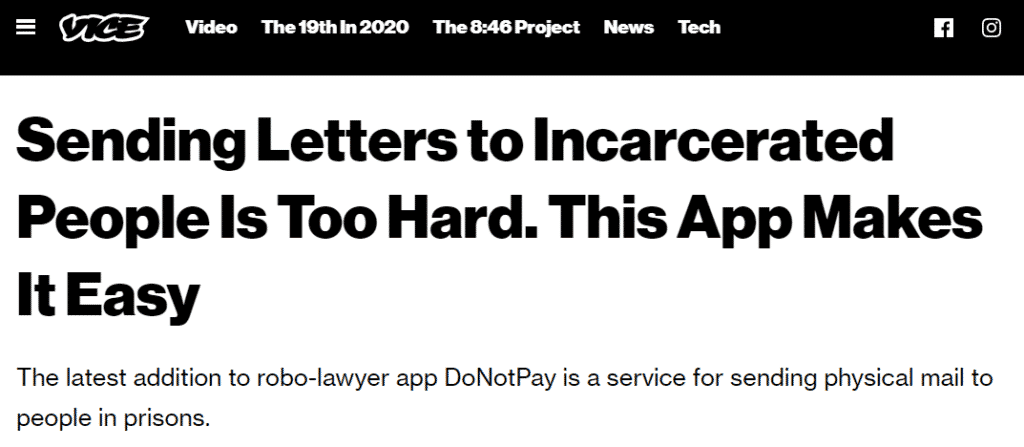 Writing letters to inmates comes with many challenges regarding the rules of each facility. Besides knowing how to address a letter to an inmate correctly, you also need to be aware of the items you shouldn't include in your letter so that it doesn't get rejected.
These are the most important rules you should follow when writing a prisoner:
The envelope needs to be plain, without stickers or other decorations

You should write the address of the facility in the center of the envelope

The return address should be written in the upper right corner of the envelope

Avoid sending glitter, confetti, and other embellishments

You can include up to five photographs that aren't explicit

Gang symbols are forbidden

Sending money with the letter is forbidden
When it comes to sending other items such as books, magazines, and care packages to inmates, you need to respect these rules:
You can send up to three softcover books at once

The books can be sent

through Amazon only

, and they need to be shipped by the USPS

Don't send drugs and other contraband items

Sending adult magazines is forbidden

Don't send any type of explicit content or gang-related items

You can send birthday or holiday cards but only plain ones that don't include electronics (musical cards) or pop-up content (3D cards)
These rules apply for any country in the U.S., whether you want to send a care package to Michigan, Georgia, Ohio, or Texas.
DoNotPay Makes Writing to a Death Row Inmate Fast and Simple

Finding death row prisoners available for correspondence might be easy, but if you want to ensure your letter is received, you should rely on DoNotPay. With our Connect With an Inmate tool, you don't have to worry about the mail rules and regulations of each facility—we will do that for you.
Your only concern needs to be composing a fantastic letter that will inspire offenders and help them go through the sentence.
Once you log in to your account from a and click on the Connect With an Inmate tool, follow these steps:
Choose the

Send a Personalized Letter

option

Enter the inmate's name, ID or booking number, and facility address

Compose your letter in the app or upload a file from your PC

Attach a few pictures

Choose among numerous templates to further personalize your letter
As soon as you finish writing, we will print the letter, address it correctly, and send it to the facility in question.
Keep in mind that correspondence with inmates takes more time because of all the necessary controls that each item undergoes.
The prison staff has to go through every letter and package that offenders receive to ensure it doesn't violate the rules. Be mindful of that when composing your letters—the inmate you write to won't be the only person who'll read it.
What Else Can the Connect With an Inmate Tool Help You With

Our fantastic tool has two more options that enable you to:
Receive letters from inmates in digital form
Locate any inmate in case you lose the address of the facility, or they get transferred
The Connect With an Inmate tool makes correspondence with inmates an enjoyable and stress-free experience.
How To Set Up Your Virtual Mailbox
If you want to receive your letters in digital form, you'll need to create a virtual mailbox, and here's how:
Log in to your account from a

Click on

Connect With an Inmate

Select the

Virtual Mailbox

option

Click on

Create My Mailbox
Once you do that, DoNotPay will be able to receive letters on your behalf, scan them, and send them to your virtual mailbox.
This is a safe and practical solution if you want to avoid giving your personal address to offenders.
How To Locate an Inmate
DoNotPay can help you locate offenders all over the U.S. fast and easy. The only info we need is the inmate's name and state, and we will provide you with the last known address as soon as possible.
Why Should I Write to Death Row Inmates?
Visiting inmates on death row isn't the only way to offer support—sending them letters every once in a while can be equally helpful.
Besides providing a distraction to inmates, your letters can also bring comfort to those who haven't come to terms with the fact that they are going to pass away soon.
Most death row inmates have been rejected by their family and friends because of the crimes they committed. Having pen pals gives them something to look forward to because they get to share their thoughts and read about someone else's life.
Prisoners, in general, take writing letters seriously because it's one of the few things that allows them to be creative, and they love reading words of encouragement when they feel down and lonely.
If you want to help death row offenders feel better, and if you love meeting new people and reading about their lives, adventures, and opinions, consider finding an inmate pen pal.
You can even give them your phone number and register it online so that you can receive calls from that inmate.
DoNotPay Can Assist You in Handling Other Complex Issues

No issue will be difficult to solve if you rely on DoNotPay. We offer an array of useful tools that can help you deal with any problem in a few clicks. Even the complex bureaucracy conundrums are a piece of cake to resolve with the right administrative companion, such as DoNotPay.
Once you sign in to your account from a , you can count on DoNotPay to assist you with:
Fighting traffic tickets

Contesting speeding tickets