Prison Pen Pals California—A Step-By-Step Guide to Sending Letters to California Prison Pen Pals
Are you living in California and looking for an inmate pen pal you could occasionally visit? DoNotPay has got you covered!
Choosing to write letters to inmates you don't personally know is a noble thing to do. Prisoners get lonely, and having someone who sends them letters offers comfort and motivation and often makes offenders happy.
Can Anyone Send Letters to Inmates?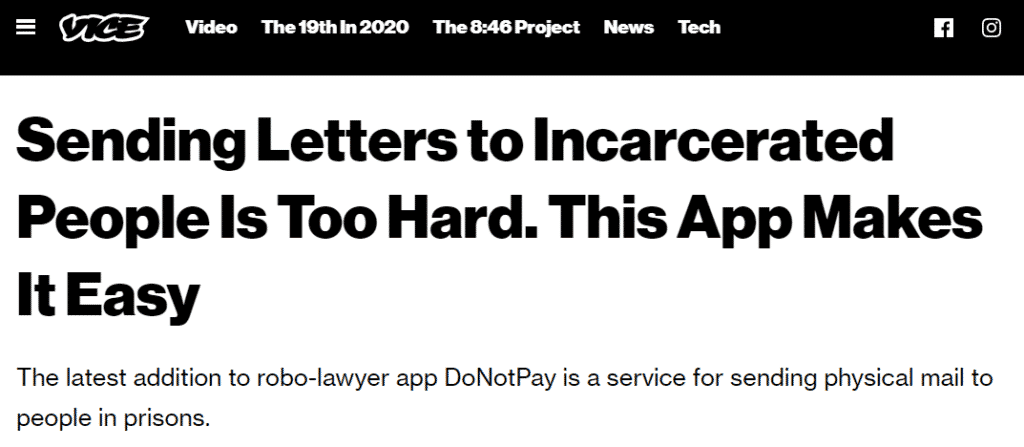 Yes—you can write prisoners even if you don't know them, as long as you have the address of the prison, the inmate's name, and ID. It's also possible to visit inmate pen pals and send them care packages.
Prisoners who are looking for pen pals agree to display their picture, name, ID, and address publicly, which means that they will receive letters from anyone if the sender respects all the rules of the facility.
No matter which part of the world you live in, you can send letters to prisoners in California as frequently as you want.
How To Find Inmate Pen Pals California
Finding prison pen pals nowadays is super easy thanks to the numerous websites dedicated to listing prisoners available for correspondence.
Most websites allow you to organize your search based on age, gender, location, and similar. This is fantastic if you're interested in finding only female prison pen pals or inmate pen pals in California, Texas, or any other city in the U.S.
These are the most popular websites for finding California prison pen pals:
Besides finding prisoners to send letters to, you can also list your incarcerated friends or family members on one of these websites if they want to find a pen pal.
Don't Waste Time Going to the Post Office—Send Letters to Prisoners From the Comfort of Your Home

Once you find the info you need for sending a letter, you can rely on DoNotPay's tool called Connect With an Inmate and avoid waiting in long lines in front of the post office.
Using our tool to write to inmates also ensures the letter is addressed correctly and that there aren't any rule violations.
This is how to send letters to inmates with our help:
Log in to your account from a

Click on

Connect With an Inmate

Pick the

Send a Personalized Letter

option

Compose your message or upload a file if you've already written the letter on your PC

Attach a few photos

Choose one of the numerous letter templates
After submitting your letter, DoNotPay will send it to the inmate in question as soon as possible.
DoNotPay Can Help With Other Prison Correspondence-Related Issues

Sending letters to inmates is super simple with DoNotPay, but our tool offers two more cool features:
Receiving letters from inmates in digital form—once you create your virtual mailbox, DoNotPay will receive letters for you, scan them, and send them through the app

Locating any prisoner in the U.S.—DoNotPay will provide you with the address of the latest facility
Open your account from a and follow these steps:
To Set Up a Virtual Mailbox
To Locate an Inmate

Pick our

Connect With an Inmate

tool

Click on

Virtual Mailbox

Select

Create My Mailbox

Pick our

Connect With an Inmate

tool

Click on

Locate Someone

Type in the inmate's name and state
All these fantastic features will simplify your correspondence with inmates significantly since you'll be able to finish everything in a few clicks.
A Guide to Prison Mail Rules and Regulations
Before sending your letter, you should be aware of all the inmate mail regulations prisons have. If you break any of the rules, your letter or care package will be rejected and sent back.
The number one rule is to address the letter correctly, and here's how you should do it:
Where To Write

In the center of the envelope

In the upper right corner of the envelope

What To Write

First line: Inmate's full name and ID or booking number

Second line: Address of the facility

Third line: City, state, and ZIP code

First line: Your full name

Second line: Your address

Third line: City, state, and ZIP code
These are other essential rules to follow when sending letters or packages to prisoners:
Confetti, glitter, stickers, and similar decorations are forbidden

Don't send money or contraband items

You can send only softcover books

The books must be sent through Amazon and shipped by the USPS

You can send magazines and newspaper

Adult magazines and explicit pictures are forbidden

It's allowed to send up to five photographs (dimensions 4x6 inches)

Gang-related symbols and items are forbidden

Don't spray your perfume on the envelope

Don't use glue on the envelope

When sending birthday or holiday cards, avoid sending ones with pop up content or electronics (musical cards)
If you rely on DoNotPay, you won't have to worry about any of these rules because we will make sure your letter follows all the regulations of the facility in question.
What Other Options Do I Have To Get in Touch With Inmates?
Another option to communicate with inmate pen pals in California or any other state in the U.S.—other than visiting—is to have them call you.
Write your number in one of the letters, and your prison pen pal will be able to call you. Facilities in some states might require you to register your number online to receive calls from offenders—Texas prisons are the best example of that.
Even though most prisons in California don't require online registration, make sure to read the rules regarding phone calls of the facility the inmate in question is held in.
Measures To Take To Protect Yourself When Writing to Prison Pen Pals in California
Becoming a pen pal with someone you don't know is generally risky, especially if you communicate with serious offenders.
There are some steps you can take to stay safe and avoid having stalkers:
Don't share sensitive info such as your home or work address, names of your family members, addresses of the places you like to visit often, and similar

Rent a P.O. box to receive letters or rely on DoNotPay's

Virtual Mailbox

feature

Avoid sending your pictures if you don't feel comfortable enough

Don't visit your inmate pen pals unless you feel like they're harmless

Avoid sharing your phone number until you're certain the offender isn't dangerous
When Everyday Issues Become too Complicated To Handle, Rely on DoNotPay

Whether you want to meet an inmate, marry a prisoner in county jail, or send love letters to prison, DoNotPay is here to make your correspondence easy and exciting.
Besides helping you get in touch with your incarcerated friends, partner, or family members, DoNotPay will also assist you in resolving other issues hassle-free.
Access your account in a , and count on our assistance when:
Disputing traffic tickets

Fighting speeding tickets