Learn How To Send Books to Inmates From Amazon Without Trouble
When you want to surprise a prisoner with a gift, books are the way to go. Whether it's a special occasion like a birthday, or you think a certain book will boost their morale and help them switch their mindset toward a more positive outlook, make books part of regular inmate mail.
As with other items mailed to prisoners, you have to follow numerous rules and regulations when sending books to inmates. To make sure the books you send reach the inmate, you should use the services of approved internet vendors like Amazon.
Important Info About Sending Books to Inmates Through Amazon
The first thing you should know about sending books to inmates is that most correctional facilities don't allow prisoners to receive used or hardcover books. This means you will have to send books directly from the publisher or another approved vendor, such as Amazon. Check the specific requirements with the institution before purchasing and dispatching a parcel to the incarcerated person.
You should also bear in mind that most correctional facilities in the U.S. only accept books sent via the United States Postal Service (USPS). The reason is simple—convicts cannot sign for parcels.
This is where it gets tricky to use Amazon's services. They ship packages via three delivery services:
You cannot choose the courier, and if they don't ship with the USPS, the facility will return the package, and the inmate won't get the books. That's why Amazon recommends doing the following:
Order books from Amazon to your home address

Once the books arrive, send them via USPS directly to the prison
How To Deal With the Amazon USPS Problem?
The good news is that there is a way for you to manipulate Amazon into sending your books by the USPS. The solution is quite simple—write the correctional facility's initials as a PO number, and they will have to ship it via USPS. Make sure you check with the prison beforehand if they have a PO box.
Your order cannot be anonymous, so your Amazon parcel should include the following info:
Inmate's full name and ID number

PO box number and facility's initials

The destination address

The return address
The order invoice will contain the sender's billing address.
What Happens if Your Amazon Book Package Cannot Be Delivered?

Amazon states they will grant a full refund, including all shipping charges, if the package is returned to them as 'undeliverable'. Such parcels can't be re-shipped—you will have to place a new order.
In case you don't get your money back within four weeks, you will need to contact Amazon's customer service by calling 00-1-206-922-0880.
Alternatives to Amazon for Sending Books to Inmates
Each correctional facility has its rules and regulations regarding prisoner mail and packages, so make sure to obtain that information on their website or by phone. These are some of the alternatives you can use for sending books to inmates:
Internet Vendor
Contact

PO Box 111, Lyndhurst, NJ 07071

1-800-843-2665

HamiltonBook.com LLC

PO Box 15

Falls Village, CT 06031-0015

4511 N. Hermitage Ave.

Chicago, IL 60640

4722 Baltimore Ave.

Philadelphia, PA 19143

(215) 727-8170
Keep in Touch With a Convict With DoNotPay's Assistance
Maintaining personal contact with inmates is crucial for their rehabilitation. Writing to prisoners and visiting them is equally important. In case you are not sure where an inmate is serving their sentence, DoNotPay can find them for you. Open our app in your web browser and select one of the following features:
Send a Personalized Letter
Not Sure Where an Inmate Is Located? DoNotPay Can Help You Find Them

Knowing the exact location of an inmate is essential if you want to keep in touch with them and not neglect your relationship. DoNotPay has a way of locating prisoners in a few simple steps:
Access DoNotPay

Scroll until you find the

Connect With an Inmate

section

Select the

Locate Someone

feature 

Type in the convict's name

Enter the state you believe they are located in

Click on

Proceed
This is enough for us to provide you with the inmate's correctional facility and unit number. You can then pick a suitable way to stay in touch with them.
The Easiest Way To Send a Personalized Letter to an Inmate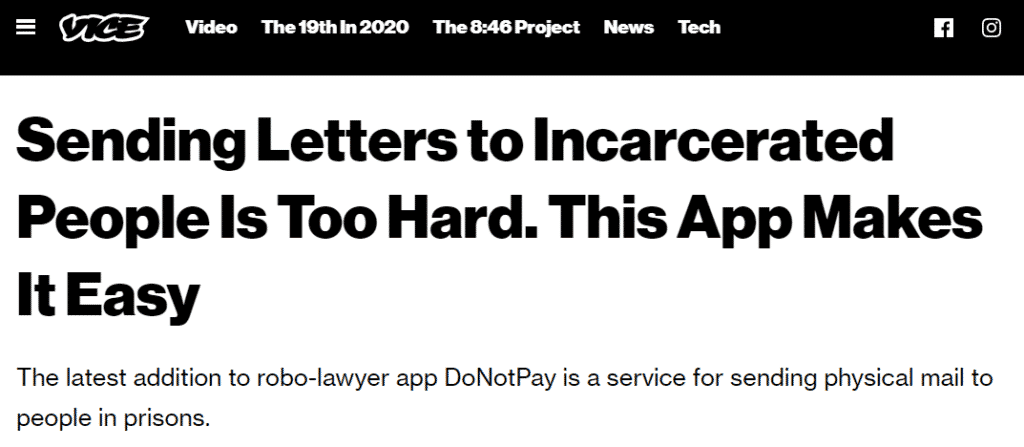 Once you get the convict's location, you can count on DoNotpay to assist you in writing a letter to your incarcerated loved one. If you don't know how to address a letter to an inmate, don't worry—we'll deal with that on your behalf. These are the only things you'll need to do:
Open DoNotPay

Find the

Connect With an Inmate

category

Click on the

Send a Personalized Letter

option

 

Type the prisoner's name and ID number

Draft your message to the convict

Include photos if you think they'd cheer up your

prison pen pal

Pick a template for your letter to make it even more special
We will print your message, put it in an envelope, and send it directly to your friend or family member in prison.
Do You Wish To Receive a Reply From an Inmate? DoNotPay Has Got You Covered

Sending one-way messages is no fun because no one wants to talk to a wall. DoNotPay understands the importance of mutual contact, and for that reason, we created our Virtual Mailbox feature. This is how it works:
The inmate writes their message and sends it to our address

We take the hard copy and transform it into a digital one

We send the final product to you

You check your Virtual Mailbox and read the inmate's message
To allow this option select the Create a Virtual Mailbox option in the Connect With an Inmate section.
Escape the Prison of Bureaucracy With DoNotPay

If you are wondering how to send magazines to inmates through Amazon, DoNotPay has a simple guide you can use to inform yourself about this process.
We also know whether it is allowed to send pictures or stamps to prisoners and what the best way to make sure they receive your mail is.
Perhaps you'd like to send emails and text messages to convicts? We can tell you exactly how to do that.
If you are looking for creative mail ideas to improve your love letters, you can count on DoNotPay for the best examples. With our help, you'll be doing research on prison marriage in no time.
There are numerous other administrative tasks we can assist you with. Open DoNotPay in any web browser and let us tackle:
Disputing traffic tickets