The SC Inmate Packages—All There Is To Know
Being apart from someone you care about is challenging enough, not to mention when they are incarcerated. You can keep contact with them by visiting, having phone conversations, or writing them letters. You can also provide them with things they need to enjoy at least a few comforts of the outside life.
In other articles, DoNotPay has provided answers about the inmate package rules in states like Nevada, California, or Arizona. This time, it's all about .
SCDC Inmate Package and Letter Rules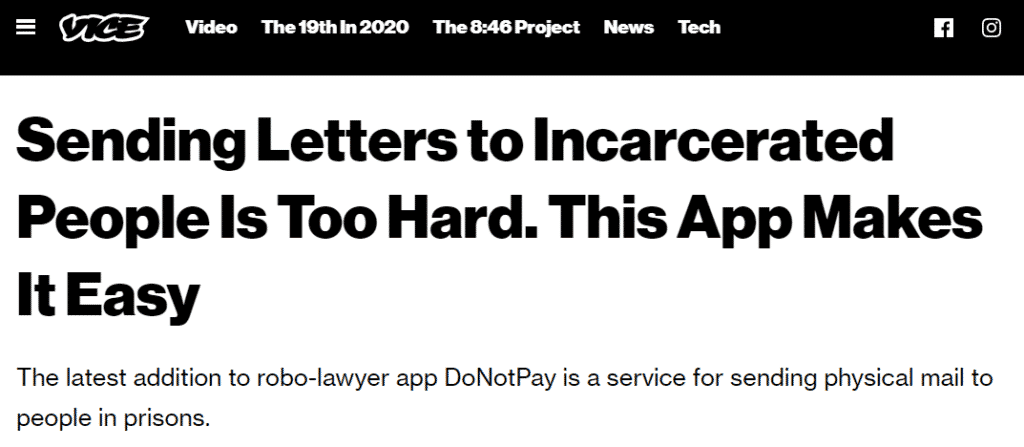 According to the mail rules and regulations set forth by the South Carolina Department of Corrections, all inmates have the right to send and receive mail under the following conditions:
SCDC inmates can send any quantity of mail as long as they cover the cost of postage

They can receive mail and

packages

free of unauthorized contents

All incoming mail must be properly addressed

All mail undergoes inspection (confidential mail is opened and inspected in the inmate's presence)

Incoming mail may be limited if it's deemed to pose a security threat or if it contains unauthorized items
General population inmates may receive various types of approved packages, whereas inmates in a Restricted Housing Unit (RHU) are limited in that respect.
If you want to send a (care) package to an inmate in a restricted block, you should inquire as to what they are allowed to receive other than a letter.
How To Address SCDC Inmate Packages and Letters?
Correctional facilities across the U.S. have strict rules as to how you should address mail to an inmate. If you don't follow the instructions to the letter, the intended recipient may not get their mail.
When writing a prisoner in a South Carolina Department of Corrections facility, you need to follow the instructions on how to address your mail listed in the table below.
Upper-Left Corner of the Envelope/

Package

The Middle of the Envelope/Package

The sender first and last name

Complete return address:

Street

City, state, and zip code

The inmate legal name, SCDC number, living/dorm unit

Institution name

Complete institution address:

Street

City, state, and zip code
SCDC Inmate Packages and Letters—Restrictions
Inmates housed at SCDC facilities may receive various contents, including photos, pictures, crossword puzzles, or newspaper or magazine clippings alongside letters in an envelope, but there are numerous restrictions.
Here's an overview of allowed and forbidden items in inmate mail other than a letter.
Allowed Content
Forbidden Content

Books

,

magazines

, newspaper, and other publications paid for in advance (by inmate, family, or friends) and sent directly by a publisher or their supplier

Note:

They must have a legitimate invoice on business stationery/company letterhead enclosed

Photos and pictures—up to 10 per envelope

Note:

If there are more than 10, the inmate will choose 10 photos to keep. Others will be discarded

Clippings, puzzle pages, or info from the internet—up to 5 pages per envelope

Note:

No questionable contents depicted

Unpaid publications

Food or drinks

Tobacco or anything to smoke

Money: cash, checks, or money orders

Polaroid pictures

Stationery

Stamps

Pre-stamped or "no postage necessary" envelopes

Musical/audible greeting cards

Cash-on-delivery products

Prepaid phone cards

Personal identification documents, such as a birth certificate or driver's license

Financial statements
Additional restrictions apply to inmates housed in the Restricted Housing Unit (RHU) and Reception and Evaluation (R&E)—they cannot receive any photos or publications, including magazines and newspapers.
What Is the South Carolina Inmate Care Package Program?
The South Carolina inmate package program is a quarterly arrangement whereby family and friends of an inmate may order combinations of approved packages from Access Securepak and have them shipped to the inmate's facility.
Packages contain food, snacks, seafood, and other items approved by the South Carolina Department of Corrections.
When placing a package order, you should consider the following:
There is a limit on how much can be spent on the package per quarter

Each item has a maximum purchase limit

You can only order packages within an allotted time window for each quarter

Multiple individuals can order packages, which will be consolidated not to exceed the program limits
Get In Touch With Your Loved One With DoNotPay

DoNotPay has introduced a new product—Connect With an Inmate—to facilitate your communication and contact with people who are serving time in prison.
As prison facilities across the U.S. have different mail policies, you don't have to worry about technical things, like how to properly address your letter. The only thing you need to do is write your letter, and DoNotPay will handle the rest.
A great perk of this product is that you can even write to a person you don't know well because your home address remains private unless you want otherwise.
Here's how it works:
Log in to your DoNotPay account in your

and head to

Connect With an Inmate

Select

Send a Personalized Letter

Enter the inmate's name, ID, and the facility they are in

Type in your message or upload an attachment

Embed any photos you'd like to share

Pick a template to customize your letter

Once you've submitted your letter, DoNotPay will print and send it to its destination
Another excellent feature of this service is that you can choose whether your recipient can reciprocate.
DoNotPay aims to simplify correspondence for both parties involved. This feature allows you to exchange letters with your loved one wherever you are while still accommodating to the inmate, who, usually, can only respond by a hand-written letter. They can send a letter to the address chosen by DoNotPay, and we will digitize and direct it to you.
Virtual Mailbox is a storage area where all the letters you receive from your prison pen pal will go. You can enable it by selecting Create My Mailbox, and every time you want to see if you have new mail, simply click Request Mail Check.
You Don't Know What Prison Your Loved One Is In? Locate Them With DoNotPay
DoNotPay's Connect With an Inmate service can also help you locate an imprisoned individual. If you are not sure what prison they are housed in, DoNotPay's locator can find them in any U.S. facility, be it a federal, state, county, or ICE detention center.
To give it a try, access DoNotPay from your and follow these steps:
Under the

Connect With an Inmate

product, select

Locate Someone

Provide the inmate details, such as their legal name and the state they are in

Submit the request
DoNotPay will trace the person you are looking for within seconds and give you their current location.
DoNotPay's Skill Set

If you want to write to a person in prison but are stuck on inspiration, DoNotPay can help you in that regard as well. We can give you some ideas on how to draft creative letters to inmates to cheer them up or write letters of encouragement and love to show them that you still care about them.
DoNotPay possesses a skill set useful in resolving other daily issues—from canceling services to procuring solutions for legal matters—we've got you covered!
Sign in to your DoNotPay account in your for answers to the following questions:
Can I appeal my speeding tickets?

Can I dispute traffic tickets?