Find. Send. Receive—Correspondence With Prison Pen Pals, Texas
Confined to a life deprived of everything that makes us human, prison inmates face daily challenges—physical danger, mental battles, and emotional turmoil.
What they need, above all, is compassion, someone to listen to them and lift their spirits.
If you want to provide support to an individual in prison, DoNotPay can give you guidance on how to contact them by mail. Maybe one day, your bond with your prison pen pal will be strong enough for you to visit them.
A Guide to Corresponding With Texas Prison Pen Pals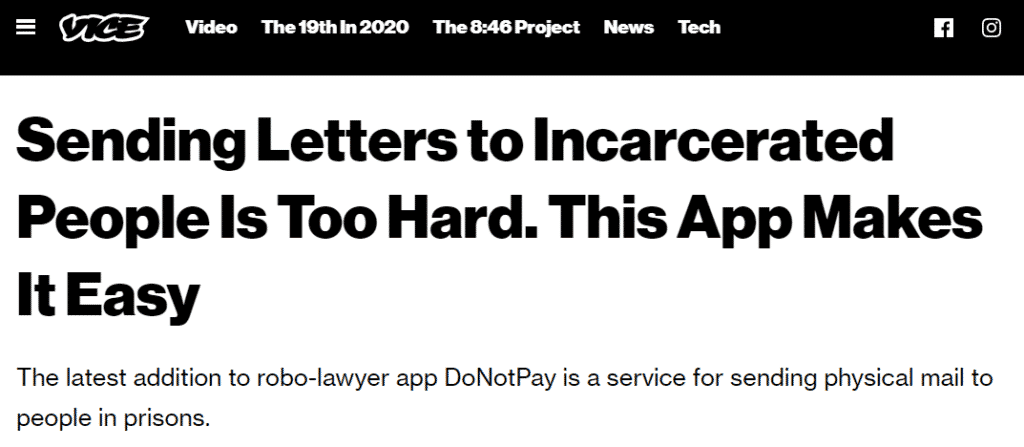 To effectively write a prisoner stationed in a Texas penal facility, you should comply with inmate mail rules and regulations of the Texas Department of Criminal Justice (TDCJ).
Here's an overview of general dos and don'ts when sending letters to your Texas prison inmate pen pal.
Dos
Don'ts

Use white paper only

Write often

Send letters of any length

Include up to 10 photos per envelope

Send mail via authorized channels

Write on colored paper

Put glue, tape, stickers, lipstick, perfume, glitter, bodily fluids, powdery substances, or artwork done in paint

Send greeting cards

Decorate the envelope

Include anything contraband
Knowing how to address a letter to an inmate is also important since a minor mistake can result in the rejection of your letter.
Though each unit may have its own specific rules about addressing letters, in general, other than your name and the return address, each letter should have:
The offender's legal name

TDCJ Number

Unit name and address
What Else Can Texas Prison Inmates Receive?
Other than mail, prisoners in Texas can get money, cards, or packages, but only under the following conditions:
Cards
Money
Packages

You can order cards and have them sent by the following services:

You can deposit money to the Inmate Trust Fund.

There are several options available:

JPAY

TEXAS.GOV

TOUCHPAY

America's Cash Express (ACE)

WESTERN UNION Quick Collect

WESTERN UNION Convenience Pay

Money orders or cashier's checks

Monthly checking account debit (ACH)

You cannot send packages on your own, but by official proxy.

Prisoners are allowed to get:
Bear in mind that all incoming mail and packages go through a strict and thorough inspection upon arrival. If letters or publications contain contraband, it will be removed. If contraband removal is not possible, inmates won't receive the mail.
Failure to adhere to any of the rules on sending mail or packages to inmates in Texas will result in rejection. Individuals who violate those rules may not be allowed to continue any exchange with inmates.
How To Find a Texas Prison Pen Pal
There are lots of websites offering profiles of inmates from various backgrounds or with different offenses and sentences.
Here are a few options:
You can find male or female prison pen pals. They can be straight, gay, or anything on the spectrum. If you'd like to offer them support and consolation, you can find and write a prisoner on death row, as well.
Some of the inmates are looking for friendship, some others for a romantic relationship. Most often, they are looking for someone to understand and support them.
Exchange Letters With Prisoners in Texas Without Care

Once you have located your prison pen pal, you can write them a letter and lift their spirits!
DoNotPay comes with an amazing tool—Connect With an Inmate—which you can use to get in touch with people you know and those you don't!
The best thing is—it keeps your privacy safe!
The tool comes with features enabling you to send and receive letters from inmates without them knowing where or even who you are unless you want them to.
Log in to your DoNotPay account in any , select a Connect With an Inmate feature, and follow the steps listed in the table below. (Check out the perks, too!)
Feature
Steps
Perks

Send a Personalized Letter

Enter the inmate's name, ID, and facility

Write your letter or upload an attachment

Add any photos you wish to share

Select a template

The inmate doesn't know your address

You don't have to wait in lines at the post office

DoNotPay prints and sends the letter ASAP

Virtual Mailbox

Enable the feature by selecting

Create My Mailbox

Hit

Request Mail Check

anytime you want to see if you have new messages

The letter will be mailed to the address DoNotPay has provided as the return address

Our team will digitize the content and forward it to your Virtual Mailbox
Location, Location, Location—Find Your Inmate Pen Pal With DoNotPay

Maybe you are not sure what county or prison your beloved friend or family is in? It could be that they got transferred, and you lost track of them, but don't lose heart over it. DoNotPay is here to locate any prisoner on the U.S. territory with a few clicks.
Yes, our Connect With an Inmate product comes with one more feature—Locate Someone.
To be able to trace any prisoner for you, the DoNotPay locator only needs the inmate's name and the current state they are in. It's a super-easy process. See for yourself:
Open DoNotPay in your

Select

Connect With an Inmate

Hit

Locate Someone

Provide the info we mentioned above
DoNotPay will find your sought-after inmate and generate the results within seconds.
Is It Safe To Write a Texas Inmate?
This is not an issue when you know the person, but when it's a stranger, it could be a problem.
In the beginning, you should demonstrate kindness, but also wariness. Until you get to know them a bit better, you can protect your privacy and maximize your safety in the following ways:
Don't share too much about yourself

Avoid talking about or sharing information and photos of people close to you

Rent a P.O. box you can use as your address instead of disclosing your real one or send letters via
Alternative Ways of Communicating With Texas Prisoners
Texas prisoners aren't allowed to use the internet, but you can send them emails via JPAY. If approved, e-messages will be printed and delivered to the inmates.
Contacting inmates this way may be more convenient for senders, but many prisoners have said they prefer letters instead. Remember that DoNotPay offers a win-win solution?
Another way of keeping in touch with prisoners is through the Offender Telephone System (OTS). It allows offenders to make calls to individuals on their approved contact list, so you'll have to register your number to keep in touch this way.
When Do Prisoners in Texas Get Their Mail?
It usually takes two or three business days of receipt for the incoming mail to be delivered to inmates, depending on the facility.
The Stuff DoNotPay Is Made Of

DoNotPay is your go-to for answering numerous questions you may have about prisons and regulations.
How to marry an inmate in county jail? How many phone calls do inmates get a day? How to send magazines to inmates through Amazon? These and many other questions are addressed by DoNotPay.
Our app offers you an arsenal of tools to use in your battles with administrative and other adversities, too.
Go to your DoNotPay account in any and check them out:
Fighting speeding tickets

Contesting traffic tickets