How To Address a Letter to an Inmate
Writing a letter to an inmate is usually the best way to keep in touch with them, as other means of communication aren't permitted in prisons. Inmate visitation isn't always an option, but even if it is, the time you get is limited, and you may not manage to say everything you wanted.
Traditional mail is a thing of the past for most of us. If you have no idea how to address a physical letter, there's no need to worry.
We are about to teach you how to address your letter to your imprisoned friend, family member, or prison pen pal you met on websites such as Meet-an-Inmate.
How To Address a Letter to a Prisoner

Addressing a letter may seem like a simple task. The truth is that a single mistake in numbers or letters can make your heart-melting message end up somewhere else or returned to you. This is why you should make sure to note all the necessary information on the envelope.
An inmate booking or ID number is a specific code every prisoner has, regardless of whether they are in federal prison or any other correctional institution. Before you write to a prisoner, find out what their inmate ID number is, as you must state this detail.
Here are the steps you need to follow to address the letter correctly:
Go to the official website of the prison

Find the physical address of the facility—it's usually on the "contact us" page or at the bottom of the home page

Write the information in the center of the envelope in this order:
Line 1: (first and last name of the inmate) (the inmate's ID number)
Line 2: (the facility's physical address)
Line 3: (town/city, state, zip code)
Write your contact details in the top left corner of the envelope:
Line 1: (your first name) (your last name)
Line 3: (your town/city, state, zip code)
What Not To Do When Addressing a Letter
Bear in mind that sending a letter to an inmate isn't the same as sending a regular holiday postcard or a letter to a free person.
The letter should also be the only item in the envelope, although in some cases, you can add certain things, respecting the rules of the institution. The table below shows the items you can or can't include in your letter:
Allowed Items
Prohibited Items

Photos

Newspaper snippets

Children's drawings

Stamps

Stickers

Jewelry

SIM cards

CDs or DVDs

Dried herbs or flowers
Don't use nicknames and incomplete information when listing the details on the back of the envelope. Include your full name and the full name of the inmate, otherwise, the prison authorities may return the letter to you.
The content can be of any nature, as long as it doesn't include information on illegal business, sexually explicit content, or coded messages. Also, you aren't allowed to spray perfume or scribble on the envelope.
How Can DoNotPay Help?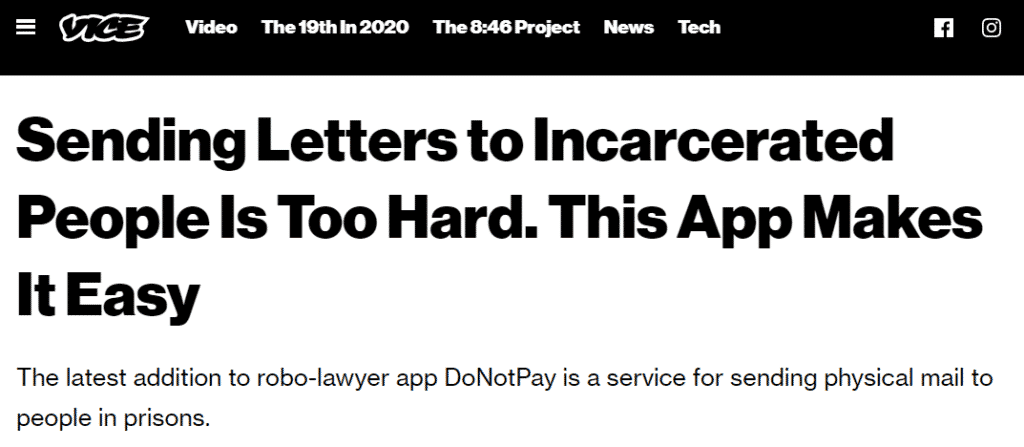 Did you know that you can compose a letter and address it without having to search for prison contact details or writing anything on paper? Thanks to DoNotPay, you can communicate with your loved one without having to deal with formalities.
This is how we can address and send the letter in your stead:
Access DoNotPay from your

Search for the

Connect With an Inmate

option and choose

Send a Personalized Letter

Enter the prisoner's ID number if you have it—if you don't, type

n/a

—and complete the rest of the information

Write your message or upload the one you already composed

Choose a template and attach photos if you like
We will print and send the letter immediately, making this procedure faster and simpler.
Can I Receive Responses From Inmates via DoNotPay?

Every reply you get from a prisoner will end up in a specific section called Virtual Mailbox. Here's how they can send their response:
They compose a physical letter

They send it to DoNotPay

DoNotPay makes a digitized version and forwards it to your mailbox
To check for new messages, all you need to do is click on Virtual Mailbox once you choose Connect With an Inmate.
I Don't Know Where the Inmate Is Held—Can DoNotPay Help Me Find Them?

If the only information you have about the person is their name and that they are imprisoned, DoNotPay can assist you in locating them.
To find out where the person you are interested in is, follow these steps:
Log in to your DoNotPay account

Search for the

Connect With an Inmate

option

Choose

Locate Someone

Enter the inmate's full name and the state where you believe they are located
As soon as our app processes your request, we will give you the most accurate information regarding the inmate's whereabouts.
Will Anyone Open the Letter Before It Reaches the Inmate?
Mail inspection is a mandatory procedure and involves checking the contents of the envelope before handing it over to the recipient. After the letter is read and cleared for coded messages or other information that may look suspicious, it is delivered to the recipient.
I Addressed My Letter Correctly, But It Was Returned—Why?
At times your letters may return even if you are positive that every detail you noted was correct. Mail cannot be delivered to an incarcerated recipient if:
The letter is from the inmate's victim

The message is from another inmate

The address stated on the envelope isn't complete

The letter is from a person who acts as a mediator between two inmates

The letter contains pieces of information prohibited by the prison authorities
Note that the personal info you provide on the envelope is usually subjected to background checks, and detecting suspicious activity is easier than you think.
Is There Anything Else DoNotPay Can Do for Me?

This is only the beginning—we can also give you some tips for great inmate love letters and creative mail ideas, or even provide you with a sample letter you can use to start written correspondence more easily.
If you are a prisoner's wife or husband and you're struggling to find free inmate call options, email services, or cheap inmate calling services, feel free to learn more about this with us!
Keeping in touch with imprisoned people you care about is important, but so are other issues we can help you with. Our mission is to provide the best features to deal with frustrating situations that usually require plenty of effort.
Regardless of whether you're having trouble with an unresponsive company after getting a damaged item, or you want to get rid of an unfair parking ticket, we have your back. Access our app anytime from any and start solving your problems!
We can assist you with numerous issues, including:
Fighting speeding tickets

Disputing traffic tickets