What You Must Know About the MoneyLion Virtual Card

Your biggest worry every time you pull out your credit card is that you'll see unauthorized charges, whether it's shopping online or signing up for a free trial of a subscription service. You work hard for your money, and you need to make sure that you don't have to go through the hassle of recouping it after a fraudulent charge.
A friend or family member might have recommended the as a safe option, but you've never heard of the card. You want more information before you feel secure enough to use a virtual credit card from another company, and it isn't easy to find the info you need. DoNotPay can help you learn more about the MoneyLion virtual credit card and its own free trial card.
What Is a Virtual Credit Card?

A virtual credit card is a card that features 16 numbers, a security code, and an expiration date that links to your personal credit card, but the info is different. This helps to keep your personal information safe when you shop online or in person. You can set up a virtual credit card in minutes and provide it to a vendor instead of your actual number.
Some virtual cards allow you to designate a single vendor, so they can't be stolen and used somewhere else. Also, many of these cards limit the amount of money a vendor is able to charge to the card without further authorization.
How Does a Virtual Credit Card Work?
A virtual credit card works by providing you with credit card information that's linked to your own credit card but numbers not associated with it from the security code to the expiration date. In this way, the vendor or anyone else never sees your real information.
In many cases, you can assign a specific merchant to a virtual card, and they are the only ones allowed to add charges to it.
You might also look for a virtual credit card that lets you set a limit as to how much can be charged to it.
All of these features work to protect your finances from overcharges and fraudulent charges.
Drawbacks of Virtual Credit Cards
Like any other tool that you use, there are some drawbacks to using a virtual credit card, especially if you try to use them for every purchase. You'll find that the two biggest drawbacks are:
If you try to get cash or send cash through an app using your virtual credit card, you might get hit with large fees. You might need to use your regular credit card to handle these transactions.
When you use a mobile phone and virtual card, you might find that not every place that you shop in person is set up to take payments that way.
Benefits of Virtual Credit Cards
You'll find a variety of benefits when you decide to use a virtual credit card instead of your physical one. There are four benefits that most people seem to enjoy, including:
Since no one can see your real credit card info, no one can make fraudulent charges to your account.
You never need to search for your physical credit card again when you use a mobile app on your phone to create a virtual one.
Sign up for a new subscription service without worrying about being charged when the free trial period ends.
Using a virtual credit card offers you privacy and security when you use it.
You can see that the benefits outweigh the drawbacks. It may be time for you to get a virtual card today.
Are MoneyLion Virtual Credit Cards Free?
that you can use as soon as you are approved for an account. However, it's a credit card, and you will pay a high-interest rate if you don't pay off your account in full each month.
What Is the DoNotPay Free Trial Card?
The virtual card that DoNotPay offers is a free trial card, and it's designed for use when you want to sign up for free trials. However, the app can also create virtual cards for you.
Where Can You Use DoNotPay's Free Trial Card?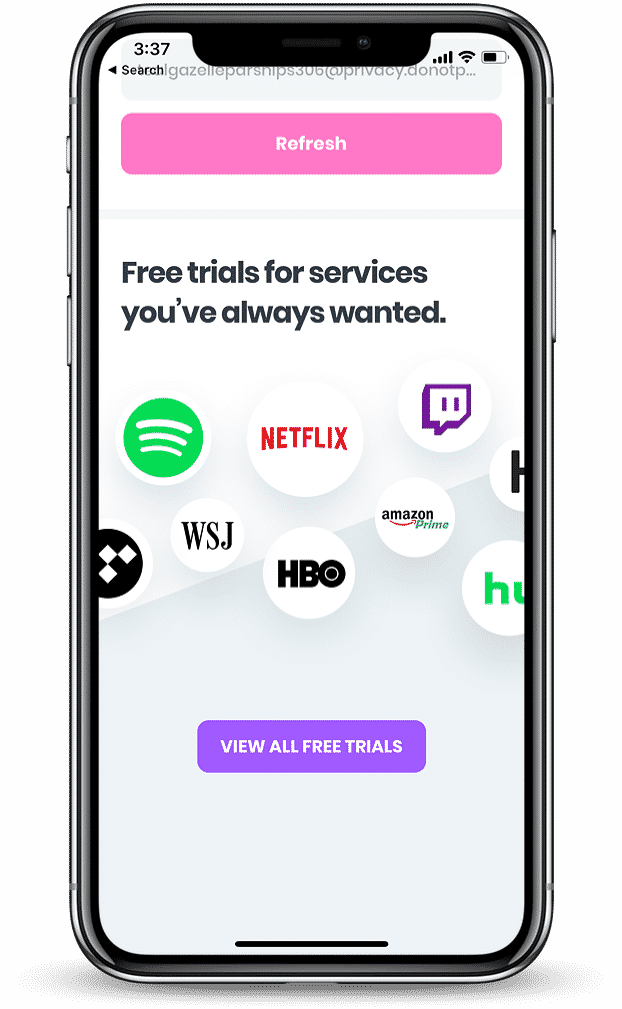 You deserve a DoNotPay free trial card that you can use almost anywhere you want. The flexibility of this virtual credit card helps you subscribe to apps and services online without the need to mark your calendar to make sure that you cancel on time and aren't charged.
This virtual card helps you shop and subscribe to the companies that you're most interested in, such as:
What Else Can DoNotPay Do?
With more information about the DoNotPay free trial card and the MoneyLion virtual card under your belt, you're ready to learn more about the things you can do with the DoNotPay app. DoNotPay wants to partner with you to handle many of your everyday chores and some occasional ones that are a hassle.
Go ahead and create a DoNotPay virtual card to make a purchase or subscribe to a new service today!