All About a Mobile Notary in Dallas
Visiting a notary public's office is not the only way to get documents notarized in Dallas, Texas. Since the traditional notarization method is burdensome and lengthy, Dallas citizens often opt to hire mobile notaries and finish the process much faster.
Mobile notaries may not be the choice for everyone, which is why you need to know all the deets before choosing to use their services.
DoNotPay will explain all about booking a mobile notary in Dallas and present another, even more practical notarization method!
How Do Mobile Notaries in Dallas Work?
Mobile notaries travel to agreed-upon locations to notarize documents. Unlike standard notaries public who operate strictly from their offices, mobile notaries will meet you at any place, including:
Your home or place of business

Nearby coffee shop or a parking lot

Nursing home, hospital, or prison
All mobile notaries are authorized to perform the same notarial acts as regular notaries. You can call them to witness the signing of legal documents, such as deeds, trusts, mortgages, or affidavits, but also to:
Take depositions

Administer oaths

Take

acknowledgments

Protest negotiable instruments

Certify

copies

of non-recordable documents
If you want to have your document notarized by a mobile notary in Dallas, you need to:
Find a mobile notary

Schedule an appointment

Prepare (or bring) an ID and documents you want to have notarized

Meet them at the agreed location to complete the notarization process
What Will the Mobile Notary Do During the Notarization Process?
Mobile notaries in Dallas have to follow a state-specific notarization procedure. During the appointment, you can expect the mobile notary to:
Confirm your identity

—You will have to present a valid, government-issued ID, such as your passport or driver's license

Evaluate your mental state

—If you seem disoriented, intoxicated, unaware of the document's content, or coerced into signing, the notary will likely refuse to proceed with the notarization

Check the document

—A notary will decline to notarize a document with missing pages or blank spaces

Monitor the signing

—You have to sign the document in the notary's presence

Notarize the document

—If all criteria have been met, the notary will provide their

signature

and stamp

Complete the notarial journal

—

Texas notaries

are required to keep a journal of every notarization
Where Can I Find a Mobile Notary in Dallas?
There are more convenient ways to locate mobile notaries in Dallas than by flipping through yellow pages. You can use various online databases dedicated to finding notaries in any state. Many of them display customers' reviews, which can help your decision-making process.
The table below contains a detailed description of how to use the most reliable notary-search websites:
Yelp

Type in your location and the service you are looking for in the required field

Scroll down to see the results

Click on the name

Find the mobile notary's contact information, business hours, customer reviews, and other information

123notary.com

Click on

Find a Notary

Select Texas

Click on Dallas

Scroll down to find the

Mobile Notaries

column

Click on the mobile notary's name to access contact and other information

American Association of Notaries

Click on

Select a State

and choose

Texas

Enter the required information in the search box at the bottom of the page

Click on the box to agree with the terms and privacy policy

Check the box for mobile notaries

Click on

Search

Scroll down to see the results
Should You Choose a Mobile Notary Service in Dallas?
Mobile notaries offer many advantages compared to traditional notary services. The most significant benefit is not having to waste time visiting the notary public's office. Mobile notaries also have flexible working hours, which means you can schedule an appointment even on the weekends.
All the advantages to the side, mobile notaries have one considerable drawback—the price.
Texas puts a cap on notary fees, but that doesn't include mobile notary's travel expenses. Depending on the mileage a mobile notary has to cross to get to you, you could end up paying a hefty sum. If you book a mobile notary on weekends or a holiday, the price goes even higher.
If you want convenience at a reasonable price, Texas offers a perfect solution—remote online notarization (RON).
Benefits of Remote Online Notarization
Online notaries operate via state-approved online platforms and notarize documents in a completely virtual environment—which is especially convenient during the COVID-19 pandemic. Take a look at numerous other perks online notarization provides:
Scheduling appointments is fast since online notaries are available

24/7

Getting encrypted electronic notary signature will reduce chances of document alteration and misuse

Looking for an online notary is not necessary—

will connect you with one in no time
Use DoNotPay To Get Documents Notarized Online
No need to search for an online notary since DoNotPay will take care of that for you. All you have to do to schedule an appointment is and click a few times!
Here are the steps you need to take:
Find our

Notarize Any Document

feature

Upload a document

Type in your email address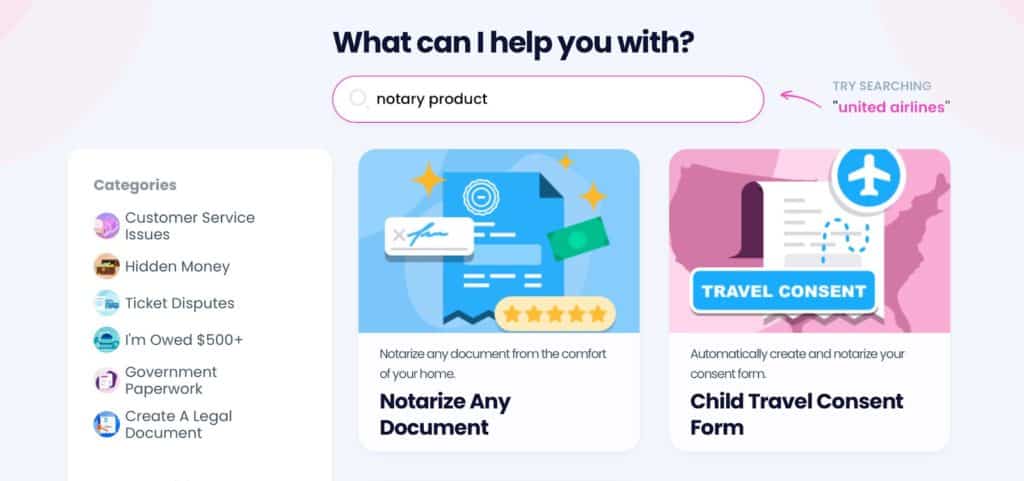 After we send you the link, click on it to book an appointment with the online notary. During the meeting, the notary will:
Witness you e-signing the document on a video call

Complete the notarization process with an electronic signature, stamp, and seal

Send the document back
All that's left to do is download and print the document, and you are good to go!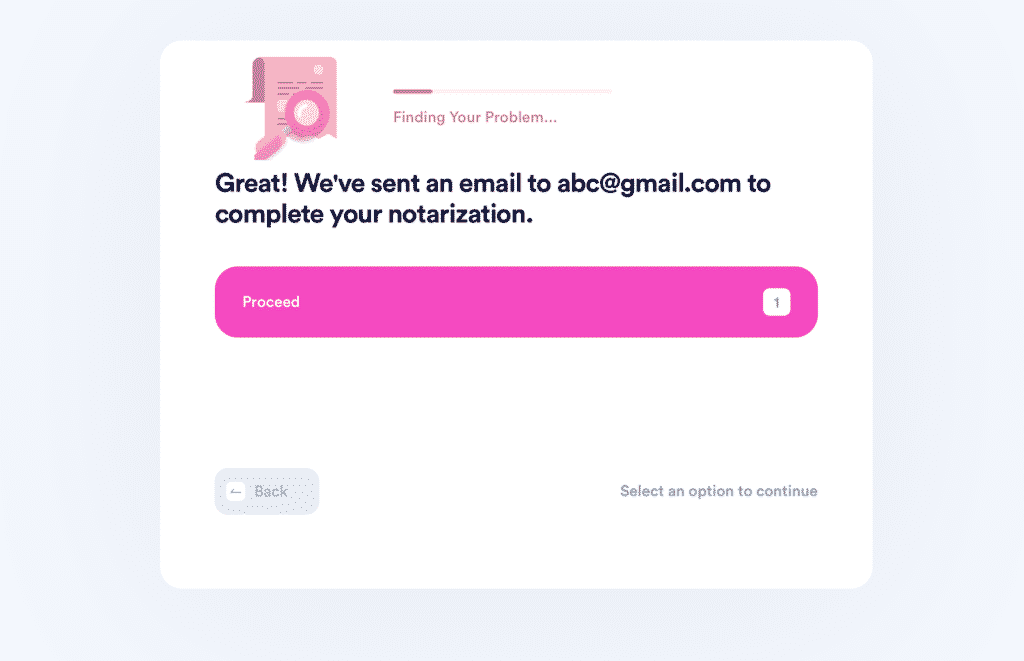 Rely on DoNotPay To Solve Your Administrative Issues
Getting your documents notarized, drawing up legal paperwork, appealing parking tickets, and similar activities usually require a lot of effort. DoNotPay offers various useful products that can help you deal with administrative problems quickly and save a lot of time. We can assist you with:
Protect Your Consumer Rights With DoNotPay
Companies complicate cancellation and refund processes intentionally, hoping that consumers wouldn't want to spend hours trying to solve the issue they're having. DoNotPay knows how important consumer rights are, and that's why we created numerous products that can help you:
Many people forget to cancel their free trials on time and end up paying for the services they don't even use. To prevent that, DoNotPay has developed a nifty virtual credit card that will allow you to enjoy free trials risk-free. Our virtual credit card will also help you avoid spam email notifications by generating a random email address that you can use when signing up for a free trial.