Dispute parking tickets in St Louis in a flash

Contesting parking citations has always been troublesome, that is why most people decide to pay their fine and move on. But, with the DoNotPay app, fighting an infraction has never been easier. Our app helps you beat parking fines in any city in the US in an instant!
Fighting a parking infraction is a piece of cake

There is no better evidence of how efficient the DoNotPay app is than the number of disputed tickets so far. Newsweek reported that our app has managed to appeal over 160,000 citations, resulting in a $4 million overturn in infractions since 2014. With DoNotPay, beating a parking fine is a piece of cake!
Watch how to dispute parking tickets in any city in the US in 2 minutes:
Appeal St Louis parking citations in under two minutes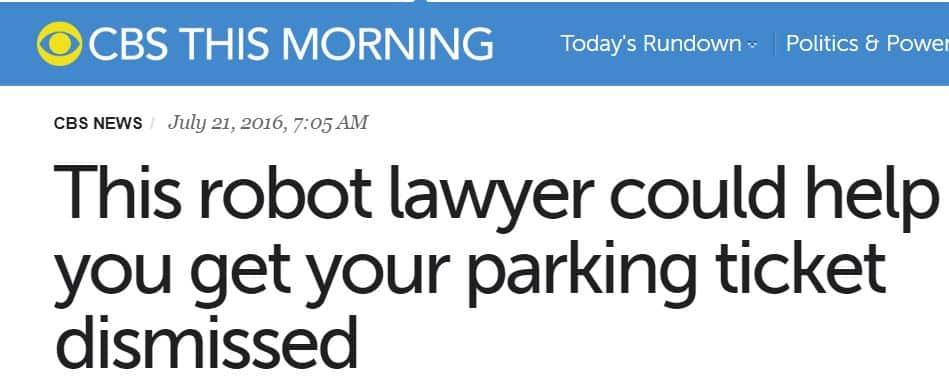 Parking Violations Bureau of the City of St Louis is in charge of parking spaces around the city, violations, regulations, payment, and contest options. On the city's official website, there is a section devoted to this department, along with its policies, fines, and the latest news about the changes in the parking infrastructure.
Believing that the process of disputing an infraction is complicated and a waste of time and money, most residents decide to pay the fine without giving it much thought. They don't want to bother with it since they don't think it will produce a favorable outcome.
What they don't know is that the DoNotPay app has a fantastic success rate of 74% in appealing fines in any city in the US, and most of all, in less than 120 seconds. All it takes is to follow a few simple steps:
Access the app on your

Answer a few short questions about the citation you want to beat

Take a picture of your infraction
As a result, our app will provide you with a fine appeal letter written according to the policies and regulations of your area to help you beat the ticket more efficiently.
Is beating a fine really worth my time?

Usually, people don't want to bother with this problem, so they pay what they owe, but a minority of them decide to fight a ticket, which is their legal right. Those who have tried have efficiently disputed all their infractions so far.
In the City of St Louis, you have 30 calendar days from the issuance date to either pay your citation or contest it to avoid the addition of late fees and penalties. If you decide to appeal, you can do it in one of two possible ways:
In-person

- by visiting the Parking Violations Bureau at the following address

229 North 7th Street (between Olive and Pine Streets)

St. Louis, MO 63101

Office hours: 7:30 am - 6:00 pm, Monday through Friday
Bring your infraction, and any evidence you may have to support your claims. They will set a date for a court hearing where you will have the opportunity to explain the situation and successfully dispute your citation.
By mail

- writing a letter containing the detailed description of your problem, along with your infraction and all documentation to help you convince the hearing officer, and sending all of this to:

Parking Violations Bureau (PVB)

PO Box 78459

St. Louis, MO 63178-8459
Wait for them to notify you of their decision or the date of your hearing.
In case the authorities deny your contest within the time limit, you will have to pay the original amount of the fine, along with the late fees and additional penalties for missing the deadline.
Given the time this appeal process takes, and the complications it may cause with your deadline, it is entirely understandable why people go for paying the infraction instead of disputing it.
But with the DoNotPay app, it will take you minutes to complete the dispute letter and then use it to overturn your fine in any city in the US!
Is contesting with DoNotPay time-saving?

As noted, the procedure of disputing is hard, and it is also going to take you a while to draw up a legitimate appeal letter, and not lose some of the evidence in the process. With DoNotPay, you can keep all your documentation in one place by uploading it to the app, and the app will, in turn, use the documents you sent to generate the letter you need to contest your infraction. Plus, our app will take only a couple of minutes to get it done.
Does DoNotPay beat only government-issued tickets?

No. It helps with private parking spaces all around the US. Some of the most popular private parking companies are:
ABM Parking Services

Ace Parking

Douglas Parking

Laz Parking

Imperial Parking

Towne Park

Lanier Parking

SP+ or Standard Parking
If you get a fine in one of these parking spaces, use the DoNotPay app to fight your ticket in a matter of seconds in any city in the US.
Do I need an attorney to contest a parking citation in St Louis, MO?

There is no need for legal representation. If you decide to hire a lawyer, you have to know that it isn't as easy as you may think. You will have to be cautious and take the following steps:
Think about the cost and whether you will be able to support it

Find the best lawyer who has previous experience in cases similar to yours

Meet in person with the selected candidate and discuss your situation and determine the payment option
Bear in mind that legal representation will cost you considerably more than the original price of the citation. However, with the world's first robot lawyer, there is no need to spend a dime on real attorneys, as our app can handle your appeal in a few minutes!
How much does a parking lawyer cost in St Louis?

Attorneys in Missouri cost between $100 and $300 per hour depending on their specialization and the severity of the violation. Parking tickets cost anywhere from $15 to $100 in St Louis. Hiring a lawyer will end up being more expensive than the ticket itself.
There is no need to throw away your hard-earned money on fancy lawyers because with our app, you can save it by disputing your infraction, or at least significantly reducing its amount.
What are the payment options in St Louis for citations?
The City of St Louis offers four different ways to pay the parking infractions such as:
Online

- by accessing the

online payment application

provided on the

website

of the Parking Violations Bureau. They only accept credit cards such as Visa, MasterCard, Discover, and American Express. Before you start the online payment procedure, prepare your ticket because you will have to insert its eight-digit number.

By mail

- by sending your citation along with a money order, cashiers, or personal check to the following address:

Parking Violations Bureau (PVB)

PO Box 78459

St. Louis, MO 63178-8459

In-person

- by visiting the Parking Violations Bureau at 229 North 7th Street in St. Louis, Monday through Friday, from 7:30 am to 6:00 pm. Don't forget to bring your fine with you. They accept debit or credit cards such as Visa and MasterCard, cash, check, money order.

By phone

- by calling 314-450-2830 or 1 (800) 611-3009, you can pay your citation 24/7. Make sure to have your infraction near you and a credit card, such as Visa, MasterCard, Discover, or American Express to complete the payment. By calling this number, you can also reach the Customer Service Representative if you need more significant details about your ticket.
Pay or appeal?
| | | | | |
| --- | --- | --- | --- | --- |
| | Ease | Time | Cost | Benefits |
| Pay | The most comfortable payment options are online, by phone, and in-person, while by mail, it takes a while longer to fill out the checks and send it all together | Online, telephone and in-person takes at least two business days to complete the transaction, while by mail, it can last a couple of days for the Bureau to receive the letter and complete the procedure | $15 - $100 without the late fees and additional penalties | You don't have to worry about the unpaid tickets |
| Dispute | With DoNotPay, piece of cake | Less than 120 seconds | Zero cost | Even if it doesn't appeal to your ticket, it still reduces it significantly |
What consequences will I have to face if I don't pay my citation in time?
The time limit for paying or contesting parking tickets in St Louis is 30 days from the issuance date. If you neither pay nor appeal your infraction, the authorities will start adding late fees and penalties.
After the first 30 days, they will double the amount of your original citation. If you still don't pay after 45 days, they triple your ticket. In case you accumulate four unpaid citations, you are considered ''a parking scofflaw'', and your vehicle will immediately be booted, and even towed.
When you pay the original amount of your infraction, all the late fees, and penalties, along with the $50 for boot removal fee, your vehicle will be released. If your car gets towed, then you have to settle your original debt, and additional tow and storage fees.
Do my outstanding tickets show up on my record?
No. Parking tickets are considered less severe than traffic or speeding ones, so they don't appear on your driver's record. But if you accumulate more than four of them, you will have problems with the DMV because they won't allow you to renew your license and registration. So, it is always better to prevent this from happening and either pay the fine in the given time frame or dispute it with our app.
Do I have to pay parking citations I receive in another state?
Of course. No matter where you get fined, it is your responsibility to pay the infraction or contest it. In this case, the DMV can also discover your unpaid fines, and pursue you, so you will have to face the consequences. Luckily for you, the DoNotPay app allows you to beat tickets issued in any city in the US in a matter of seconds.
Do I have to pay the infractions I get in a rental car?
Yes. You are responsible for all the violations you make. It is always best to pay or contest them on your own than to have the rental agency such as Hertz, charge your credit for the citation along with the additional administrative fee of up to $100.
Can my car insurance go up?
Parking violations don't affect your car insurance as the car insurance companies such as Progressive, don't get notified when you commit them. But if you have more outstanding infractions, and the DMV doesn't allow you to renew your license and registration, you won't be able to insure your car either. It is best to read your contract with the insurance company to be sure.
DoNotPay helps users fight and beat tickets in any city
DoNotPay helps users fight parking tickets in every city in the US and UK. Here are a few cities we've helped users dispute the most tickets in:
What else can DoNotPay do?
DoNotPay provides other services as well, such as:
Disputing traffic tickets

Fighting speeding tickets
Short recap
| | |
| --- | --- |
| Is it easy to fight a parking ticket? | With the DoNotPay app, you are a few clicks away from disputing your infraction. |
| How long will it take for me to beat the citation? | It takes less than 120 seconds for our app to work its magic. |
| Is disputing an infraction worth my time? | Yes. With our app, it is definitely worth your while. |
| Can it help with private parking companies? | Yes. It contests both types of citations. |
| Do I need to hire a lawyer? | Why would you do that when you have a world's first robot lawyer to help you out? |
| How much will an attorney cost me? | They cost from $100 to $300 per hour. |
| How can I pay the citation? | No need to pay it when you can appeal it and win with the DoNotPay app. |
| What will happen if I decide not to pay the infraction? | The authorities will add late fees, penalties, boot your car, and finally, tow it, which will result in an even higher cost than the cost of the original ticket. |
| Will it affect my record? | Not really. You won't be able to renew your license and registration. |
| Do I have to pay for parking tickets I get in another country? | Absolutely. |
| Do I have to pay if I get fined in a rental car? | Of course or else, the rental agency will charge your credit card with the penalty and the administrative fee. |
| Will my citation affect my car insurance? | No, but without a valid license and registration, you won't be able to have car insurance. |