Loans for medical bills—The good, the bad, and the pricey
Some call them the unholy trinity of financial distress, and the truth is that divorce, job loss, and medical bills often come unexpectedly and leave you flat broke. Medical bills are among the leading causes of debt in the U.S. According to a 2017 study, the hospital bills for a heart attack can amount to 53,000$ if you are not covered by insurance. Since someone has a heart attack every 40 seconds in the U.S., it's evident that a lot of people are affected.
Paying such a large sum is not easy for anyone, especially in the current economic situation, so most Americans need to borrow money to cover medical expenses. Reasoning is difficult when it comes to health emergencies. We all tend to agree to everything just to enable ourselves or our loved ones proper treatment and quick recovery.
Reality hits when the bills start arriving. Most U.S. citizens can't pay them without getting a loan or other financial assistance. Let's go through the options and see what the best course of action is.
The best type of loan to pay medical bills

The best loan is the one you don't have to take, but most of us will not be able to cover hospital expenses from our bank accounts. Looking at the prices of medical services, it's painfully clear that an average or little-better-than-average Joe will need to borrow money if they want to stay healthy.
| | |
| --- | --- |
| Medical procedure | Price |
| Cataract procedure | $3,800 |
| Appendectomy | $14,000 |
| Caesarean section | $15,250 |
| Knee replacement | $25,000 |
| Hip surgery | $26,500 |
| Angioplasty | $30,000 |
| Bypass | $75,000 |
Even if you have insurance, it probably won't cover the full amount, and the deductibles can give you a big headache as well.
It is crucial to understand how loans work so that you can make a wise decision. The key is to receive adequate treatment for your medical condition, but not go bankrupt after that.
Your options are as follows:
Unsecured personal loan

Secured personal loan

Personal line of credit

401(k) loan

Credit card

Medical credit card

Payment plan from the provider aka in-house financing
Unsecured personal loans for medical bills
These so-called medical loans are popular and easy to get. The most significant advantage is that you don't have to pay your medical bills immediately. You can divide them into monthly installments. You can borrow from 1,000$ to 100,000$ with interest rates ranging from 6% to 36%. The odd thing is that if your credit score is low, the interest will be higher.
What's good about personal loans is that they are unsecured, meaning that there is no collateral. You don't have to risk your possessions (house, car, etc.) to get them. The lender will give you a lump sum, and the interests are effective immediately. This is the best option for those with high credit scores because they can benefit from low-interest rates.
Secured personal loans
You may have to choose this option if you don't get approved for an unsecured loan. You will be asked to offer some kind of collateral for it. The assets that qualify as collateral usually are:
Real estate

Vehicles

Financial assets (stocks, bonds, savings accounts)
Secured loans will have much lower interest rates, but if you fail to pay them off, you may lose your collateral. Most financial experts advise against these loans, especially if the collateral is your house.
Personal line of credit
This one is similar to a personal loan, but instead of a lump sum, you draw certain amounts on demand. What's good is that you only pay interest on the withdrawn amount. If you don't make a withdrawal, you pay nothing at all.
Lines of credit are perfect if you have ongoing medical expenses, or if you need an emergency backup in case you are unable to pay with the funds you have. The available amounts range from $5,000 to $35,000, with interest rates from 10 to 22%. Some lenders will add an annual fee for the service, or ask for a verification that you have money in your bank account. Personal lines of credit won't require collateral.
401(k) loan for medical bills
If you have a 401(k) plan with your employer, you can borrow money from yourself to cover your medical expenses. You won't have to go through a credit check, obviously, and the funds will be available right away.
There are some drawbacks to this seemingly perfect solution:
The IRS limits the amount you can take

—You are allowed to borrow 50% of your balance or 10,000$, whichever is higher (but not more than 50k)

Your tax bills can get much higher

—You can end up paying in tax what you saved on interest rates

You might be stuck with your current employer for a while

—It takes a couple of years to even out the balance, and you have to pay the entire sum within 60 days if you decide to quit
Retirement may seem far away at the moment, but tapping into your fund is a two-edged sword. If you decide to get a 401(k) loan, make sure to return the funds, so you don't have to struggle with finances later on.
Using credit cards for hospital bills
Credit cards can be excellent for paying your medical expenses, but only if you are disciplined. What you should look for is a 0% introductory card. It grants you a grace period during which there are no interest rates.
If you manage to pay off the debt during that initial period, you can benefit from the cheapest loan possible. In case you don't, the situation can get worse. The interests become quite high, and they can sometimes be greater than the actual medical bill.
Medical credit card
You can get a credit card that is designed for medical expenses. They function like regular cards, but you can only use them for healthcare services. The issuer will provide a list of services or practitioners that you can pay for with your medical credit card.
There are two things that you should be aware of with these cards:
You may have to charge a specified minimum amount to the card to qualify for the interest-free option

The no-interest benefit applies only during the introductory period, and if you don't cover the debt during that time, the interest rates may apply to the whole card balance retroactively
In-house financing for medical expenses
We would say that this is the best option. It implies that you agree with your healthcare provider to cover the bills in monthly or quarterly installments. There are no interest rates, and you don't have to mess with banks or private lenders.
You should ask about the possibilities for a payment agreement before you resort to any of the above solutions. Our advice is to come up with an amount that you can pay every month and start the negotiations from there.
It is vital to honor the agreement because the providers will sell your debt to a collecting agency if you fail to pay. This can be quite inconvenient, so stick to what you agreed. You should also get all the details in writing to avoid any misunderstandings later on.
Medical loans overview
For clarity, check the list of loans and interest rates below. Be aware that the amounts granted can vary considerably due to your credit score or current income. Medical credit cards cannot be used for non-medical services and you will not be able to withdraw cash with it.
| | | |
| --- | --- | --- |
| Type of loan | Amount you can get | Interest rates |
| Personal loan | $10,000–$100,000 | 6–36% |
| Personal line of credit | $5,000–$35,000 | 10–22% |
| 401(k) | $10,000–$50,000 | 0% |
| Credit card | Depends on the income | 0–25% |
| Medical credit card | Depends on the income | 0–25% |
Medical bill loans—Important factors to consider
Since the financial language may be confusing, you should get yourself acquainted with some important terms that you'll come across when choosing a loan.
Annual percentage rate or APR

—This is the sum of interest rates and all applicable fees, and to qualify for the best rates, you'll need an excellent credit rating

Fixed or flexible APR

—Fixed APR means that it won't change throughout the duration of the loan, while flexible means that it can vary depending on the market rates

Origination fee

—This is a one-time fee that covers the processing costs of the lender and amounts up to 6% of the balance (usually subtracted from the lump sum)

Loan term

—The time-frame in which you have to pay off the loan, with short-term loans providing an opportunity to pay less in interests with higher monthly payments, and long-term loans offering a more relaxed monthly expense but higher-end sum

Monthly payment

—You should pay special attention to this because it is the total sum that you will have to pay each month (interests and rates included), and you should make sure it fits into your budget

Issuing time

—This is the time required for processing your application and making the funds available, and you should be aware that sometimes it can take up to a week to finish all the necessary checks and paperwork
What happens if you fail to pay for your medical bills or your medical loan payments?
In case of a medical emergency, most of us will agree to any kind of expense just to get the treatment for ourselves or the ones close to us. After the storm passes, we often have to face the consequences of our rash decisions.
It is of utmost importance not to break communication with the lender or the provider. If you are late with your payment, or you cannot pay the required sum in full, always let them know and try to come up with a solution. You should never avoid their calls or leave their emails unanswered.
In case you are too far behind with your debt, your healthcare provider or loan lender will probably sell your debt to a collection agency.
Statistics say that more than half of the accounts that end up with the collectors involve debts for medical expenses. Although collectors are not allowed to harass or threaten you, they will try to make you feel uncomfortable. If your case ends up in court, you can get a wage garnishment. This means that a portion of your salary will be redirected to cover your debt, interests, and the collection agency's fee.
How can DoNotPay help with your medical bills?

If you can't keep up with your medical bills or your monthly payments, you should know that you are not alone. DoNotPay is a free app that offers help to people that are struggling with various bills, fines, or other administrative issues. It uses AI that serves as a robot lawyer helping people who cannot afford a fancy team of suits.
The procedure is simple:
Log on DoNotPay through your

Click on Corona Relief

Explain to our robot lawyer what kind of help you need via chat

Provide requested details
Once you do this, our virtual legal advisor will create a letter or a formal email, and it can even contact your provider to assist with the issue you are having. In times of distress, dealing with administration can be overwhelming, and DoNotPay can take some of the pressure off. If you are up to your neck in medical bills, it means that you have suffered a lot of hardship already, so a helping hand is much needed.
There are quite a few things that can go wrong with paying off your loan for medical expenses, so you should react in time to avoid worst-case scenarios and bury yourself in unnecessary costs. Let DoNotPay help you as much as we can.
Asking for an extension date for your loan payments or your medical bills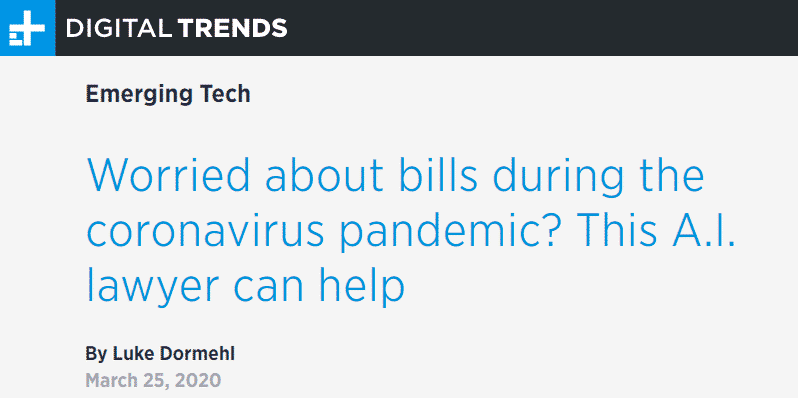 If you are late with your bills, or your monthly payments, the first thing to do is ask for an extension date. If you ask properly and on time, there is no reason why this relaxation wouldn't be granted.
There are several ways to do it:
Send an email

Make an appointment with the provider or the lender

Contact their customer service
Email is an easy yet efficient solution, so we suggest you write an extension letter. In case you are not keen on writing, DoNotPay can come to the rescue. Give us the necessary details (dates and email addresses), and we can have the extension letter ready in no time. Our robot lawyer will even send it on your behalf.
The only thing you shouldn't do is let the due date pass without any notification to the lender. It is crucial to keep the communication going and explain why you may be behind with payments. It usually keeps them from taking unpleasant measures.
Waiving the late fees for your medical loans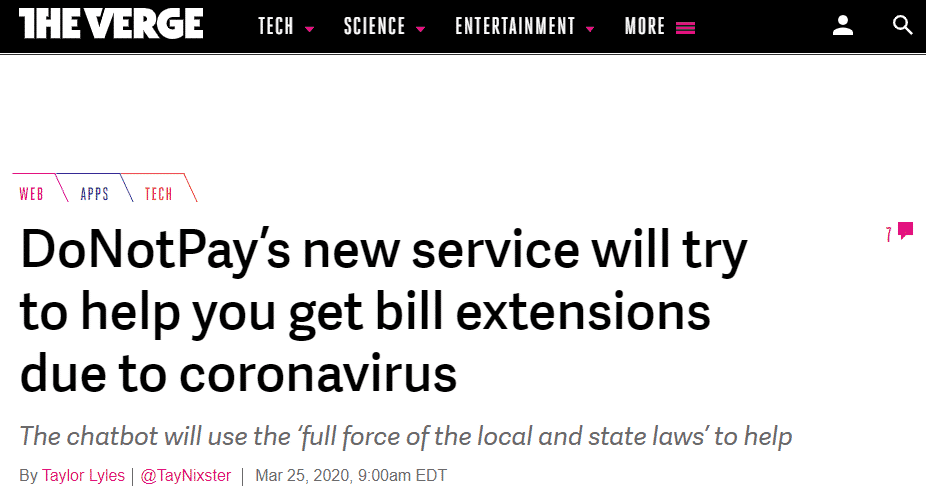 Don't shy away from asking for a waiver on late fees. In case you find it complicated to do by yourself, DoNotPay will do it for you. Our robot lawyer is excellent at generating waiver letters.
With medical bills being sky-high and interest rates on loans even higher, there is no reason to miss the opportunity to retrieve some of your money, especially if your virtual legal team can deal with the administrative part.
Alternatives to loans for medical bills
Another option to consider is applying for a government program that offers assistance to people who cannot cover their medical bills. Many requirements must be met, but it is worth a try, especially in cases of emergency.
If you don't have insurance, you should check Medicaid and Medicare programs and see if you can use them. That way, you can get coverage for at least a portion of all the expenses. Check the available plans and requirements here.
What else can DoNotPay do to help?
DoNotPay offers many services, and all of them should assist in making your life easier. Even if you are on top of your medical bills, there are probably a million other bureaucratic issues that you have to deal with.
We are here to guide you through the red-tape maze that we all have to fight almost daily. Without a lawyer or a financial advisor at hand, people pay unjust fines, miss crucial deadlines, or spend hours waiting in lines. The DoNotPay team is here to take care of the mundane so that you can focus on the important.
Check out some of the things we can help you with:
Fighting traffic tickets

Fighting speeding tickets