How to Deal With Medical-Grade Brace Robocalls
On April 9, 2019, the Federal authorities broke up a notorious Medicare scam that targeted the elderly and peddled them unnecessary orthopedic braces through overseas call centers.
According to Medicare's anti-fraud unit, 130 medical equipment companies were involved in these medical-grade brace robocalls.
The scam program was billed a total of $1.7 billion.
Who Is Selling Medical Braces With Robocalls?
The Justice Departments pressed charges against 24 U.S. citizens involved in the infamous Medicare robocall scams. Among those who were charged are doctors who issued phony prescriptions for unnecessary back, knee, and wrist braces, as well as owners of medical equipment companies, call centers, and telemedicine firms.
How Does This Medicare Scam Work?
First, victims receive calls from telemarketers, offering them free orthopedic braces that are also marketed on television and in various radio ads. Those beneficiaries who express interest in these braces get forwarded to call centers (some of which operated from the Philippines and Latin America).
Subsequently, call centers verify the beneficiaries' Medicare coverages and transfer them to telemedicine firms for free consultations with a doctor.
Then, the doctor writes bogus prescriptions to Medicare beneficiaries, regardless of whether they need them or not. Some people are even prescribed multiple braces!
Lastly, the call centers take these prescriptions and sell them to medical equipment companies who charge Medicare and ship the braces to the beneficiaries.
What makes these scams particularly dangerous is the fact that Medicare gets billed for these braces. Beneficiaries whose information gets misused might experience long waiting periods from Medicare in the future because the program has limits on how often it pays for beneficiaries' equipment and supplies.
What Can You Do About a Back Brace Robocall?
If you are a Medicare recipient and you receive a call offering you free or low-cost back and knee braces, probably the best thing you can do is hang up the phone. To avoid getting scammed, consider adhering to the following advice provided by the Federal Trading Commission (FTC):
Consult your doctor first if you need medical braces or any other type of medical equipment. Telemarketers trying to sell you their products do not know what you really need

Avoid providing your Medicare or other personal information with unknown callers over the phone

Keep in mind that all robocalls for a medical-grade knee brace or back brace are scams. Medicare would never call its beneficiaries with such offers

Check your Medicare Summary Notice and make sure that you are only charged for services that you have received

Do not pay for equipment you or your doctor did not order. If you get medical equipment in the mail, keep it as a gift, but never pay for it
For additional information on how to protect yourself from scam callers, check out the FCC's guide to robocalls.
Sue Back Brace Scam Robocallers Fast and Easy With DoNotPay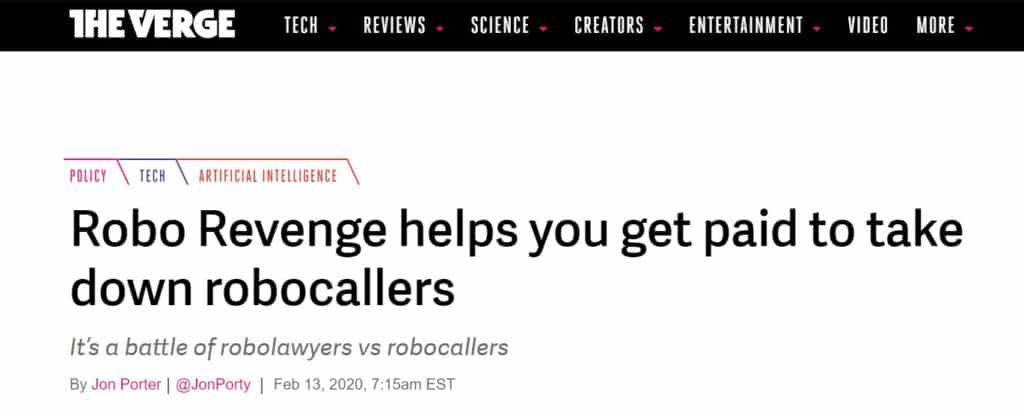 Since we have a long history of helping people overcome legal issues, we are proud to say that we have introduced a new feature to our app called Robocall Revenge! With Robo Revenge, you can track down medical grade knee brace robocallers and sue them for up to $3,000 in court settlements.
To start using our free services, simply access DoNotPay through a .
Here is how we help you fight back against robocalls:
You receive a robocall

The scammer tries to steal your personal information or money

You open DoNotPay and click Robo Revenge

Our app generates a

free virtual credit card for you

You share the fake credit card information with the scammer

DoNotPay tracks the robocaller down based on the transaction details

We help you write a dispute letter and file a

robocall lawsuit

against the scammer
Virtual Credit Cards Are a Legitimate Solution
DoNotPay's virtual credit card makes a world of difference because it not only allows us to track down scammers when they try to charge your virtual account, but it helps us protect your identity and personal information as well.
While you can use DoNotPay to report a robocall that is coming from America, we are not yet able to help you sue foreign robocallers because we need their location information to file a claim.
Why Are Robocalls Not Illegal?
Robocalls can be put to good use in various kinds of situations. Here are a few examples:
| | |
| --- | --- |
| Legal Robocallers | Purpose of Use |
| Schools | Schools can use robocalls to remind parents of upcoming events, such as field trips or report card issuing. Parents can also get notified about their kids' low lunch balances and absences from school. In case of an emergency, robocalls are a fast and reliable way for schools to notify staff members, parents, and students of school closure. |
| Small businesses | Because small business owners need their customers' permission to autodial them, robocalls are a great way to inform their clients of upcoming events and limited time offers. |
| Weather stations | Whole communities can get notified about blizzards, floods, tornadoes, and many other adverse weather conditions thanks to robocalls. |
The FTC and the FCC set forth a number of rules that businesses need to stick to for their robocalls to be considered legal.
The most prominent rules are:
The caller has to identify himself or herself properly

Calls have to be placed between 8 a.m. and 9 p.m.

Companies need customers' permissions to autodial them

Customers have to be able to pull out of the company's calls

People whose numbers are on the

National Do Not Call list

cannot be contacted
Obligatory Identification
At the very beginning of the call, the caller has to:
Disclose his or her identity

Disclose the identity of the company on whose behalf the call is being placed
At the end of the call, the caller needs to:
Provide the company's phone number

Provide the company's address
No Permission—No Robocall
If a company wants to place a robocall about knee brace legally, they have to receive express written consent from its customers in order to do so.
Usually, express written consents are provided as electronic signatures, or the customer checks a box on an online form. The E-SIGN Act defines express written consents and all the forms they can appear in.
Customers Need a Way Out
Regardless of whether a company's robocalls include pre-recorded messages or voicemails, they have to enable the customer to remove his or her number from the company's calling list. In case of a pre-recorded message, the caller has to be able to press a certain number and opt-out of the company's call for good.
Voicemail messages need to contain a toll-free, callback number that customers can dial and place their numbers on the company's do not call list.
Saved by the Do Not Call Registry
The FTC set its Do Not Call Registry in motion way back in 2003. Americans can place their numbers on this list and prevent annoying telemarketers and businesses from legally autodialing them.
If you were wondering how to stop robocalls, consider putting your number on the National Do Not Call Registry:
Open the FTC's

Do Not Call website

Click on Report Unwanted Calls

Provide information about the unwanted call you received

Submit your request
If you are unsure how to check if a number is on the Do Not Call list, you can contact the FTC and find out!
For additional information on the Do Not Call list expiration and Do Not Call list exceptions, visit FTC's website or give them a call.
How Medical Brace Robocall Scams Work
Medical-grade brace robocalls and similar scams are not difficult to set up. Fraudsters have to follow these five steps:
Purchase leads lists

Get into America's phone network

Initiate the autodialing process

Operate a phone bank

Convert the income
They Get the Numbers
Just like telemarketers, scammers acquire their calling lists from companies that sell leads to customers For just a few thousands of dollars, fraudsters can purchase more than a million phone numbers!
Small Phone Providers Let Them In
While major phone carriers are placed under the FTC's and the FCC's scrutiny, small phone providers are not. That puts them in a position to allow scammers into America's phone network — for the right price.
An Endless Loop of Autodialing
Between three to five percent of people who receive scam calls actually fall for them. Robocallers know this, and that is why they have to use advanced autodialing technology to be able to dial up to one million numbers in a single hour. The more people they dial, the more lucrative their scam becomes.
Phone Banks Make the Magic Happen
People who take the bait and give the robocaller a callback get forwarded to the scammer's phone bank where malicious people try to extort money or personal information from them. Remember, voicemails and pre-recorded messages are there to lure you in. Only a real person can steal your money and information.
Covering the Traces
The last thing a fraudster needs to do is quickly convert the income into other forms of money. Gift cards are usually used for these purposes. This is probably the most important step of the process as it disables the authorities from tracking the cash flow.
Other Robocall Scams That Target the Elderly
While medical-grade brace robocalls pose a great privacy risk to America's pensioners, many other robocall scams target the elderly and manipulate them in the same way. The most popular scams are:
Robocall Scam

What it Entails

Social Security Administration (SSA) scam

SSA scams

can be extremely aggressive because the callers tend to threaten their victims with arrest warrants if they refuse to call back the provided phone number. In other scenarios, callers pretend that they want to help the victims retrieve suspended Social Security numbers, and more often than not, the scammers spoof the Social Security hotline number to make the fraud more believable.

What you should know is that Social Security never contacts people over the phone nor threatens arrest or other legal action.

Grandparent scam

The grandparent scam is one of the oldest active robocall scams. Victims receive a phone call from a person claiming to be their grandchild. Typically, the caller claims that he or she had an accident and that they are in desperate need of money.

The FTC discovered that many older adults mail cash to these fraudsters instead of using wire transfer. If you receive such a call, the FTC advises not to act immediately. You should first call the alleged grandchild back and establish his or her whereabouts. Afterward, file a claim to the FTC.

Natural disaster scam

In times of natural disasters, scammers prosper. They either pretend to be charities collecting money for those in need, or they

pretend to be the IRS

and collect people's personal information under the guise of assisting them in getting their tax refunds and filing loss claims.

To make sure that you are dealing with a legitimate charity that truly helps victims of natural disasters, check out the IRS tax-exempt organization search.
How to Block Medical Grade Brace Robocalls on Your Smartphone

All new iOS and Android smartphones come with number blocking features. Keep in mind that blocking a spammer's number can be effective only if you are dealing with a legal telemarketer. You will not achieve much by blocking a scam caller's number as they tend to change their numbers frequently.
iOS Number Blocking Features
If you are using an iOS device, your phone is capable of blocking a specific number as well as silencing all unknown callers (iOS 13 or higher).
To block a number on an iOS device, you need to:
Open the Phone app

Select Recents

Tap the info icon next to the number

Select Block this Caller

Select Block Contact
To silence unknown callers, you must:
Open Settings

Select Phone

Turn on the Silence Unknown Callers switch
Android Number Blocking Features
Android users also have the option to block a specific number or block all unidentified numbers. To do the former, you will have to:
Open the Phone app

Select Recent Calls

Tap the number and select Block or Report as spam

Confirm the message asking you if you want to block this number
To block all unidentified number on an Android device, you need to:
Open the Phone app

Select Settings

Enable the Block Unidentified Numbers switch
How to Block Robocalls for a Medical Grade Knee Brace on a Landline
If your landline uses VoIP (Voice over Internet Protocol) services, you can rely on third-party apps such as Nomorobo for blocking back brace robocalls.
Nomorobo is free of charge for VoIP landlines, and it uses the "simultaneous ring" technology to help you fight back annoying robocallers.
Whenever your phone rings, Nomorobo gets the call too. If Nomorobo picks up the call first and establishes that you are dealing with a scam caller, your phone will not ring the second time. It takes some time to get used to the fact that you have to wait for the second ring, but Nomorobo gets the job done every single time.
It goes without saying that if the robocall is legally placed, Nomorobo will forward it to you.
Best Robocall Blocking Apps
Have you thought about using a robocall blocker? Given the robocall epidemic, most major phone carriers and third-party companies started developing their own robocall blocking apps that you can use to prevent spam and scam callers from bothering you.
Among the best robocall blocking apps are:
Robocall Blocking App

Service Overview

Answer Bot service

Customizable Answer Bot messages

Free one-week trial period

$2.99 per month or $24.99 per year for Android devices

$3.99 per month or $29.99 per year for iOS devices

Customizable spam list

Intuitive and easy to use interface

Free basic service

$2.99 per month for the standard package

$14.99 per year for Hiya Premium

Free for VoIP landlines

Free basic service

$1.99 per month

Free two-week trial period

Large database of scam numbers

Legal robocalls go through

Free basic service

$2.99 per month or $26.99 per year for Truecaller Premium

$249 per year for Truecaller Premium Gold

Accurate caller ID authentication

Extended functionality when your contacts use it too
DoNotPay Makes It Seem Easy

Are you tired of overcoming obstacles on your own? If you want to lower your bills or need help paying bills, DoNotPay has got your back. Our app packs a ton of useful features that can truly make your life hassle-free. Start using DoNotPay and get the helping hand you have always needed. To access our services, simply open DoNotPay in a . Our app boasts a ton of features that can help you:
Fight speeding tickets

Dispute traffic tickets