Can You Get L.L Bean Lifetime Warranty?
L. Bean is an American retail company with a long tradition. It was founded in 1912 by Leon Leonwood Bean. For decades, the company offered a lifetime warranty on its products, but this practice has changed recently.
Learn more about the changes in the L.L. Bean warranty and ways to file a warranty claim.
L.L. Bean Lifetime Warranty Ending
To the disappointment of many shoppers, L.L. Bean stopped offering a lifetime warranty on its products. The reason for changing the policy is that many customers abused it and filed warranty claims for shoes bought at yard sales or heavily-worn old items.
L.L. Bean now allows you to return your item and get a refund within a year of buying it—almost no questions asked. The company will still take into account warranty claims made more than a year after purchasing the product only if it is defective in material or workmanship. The one-year return policy does not refer to the products bought before 9 February 2018.
L.L. Bean warranty does not cover items that are:
Damaged by abuse, misuse, negligence, improper care, or accidents

Lost or damaged due to natural disasters, such as floods or fire

Without a label

Soiled or contaminated
L.L. Bean might not honor your warranty claim if you previously abused their return policy habitually.
You should keep your L.L. Bean receipt because you won't be able to make a warranty claim without it.
Ways To File an L. L. Bean Warranty Claim
You can submit a warranty claim on your L.L. Bean product in several ways:
| | |
| --- | --- |
| Can You Claim Your Warranty Via | Yes/No |
| DoNotPay | Yes |
| In Person | Yes |
| Mail | Yes |
| Phone | Yes |
| Email | No |
| Online | No |
How To Claim L.L. Bean Warranty in Person
You can go to the nearest L.L. Bean store and claim your warranty. Bring the proof of purchase and the item you want to claim to the store.
File an L.L. Warranty Claim via Snail Mail
Another way you can make a warranty claim and return your L.L. Bean product is through the mail. Make sure you have some of these as proof of purchase:
Here is what you need to do to claim your L.L. Bean warranty via snail mail:
Fill out the form on the packing slip

Add the proof of purchase

Include the item you want to claim warranty on

Attach shipping label

Send the package
The return shipping cost is $6.50 per package. If you want to send it free of charge, you need to be an L.L. Bean member. L.L. Bean will refund you in up to two weeks after receiving your warranty claim.
Submit an L.L. Warranty Claim Over the Phone
If you need to get your L.L. Bean exchange product quickly, you should call 800-441-5713. When you get a representative on the line, explain your issue, and ask for the exchange product to be sent right away. Note that you still need to return your claimed product to the company.
Claim L.L. Bean Warranty in No Time With DoNotPay
Not sure whether L.L. Bean will honor your warranty claim? Increase your chances of getting your claim accepted by using DoNotPay! Our AI-powered app can compose a strong warranty claim letter on your behalf and send it to L.L. Bean.
To file a warranty claim via DoNotPay, you need to:
Set up your DoNotPay account in any

Access the

Claim Warranty

feature

Select the

Warranty on a Purchased Item

option

Tell us what's wrong with your L.L. Bean item

Hit

Submit
After you complete these steps, we'll generate a letter and forward it to L.L. Bean. The company reps should contact you directly and tell you more information about the returns.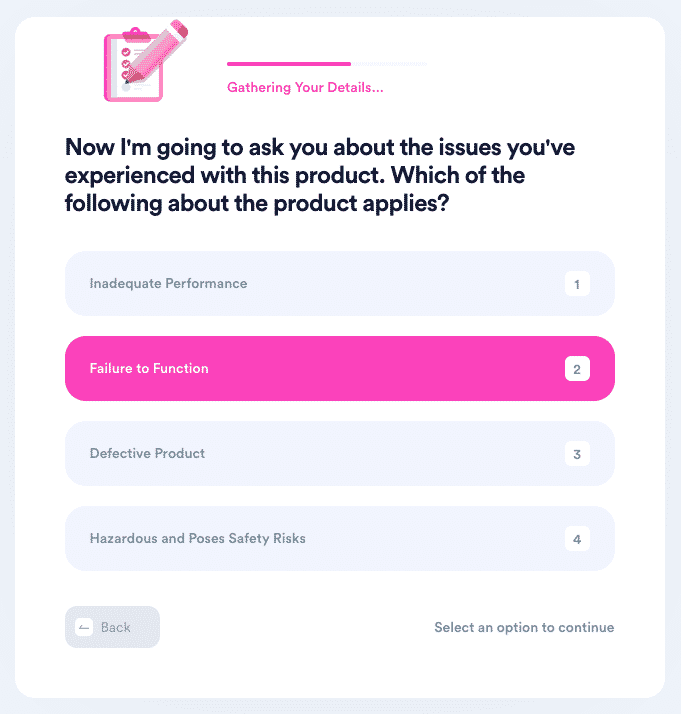 Besides warranties on purchased items, DoNotPay can claim car or home warranties for you. You can also use our app to learn about extended warranties for used cars and get help if a dealer refuses to cancel your extended warranty. Read our home warranty reviews to get information about the best home warranties in America.
File an Appeal With DoNotPay if L.L. Bean Denies Your Claim
L.L. Bean might not accept your warranty claim, especially if you file it more than a year after purchase. If L.L. Bean rejects your claim, use DoNotPay to appeal. Here is how to do it:
Open DoNotPay in any

Select the

Claim Warranty

feature

Choose

Appeal a Denied Warranty Claim

Give the details about your original claim

Click on

Submit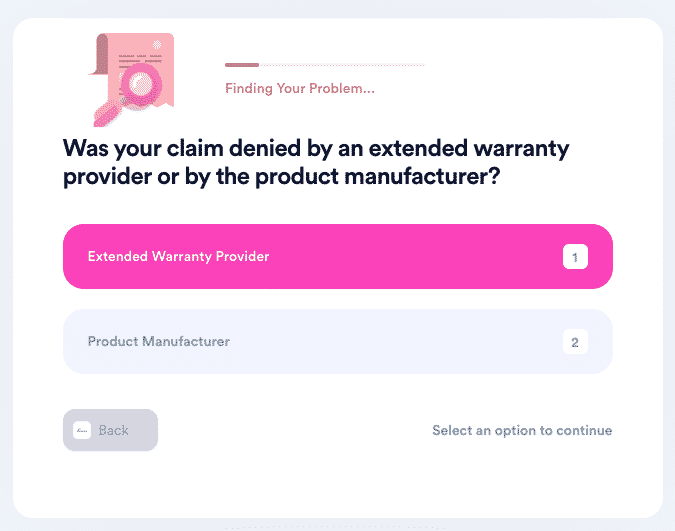 DoNotPay will use the information you provide and rely on the implied U.S. warranty laws to write an appeal letter on your behalf. We'll send the letter to L.L. Bean, and you should hear the results of your case from the company's representatives.
Do You Know What Else You Are Eligible For?
DoNotPay is a handy virtual assistant that can reveal a world of possibilities that you may not have even been aware of. We've perfected our algorithms to identify opportunities for you to save up and take charge of your rights.
Here's a fraction of what we can do for you:
What Else Is New With DoNotPay?
DoNotPay boasts several new features that can help make your everyday life so much easier.
Have you been wondering how to file an insurance claim but weren't sure where or who to turn to? We'll gladly do it for you.
Are you tired of outdated faxing practices and manual documentation? Our app can provide you with an online fax solution and draft all your legal paperwork in no time at all.
Do you need a safe place to prepare for your upcoming government test? DoNotPay will give you all the prep tests you need.
We can help out with locating an imprisoned loved one and keeping correspondence with them via our virtual mailbox.
See what else DoNotPay has in store by accessing our web app in .