An In-Depth Guide to Writing Winning Letters for a Scholarship
Numerous students apply for gift aid, so funders ask for letters for a scholarship to filter the best candidates. This is your chance to outshine the others and move your name to the top of the recipient list.
Knowing that this letter can be a deciding factor can put a lot of pressure on you, but no worries—DoNotPay is here to help!
Our detailed guide will unravel what it takes to write killer letters for a scholarship. We'll also provide you with a sample to inspire your writing.
What Is an Application Letter for a Scholarship Request?
Besides looking into your grades and extracurricular activities, the organizations and foundations who give out the money want to know why you want their scholarship in particular. The application letter is your opportunity to explain that.
This is one of many documents you might need to submit as the issuers can also request:
Make sure to check what scholarships you need the letter for. Even if you apply for several types of aid that are within the same category—for example, scholarships for women, veterans, or international students—not all issuers will ask for a letter or essay.
If you to discover and apply for scholarships, we will outline all requirements for you to revise. Our app allows you to find and look into college and graduate scholarships in no time. We can even apply for no-essay scholarships in your stead.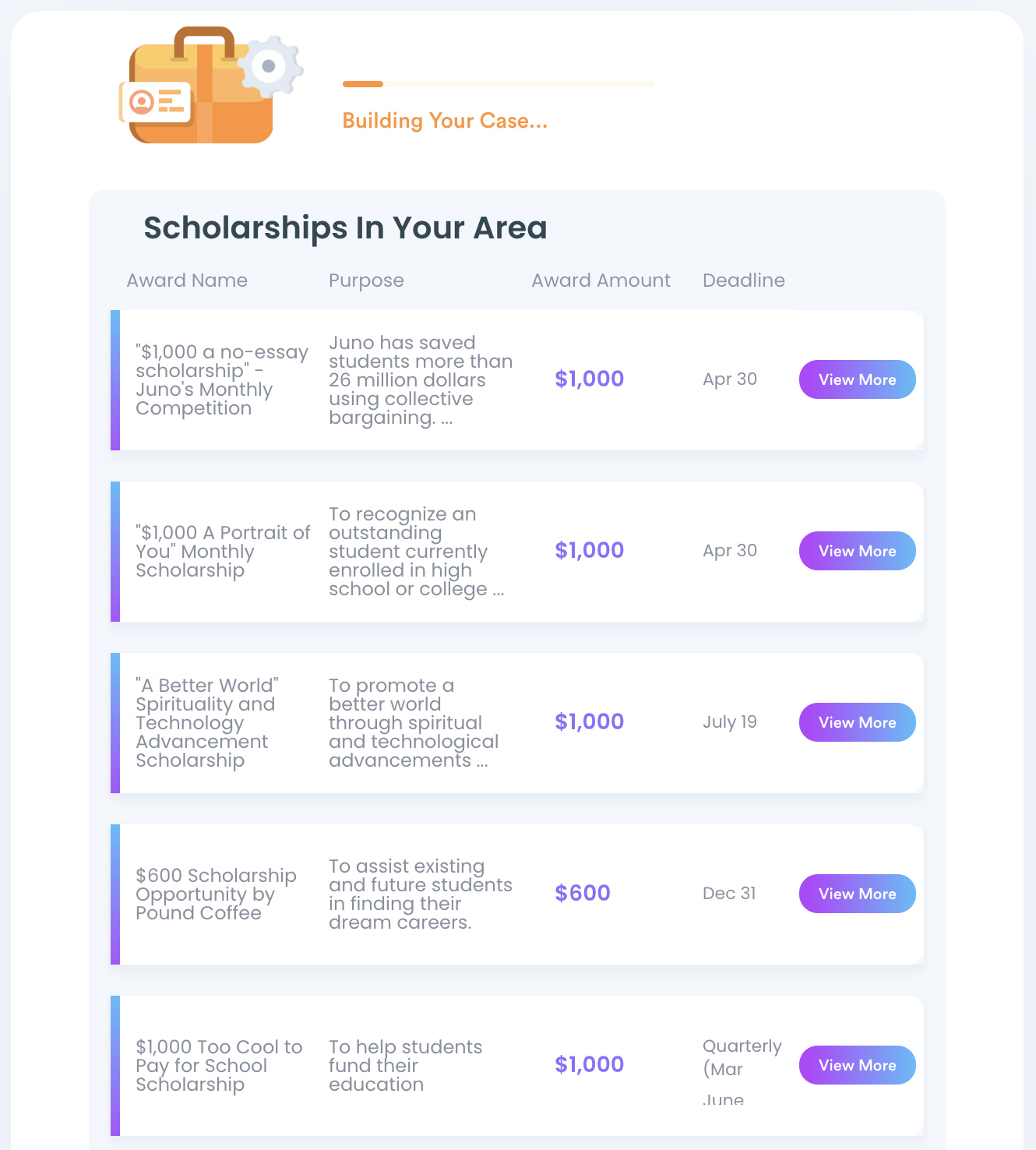 Must-Know Tips for Writing an Application Letter for a Scholarship Request
There are a few important tips you should keep in mind when writing the letter:
Follow the guidance on the length and format
Customize the letter for every application
Focus on your skills, abilities, and accomplishments
Use specific examples
Highlight your desire for education, not the need for money
Follow the Guidance on the Length and Format
The application letter is typically a one-page document containing three or four paragraphs. While you can use this as a general rule, check the issuers' requirements in case they have any specific requests. Respect the guidelines no matter what—otherwise, your application may get rejected.
Customize the Letter for Every Application
If you are applying for multiple scholarships, you need to personalize the letter for each one. You can write a draft and use it as the foundation, but make some changes for every request. For example, for general high-school seniors scholarships, you can focus on your academic achievements, but to get funds as a minority, you should emphasize your experience in that area.
Focus on Your Skills, Abilities, and Accomplishments
Give the issuers a reason to choose you by highlighting what you are best at. Think about the skills, abilities, and accomplishments that the specific organization will respect the most. You can list the same skills in every letter but rearrange your qualities based on the funder's expectations. Check their website to see what type of abilities and accomplishments they look for in a candidate.
Use Specific Examples
Vague generalizations won't make you stand out. You need to use real-life examples that show how you apply your skills. Instead of stating that you have leadership skills, explain how you used them in a certain situation.
Highlight Your Desire for Education, Not the Need for Money
Don't get hung up on your need for money. What will make you a more desirable candidate is a passion for education. Explain how the program you'll get to finance with those funds will help you build your dream career.
How To Write a Letter for a Scholarship
The letter needs to be impeccable with no grammar or spelling errors. You also need to use a professional tone and language.
In terms of content, check out the table below for guidance:
Element of the Letter
Brief Explanation
Your personal information
Include the following:

Name
Address
City
State
ZIP code

First paragraph—Your reasons for application
State which scholarship you are applying for and why you decided to apply
Second paragraph—Your goals
Share what you want to accomplish with the help of those funds
Third paragraph—Your story
Write about your qualities and achievements that the scholarship committee would want to know about, such as:

Passion for that field of study
School activities
Activities at organizations or in your community
Relevant life experiences and what you've learned from them
Responsibilities you've handled well
Awards you've received

Fourth paragraph—Your response to their request
Name all the requirements you've met for the application and reinstate why you deserve the scholarship
Application Letter for a Scholarship Sample Letter
Some learn best through examples, so the following one for an art scholarship may inspire your writing:
Letter of Application for [Scholarship Name]
Applicant's Name
Address
City, State, ZIP code
Date
Dear Scholarship Committee,
I was happy to find out about [Scholarship Name] as these funds can help me turn my dream of attending [Art School] into a reality.
This scholarship will help me pursue my passion for art. My ultimate goal is to open my own art studio, and enrolling in this school is the first step towards it.
My love for art began when my late father showed me his work and taught me how to paint. I was only four back then, but since that moment, I have never stopped creating art. I won several awards, such as [Award Title] in [year] and [Award Title] in [year].
If I get this scholarship, I will be able to fund part of the tuition. I included a link to my portfolio in the attachment, as you requested.
Sincerely,
Applicant's signature
Printed Name
Contact information
Streamline Scholarship Applications With DoNotPay
The more applications you submit and letters you send out, the more likely it will be for you to collect enough money for education expenses. If you want to know where you can find all those scholarships, the answer is DoNotPay.
We will make sure that you don't miss any great scholarship or grant. Based on your characteristics, we'll surface every aid you are eligible for.
Get your tailored list by following these simple steps:
Find and select the Apply for Scholarships tool
Answer our chatbot's question about your level of study, academic interests, and similar
Review and apply for scholarships
DoNotPay can help you find any specific scholarship you could think of, such as:
Hispanic scholarships

Yale scholarships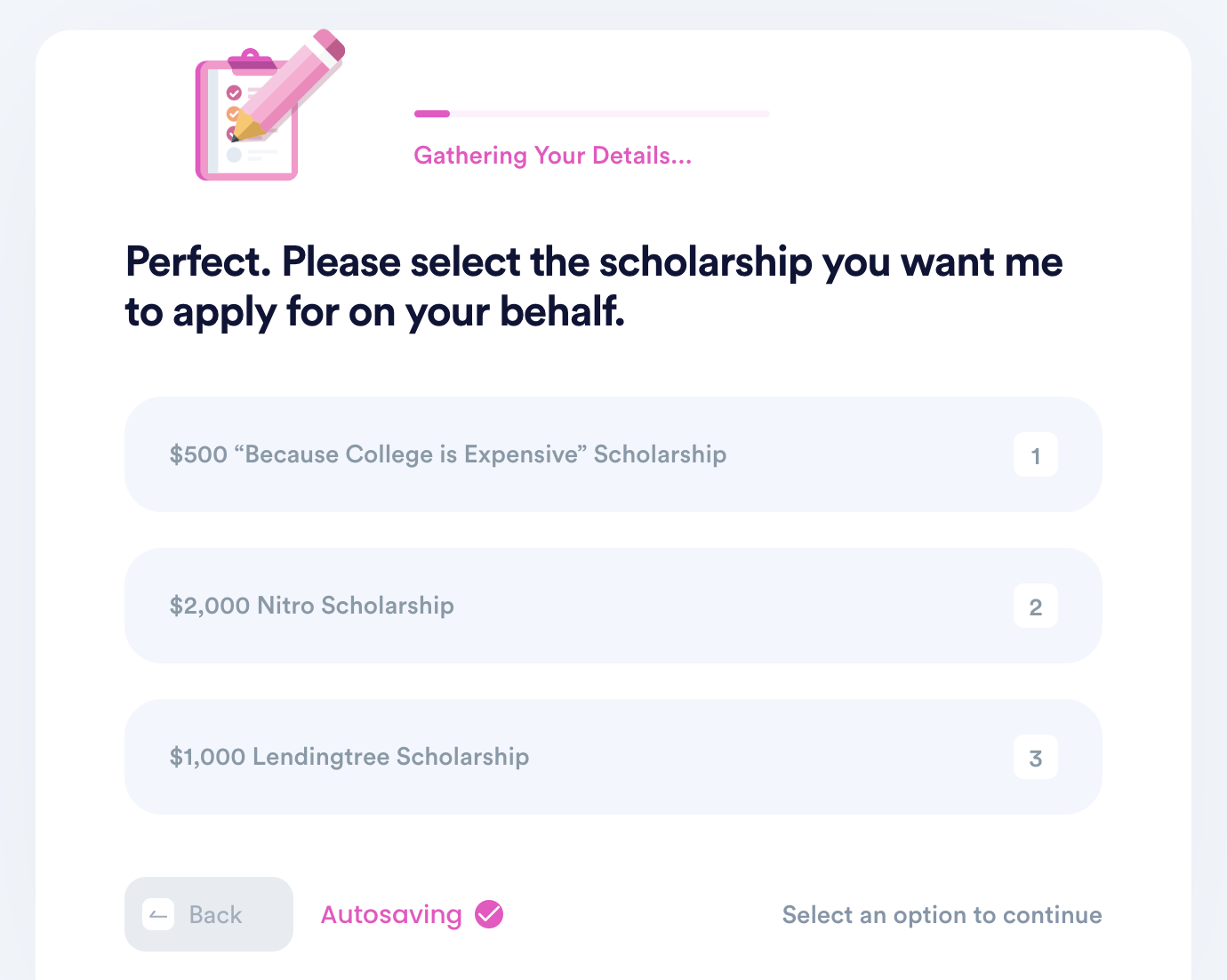 Managing Everyday Tasks With DoNotPay Is a Breeze
Completing mundane tasks doesn't have to be a nightmare! With our help, you can relax and finish them in a few taps! All you need to do is register for DoNotPay and let us help you with:
Have Your Documents Drafted and Notarized With Our Help!
If you need to draft a legal document, such as a divorce settlement agreement, power of attorney, or a child consent form, hiring a lawyer to assist you is probably the first thing that comes to mind. What if we told you that spending hundreds of dollars on services is unnecessary? Not only can DoNotPay draft contracts and agreements in a few minutes, but it is also your most affordable and effortless option!
The benefits our app provides don't stop there! After we generate your document, we'll connect you with a remote notary and show you how to get it notarized online without leaving the comfort of your home! You can even fax the document online and skip dealing with outdated fax machines.