LaGuardia Lost and Found—How To Find a Lost Item
Searching for lost items such as your phone or a wallet at Lost and Found offices after an already exhausting flight can be a tedious task. Typically, you have to spend days trying to contact various customer support representatives and repeat the same info over and over again. Did you lose something at LaGuardia Airport? Our article will show you how to contact the LaGuardia Lost and Found department and help you find anything you've lost hassle-free!
How To Find Lost Items at LaGuardia Airport
How you'll perform the search for your missing belongings depends on the location where you've lost them:
Onboard an aircraft
At a Transportation Security Administration (TSA) checkpoint
Around an LGA terminal
Losing Items Onboard an Aircraft
If you think that you've lost an item onboard an aircraft, you should contact the airline directly and ask them how to proceed.
Losing Items at TSA Checkpoints
In case you lost an item at a TSA security checkpoint, you can visit the TSA website and fill out their Lost and Found form. You will need to provide the following info:
The location and date where you lost the item
Approximate time of the incident
Airline name
Flight number
Area of airport
Baggage type (e.g., carry-on or checked)
Type of lost item (cell phone, jewelry, laptop, etc.)
A detailed description of the item
Your personal information
You can also call their contact center by dialing (866) 289-9673. TSA customer service works the following hours:
| Weekdays | Weekends and Holidays |
| --- | --- |
| From 8 a.m. to 11 p.m. | From 9 a.m. to 8 p.m. |
Once the TSA customer support representative picks up, you need to provide the following information:
Date when you lost your item
Description of the lost item
Your contact information (e.g., phone number or email)
If you don't feel like talking to customer support representatives, you can send an email to TSA-ContactCenter@tsa.dhs.gov.
Losing Items at a LaGuardia Terminal
In case you've lost your item at one of the LaGuardia terminals, you can file a report with the LGA Lost and Found office. You need to fill out a form that has to contain the following information:
Your email
Your contact phone
Name of the airport where you lost the item
All details you can recall about the place where you lost your item
Item type and name
Date and time when you lost the item
Image of the item (if you have any)
Your personal information (e.g., name, surname, state of residence)
Does this seem like too much work? Reporting a lost item on time is crucial, as the odds of you finding it are higher the faster you report it. That's why DoNotPay has developed a tool to make the process as swift as possible!
Our AI-powered app can in your stead and report your lost item in a matter of minutes.
Use DoNotPay To Contact the LaGuardia Lost and Found Department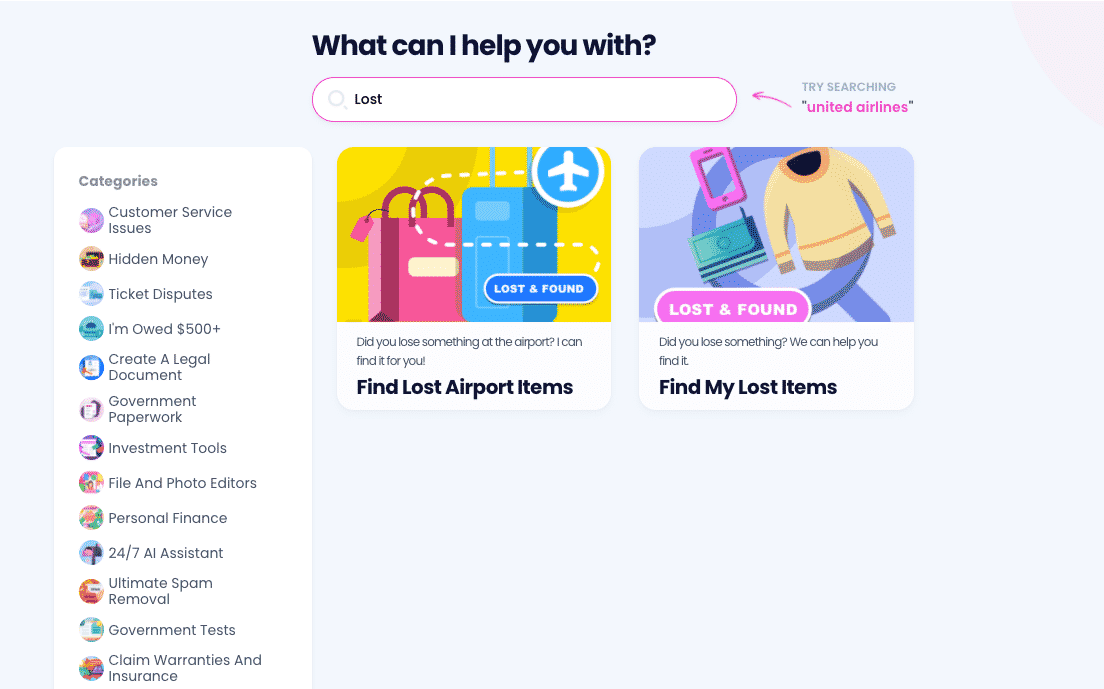 DoNotPay is here to turn your search for your lost item at LaGuardia airport into a breeze! We will contact the company and handle the issue in your stead—all you have to do is:
from your preferred browser
Select our Find Lost Airport Items tool
Enter the key information, such as:

Airport name
Flight number
Description of your lost item
Date of the incident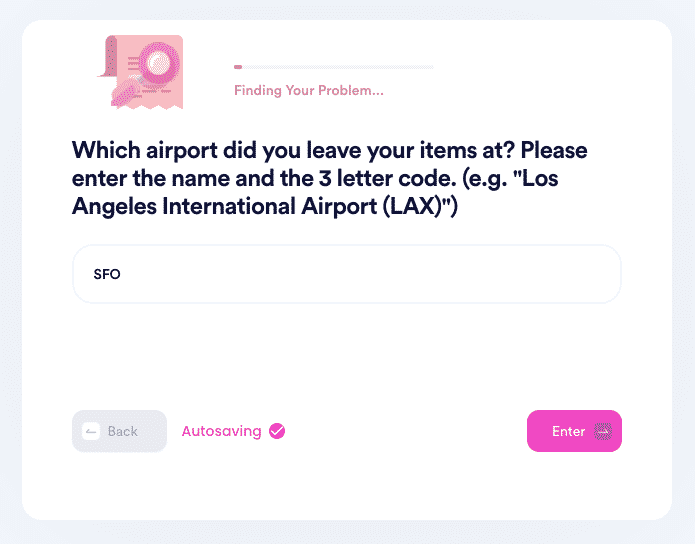 Once you submit your request, we will process it and contact LaGuardia. If your belongings are found, you'll be contacted right away.
Not sure what to do after losing your luggage? Our nifty app can tell you all about luggage tracking and help you report missing baggage in a few clicks.
If any of your recent flights have been canceled or delayed, DoNotPay has got your back! We can help you file a claim and get compensation effortlessly!
Choose From a Vast Variety of DoNotPay's Handy Services
DoNotPay boasts an enviable collection of various tools that help you cope with administrative matters more efficiently. Here is a small portion of the services we generously offer:
| We Can Help You File | We Can Create |
| --- | --- |
| Tourist visa applications | |
Be Safe Online With the Help of Our App
Keeping your details confident when using the internet is simpler with DoNotPay! Check out virtual credit cards our app can generate for you, and have fun with the free trials no one can charge you for! If you need a quick solution for phone authorization but don't want to use your actual phone number, we can create burner ones and keep your info private.
DoNotPay assists you in reporting defamation as well as stalking and harassment, prevents copyright violation, and helps you eliminate spammers and their annoying texts, emails, and robocalls.