Claim Your JUUL Warranty Easily—A Simple Step-By-Step Guide
If you are a smoker looking for a way to reduce the harmful effects of regular cigarettes, you have probably heard of JUUL—an electronic cigarette.
In case your JUUL e-cigarette is malfunctioning, you should claim a warranty since the company offers coverage for its products. DoNotPay can help you in a few clicks!
What Is JUUL?
Juul Labs sells JUUL devices for adult smokers who are more into vaping or are trying to cut down on traditional cigarettes. If you are interested in exploring various flavors and nicotine strengths, JUUL might be an alternative for you.
Another benefit of JUUL products is that they should be more affordable than cigarettes. One of the features the company heavily advertises is the auto-ship program offering you a way to get your JUULpods regularly.
If you already tried and found the service dissatisfactory, DoNotPay can easily cancel your JUUL subscription for you.
What Does JUUL Warranty Cover?
If you are experiencing problems with your JUUL product, the first thing you should do is check your warranty. If it is still valid, you can claim it and get your e-cigarette repaired or replaced.
JUUL warranty covers the defects in materials and workmanship caused by normal use.
The warranty does not cover the following:
JUULpods and JUUL USB charging dock

Any device or charging case where the serial number was erased, tampered with, or is not genuine

Normal performance degradation of batteries

Devices or charging cases purchased outside the USA or from an unauthorized retailer
The warranty does not include damage caused by:
Accident, misuse, fire, flood, earthquake, or other external causes

Contact with moisture or extreme thermal or environmental conditions

Operating the device or charging case outside the permitted or intended use

Modifications implemented to change capability or functionality

Accessories or attachments not authorized or recommended by Juul Labs

Opening or tampering with JUUL device or charging case

Normal wear and tear
JUUL devices and portable charging cases are under a one-year limited warranty from the date of purchase on the JUUL website or from an authorized Juul Labs retailer. You have to be at least 21 to claim your JUUL warranty.
How To Claim JUUL Warranty on Your Own?
Here are the options you can use to submit a JUUL warranty claim:
| | |
| --- | --- |
| Can You Claim Your Warranty Via | Yes/No |
| DoNotPay | Yes |
| Email | Yes |
| Phone | Yes |
| Letter | No |
| In Person | No |
| Company Website/Online Account | Yes |
File a JUUL Warranty Claim From Your Account
Here is what you should do to claim JUUL warranty from your account:
Access your account on the

JUUL website

Click on

Start Warranty Claim

at the bottom of the page

Click on

Login To Your Account

Enter your email and password

Click the

Sign In

button

Follow the warranty claim instructions
You will have to provide your JUUL device or charging case serial number and describe the problems you have been having.
Submit a JUUL Warranty Claim by Filling Out an Online Form
Another option to claim JUUL warranty is to contact customer support, and here is how:
Access the

support page

Enter your contact information

Choose the issue you need help with from the drop-down menu

Click

Next
Upon completing these four steps, you can choose a way to get in touch with JUUL's customer support, and that is via:
You can get a customer support representative by phone during their business hours, i.e., from Monday to Sunday, 9 a.m.–6 p.m. PST.
If you would like to use JUUL's chat service, it's available every day from 6 a.m. till 10 p.m.
Can DoNotPay Help You File a JUUL Warranty Claim?
You don't need to jump through all the bureaucracy hoops yourself—DoNotPay can easily assist with your JUUL warranty claim. You should initiate the process, and we will do everything else.
Here is how it works:
Access DoNotPay from a

Opt for the

Claim Warranty

feature

Choose

Warranty on a Purchased Item

Type in the warranty details and describe the issues you are having with the JUUL device

Click on the

Submit My Claim

button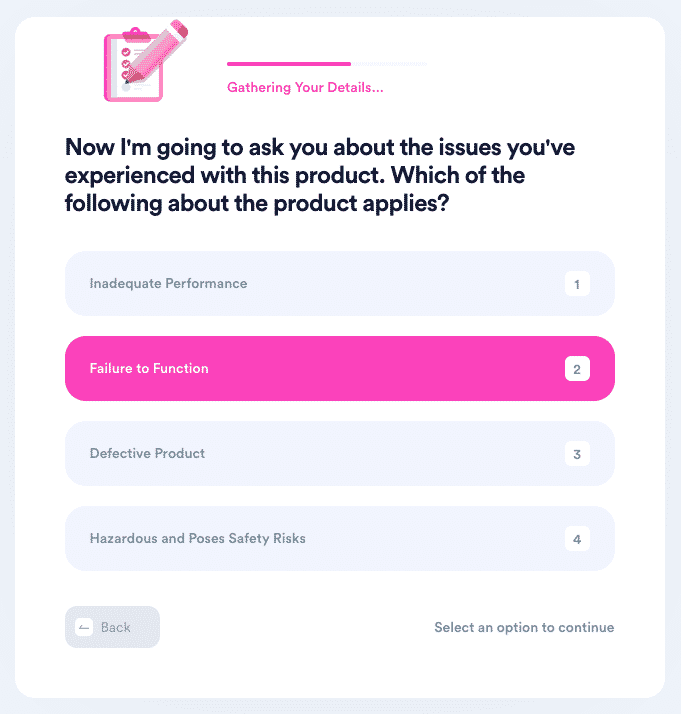 DoNotPay will file a JUUL warranty claim on your behalf. Expect a call from a JUUL customer service representative soon after.
You can use this feature to claim various warranties, such as your car and home warranties.
What Can DoNotPay Do for You if JUUL Rejects Your Warranty Claim?
Companies are often purposefully difficult, so DoNotPay is here to assist you if JUUL denies warranty service. You should do the following:
Open DoNotPay in a

Pick the

Claim Warranty

feature

Go for

Appeal a Denied Warranty Claim

Choose who you want to appeal against

Provide details about JUUL Labs and the denied warranty claim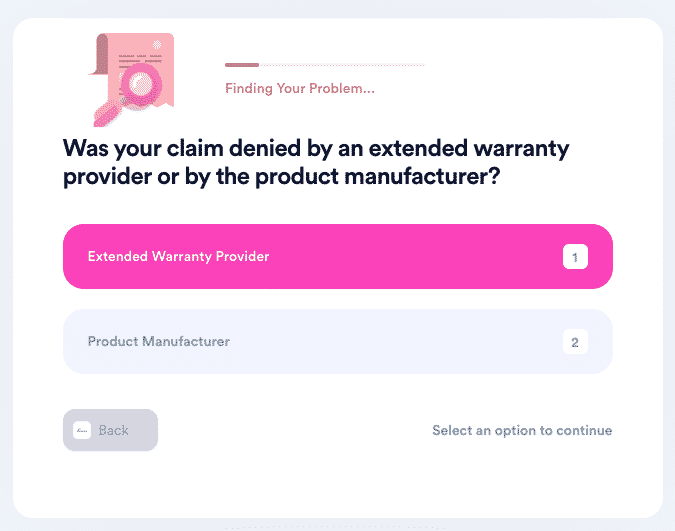 Our app automatically generates and submits your appeal, and a representative of JUUL Labs will get in touch at their earliest convenience.
DoNotPay Is Your Super Efficient Virtual PA
DoNotPay excels in warranty-related tasks. We show you how to claim your used car's extended warranty and what to do when a dealer refuses to cancel your extended warranty.
Are you interested in providing additional security for your home? Take a look at home warranty providers in the USA and their reviews to find the best plan for yourself.
Need help with anything else? Open DoNotPay in a , and we'll help you:
Dispute traffic tickets

Dispute speeding tickets