JetBlue Lost Luggage Policy Explained
Have you flown with JetBlue and lost your baggage? Find out what to do by reading our full summary of JetBlue's lost luggage policy.
Also, we dive into how !
The Basics of the JetBlue Lost Baggage Policy
The first thing you should do if you misplace one or more of your bags on a JetBlue flight is to report the lost item.
You can do this in two ways:
With the JetBlue staff member while at the airport
Via an online form
If your bags have been lost or damaged, file a report with a JetBlue crew member while you're at the airport.
Alternatively, you can submit a Lost Item Report via the online form on the website.
To help JetBlue's lost and found department recover your item quickly, you first need to let them know if your item was checked in.
If your bag was checked in, you should contact the local JetBlue Baggage Service Office in the airport baggage claim area or at the ticket counter.
In case you lost an unchecked item, make sure you provide the following details:
Item category and subcategory
Date you lost the item
Detailed description of the item
Make sure you file your Lost Item Report within 14 days of losing your luggage so that JetBlue has a better chance of recovering an item if you report it early.
| Where You Lost Your Item | Who Is in Charge of Finding It |
| --- | --- |
| Airplane, airline's lounge area, or boarding gate | JetBlue |
| Airport terminal and other airport premises not rented out to the airline | Airport |
| Rent-a-car, door-to-door shuttles between gates, and taxis | The companies that provide these services |
DoNotPay Can Speed Up the Lost Baggage Report Process for You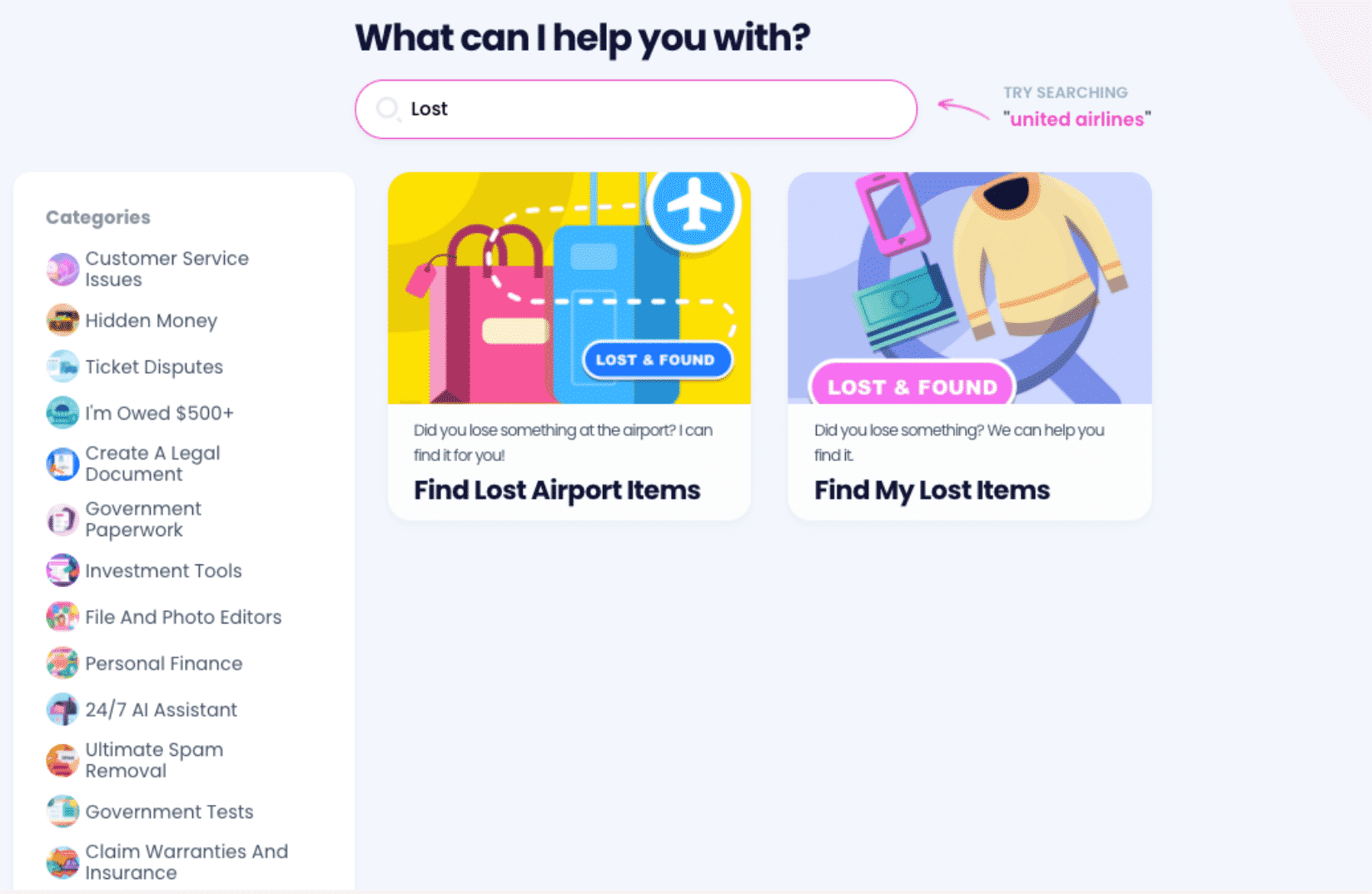 You can also look for your lost baggage with DoNotPay—our AI-powered app that drafts and sends a letter to JetBlue's Lost and Found department asking for the retrieval of your bag.
Follow these steps to get started:
Go to the Find Lost Airport Items feature
Submit information about your lost items, like the date when you lost them, the category they can be classified under, etc.
DoNotPay isn't limited to finding lost baggage. It can also help you find other items, such as lost phones, misplaced keys, or missing wallets—among many others. Our app can even get you a full refund for poor WiFi on JetBlue or other flights!
How To Stay Updated on the Status of Your Lost Baggage
Once you file the lost baggage report, you will get a confirmation email. If the company finds a lost item that matches your description, it will send you further instructions for retrieving it via another email.
If you wish to follow up on a lost bag report, call the JetBlue Baggage Service department at 1-866-538-5438.
How Can You Retrieve the Recovered Baggage?
Once JetBlue successfully finds your lost luggage, it will email you a link to the shipping checkout page. Following this link, you can verify the shipping information and provide your credit card details for covering shipping costs.
What Else Should I Know Regarding JetBlue's Lost Luggage Policy?
Here are a few other details to note regarding the JetBlue lost and found policy:
Lost official documents will be sent to the U.S. Department of State
You can update your Lost Item Report on JetBlue's designated page
If you lose a bag with an electronic item, deactivate the item's data plan
Lost items that cannot be returned to their owner will be donated to charity
The company also suggests attaching a tracking device to your luggage so you can keep track of it at all times if it gets lost.
Let DoNotPay Help You With Various Tasks
The assistance we can provide doesn't stop here! Check out the table below for more details on our services:
| Improving Your Security | Making Your Everyday Life Easier | Creating Customized Paperwork |
| --- | --- | --- |
| | | |
Struggling To Be Economical? Rely on DoNotPay!
Our app—the world's first virtual lawyer—can help you save a significant amount of money in a few clicks! Starting from lowering your bills and reducing property taxes to claiming missing funds under your name, DoNotPay will keep the cash in your pockets. Our system will also prevent you from financing unwanted or unused memberships and subscriptions by canceling them. You will be able to enjoy free trials without getting charged for them and get refunds from any merchant or airline company due to dissatisfying service!