How To File a Huawei Warranty Claim the Easy Way
Huawei is a world-renowned company that designs, manufactures, and sells telecommunication equipment and consumer electronics. Huawei ensures customer satisfaction by providing generous warranty coverage for its products.
If you want to know what a Huawei warranty entails and how to file a warranty claim without hassle, DoNotPay has the answers.
What Does Huawei U.S. Warranty Cover?
Huawei offers similar limited warranties for their phones, PC products, and accessories. The warranty period for each device starts from the moment Huawei issues the purchase receipt. Here are the details of each product's warranty coverage:
Product
Warranty Details

PC

12 months from the date of purchase for:

Host

Battery and charger

Electronic accessories

Phone

12 months from the date of purchase for:

All phones except for the PORSCHE DESIGN Mate 10

(24 months)

Battery and charger

Electronic accessories

Accessories

12 months from the date of purchase for:

Tablets

Wearables

Accessories

Battery and charger

Electronic accessories
Huawei warrants that its products are free from any design, material, and workmanship defect. If you notice such a flaw on your item during the warranty period, you should file a warranty claim. Huawei will repair or replace malfunctioning parts of the device and cover only the cost of parts and labor. You may have to pay for the shipping.
Huawei doesn't cover damage to the product caused by:
Viruses and bugs

Shipping and normal wear and tear

Exposure to extreme weather conditions

External factors, including fire, flood, or earthquakes

Abuse, misuse, accidents, improper storage, or exposure to liquids

Improper and unauthorized service, modification, installation, and maintenance of the product
How To File a Huawei Warranty Claim by Yourself
Huawei offers a couple of ways to file a warranty claim for their products. Check out the overview of possible methods below:
| | |
| --- | --- |
| Can You Claim Your Warranty Via | Yes/No |
| DoNotPay | Yes |
| Email | Yes |
| Phone | Yes |
| Letter | No |
| In Person | No |
| Company Website | No |
Requesting Warranty Service via Email
You can resolve any doubt or problem regarding a Huawei product by emailing the company at support@huawei.us.
Submitting a Warranty Claim via Phone
If you wish to contact Huawei Technical Support and Service via phone, you can reach them at (888) 548-2934. Huawei customer support agents are available from Monday to Friday, 8 a.m.–8 p.m.
How To File a Huawei Warranty Claim With the Help of DoNotPay
DoNotPay can help you request warranty service from Huawei in no time! Besides warranties for electronic devices, we manage car and home warranties with ease. You can turn to us when a dealer refuses to cancel your extended warranty or you need information on extended warranties for used cars.
We made the claiming process fairly simple. All you have to do is open DoNotPay in your and:
Choose the

Claim Warranty

feature

Select

Warranty for a Purchased Item

Provide information regarding your claim

Click on

Submit my claim
We will create and submit a warranty claim on your behalf. You can expect a call as soon as Huawei receives your request!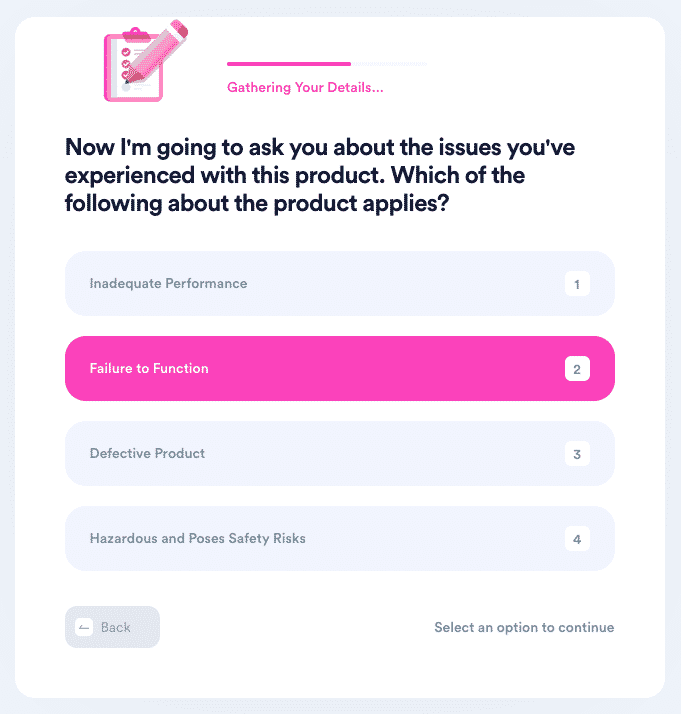 Appeal a Denied Warranty Claim With DoNotPay Within Minutes!
If Huawei denies your warranty claim, you shouldn't despair. Companies are unwilling to pay and will drag out the process long enough for you to give up.
With DoNotPay, you can get your claim appealed without any trouble!
Here's how the process works:
Access your DoNotPay account from any

Pick the

Claim Warranty

product

Select the

Appeal a Denied Warranty Claim

State whether you are appealing against the decision of an

extended warranty provider

or a

product manufacturer

Supply information about Huawei along with the original warranty claim details
DoNotPay will once again take the burden off your back by filing an appeal in your name. Huawei is bound to get in touch with you and resolve your warranty request in no time.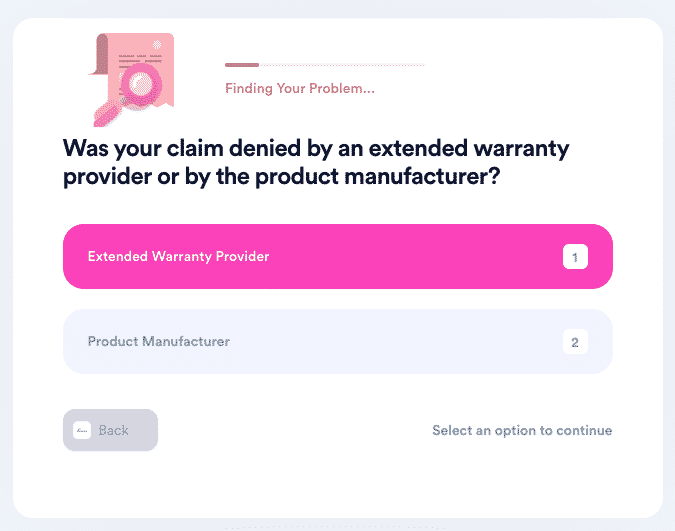 DoNotPay Has Other Impressive Features for You
If completing boring administrative tasks is giving you a headache, you are in the right place! With DoNotPay, you can skip all the frustration and solve issues in a few clicks. Check out our knowledge base for information on the best home warranties in America and get an insight into home warranty reviews.
Our app deals with refunds, cancellations, and other bureaucratic chores. Open DoNotPay in your , and discover how we can assist you with:
Overturning traffic tickets

Fighting speeding citations