How to Use a Virtual Visa Card

These days, it's possible to do almost everything online, from ordering groceries to signing up for the hottest new streaming service. While it can be very convenient to handle your business online, it also opens you up to a variety of issues, from identity theft to expensive recurring charges.
One way to streamline your online presence is by using a virtual credit card. Using a virtual card, such as a virtual Visa card, can save you time and prevent unwanted charges. Read on to learn more  and discover the easy alternative to signing up for traditional virtual cards.
What Is a Virtual Visa Card?

Visa is one of the biggest financial services corporations in the United States. With card options to suit nearly every taste and need, individuals and corporations alike turn to Visa to help manage their finances. When it comes to virtual credit cards, however, things get a bit confusing. Visa does not advertise a –however, they do have a feature called Visa Click to Pay, which is promoted as being a safe, secure way to pay online.
What Are the Benefits of Using a Virtual Credit Card?
Virtual credit cards have a whole host of benefits. Here are a few reasons to look into virtual cards:
Virtual credit cards are secure, since the number cannot be stolen and the card itself isn't tied to your bank account.
Virtual credit cards are easy to use.
You can save money by using virtual credit cards, since they help safeguard against recurring charges.
Virtual credit cards are a great way to keep track of your online footprint. You might even save some money while you are at it, making them a great option for anyone who enjoys shopping online or utilizing free trials for various services.
Are There Drawbacks to Using Virtual Cards?
Virtual cards are safe, secure, and easy–however, they don't work for all online transactions and do have some limits. You can't withdraw cash using a virtual credit card, since they aren't actually tied to your personal bank account. You might also run into challenges booking a hotel or rental car with a virtual credit card, since they often can't be verified at a later date.
When you plan on using a virtual card, make sure to use it for only the purchases that make sense–such as signing up for free trials for streaming services.
How Does a Virtual Visa Card Work?
While a Visa virtual card doesn't currently exist, Visa Click to Pay is an option for Visa customers who wish to shop online in a more secure manner. Here are some things to know about Visa Click to Pay:
Click to Pay is an online checkout experience that doesn't require you to enter your full credit card number at online retail websites.
Click to Pay isn't available at all stores, so you'll have to do some research ahead of time if there are specific retailers or businesses where you want to shop.
You can download Click to Pay on your phone and use it as a mobile application.
Where Can You Get a Virtual Visa Card?
Any current Visa customer is eligible to use Visa Click to Pay. You can coordinate with Visa customer service directly in order to enable the service. Once it has been enabled for your account, you shouldn't have to verify anything further. Depending on your bank, you might also be able to learn more about the service by contacting customer service at your local bank.
How to Get a Virtual Visa Card on Your Own
If you want to sign up for Visa Click to Pay, you can follow these steps:
Visit the Visa Click to Pay consumer portal. Follow the prompts in order to register for your own Click to Pay account.
You will need to verify your payment method and other account details before fully enabling Click to Pay on your phone.
Once it has been enabled and all your account details have been confirmed, you are good to go!
Get a Virtual Card for Free Trials Through DoNotPay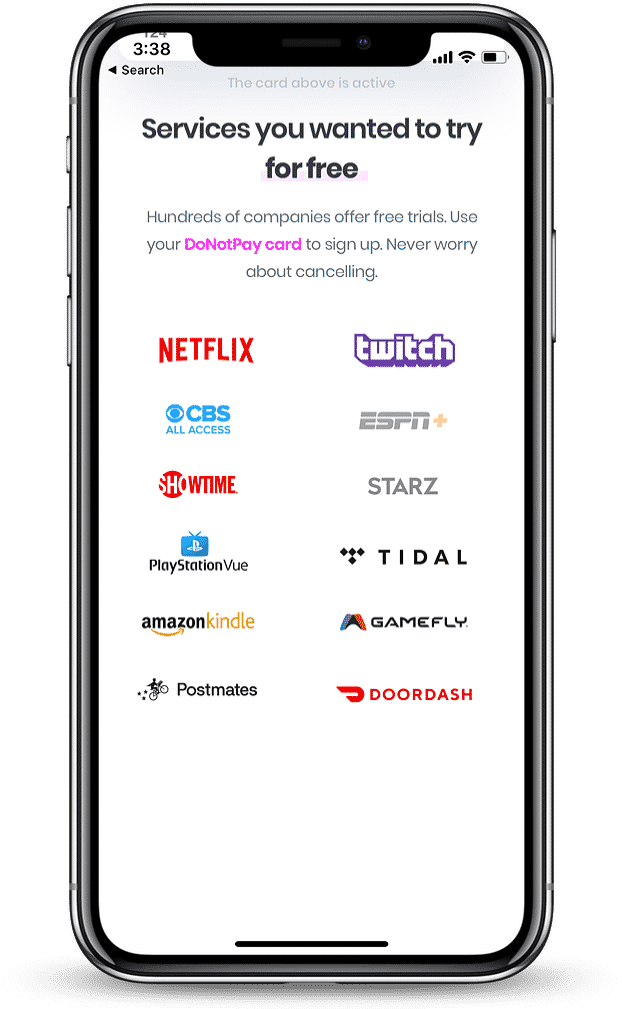 Virtual cards are easy to use, but they can be a pain to sign up for. If you want to streamline the process and get a virtual card that lets you sign up for all the free trials you want without stress, check out DoNotPay. Our virtual cards let you protect your personal information, preventing you from being charged with unwanted fees - all while enjoying free trials on your own time.
DoNotPay Can Help With All Your Virtual Card Needs
DoNotPay is in your corner, helping you navigate the internet while keeping your personal information safe. Here are some other topics DoNotPay can help with: