How To Get the Best Results on Your
NC Driving Test
If you want to explore North Carolina in a car or simply drive yourself to work without using public transportation, you'll need to get a driver's license. You can finally get into the front-left seat once you pass the driving test in NC. We will tell you everything you need to know about the test and give you all the tips and tricks!
What You Should Know About the
North Carolina Driving Test
To get a driver's license in North Carolina, you'll have to take a few tests. The NC driving test consist of the:
Vision test

Knowledge and traffic signs test

Road skills test
There is no preparation for the vision test—you only need to meet the vision standards for driving in NC. If you pass and get your license, make sure to always wear your glasses or contact lenses (this refers to everyone with poor eyesight) because the penalty for not wearing them is the same as driving without a license.
The written knowledge test in North Carolina consists of 25 questions, and you need to get 20 correct answers (80%) to pass. These questions are about traffic laws and safe-driving practices. You can take the knowledge test in different languages or even request an oral exam.
The traffic signs test covers regulatory and warning signs, which you will have to identify by shape and color and know the meaning of each. 
Once you pass these tests, you may move on to a road test where your driving skills and ability to perform simple driving patterns will be checked.
How To Prepare for the
NC Driving License Test
You've probably heard about this a million times before, but you will have to study to prepare for the knowledge test in North Carolina. There are more fun and efficient ways of studying, and we'll cover them all here.
You should first get the North Carolina Driver's Handbook. It has all the possible information you need to pass your knowledge test and become a good driver. It does have around 100 pages, so it won't be easy to remember everything you read. Go through it a few times and take notes.
If you are looking for a way to check your knowledge, you should use driving practice tests. This is an easy way of remembering traffic rules and regulations. You'll see what the questions on the real test look like and get a better grasp of what is important.
You may also decide to hire a tutor to help you learn and check your knowledge, but this option is not cheap. You can get the same results with the combo of the first two study techniques without wasting a hefty amount of money.
DoNotPay Has the Best
NC Permit Practice Test
Available
If you want to get on the roads of North Carolina as a driver as soon as possible, you should use DoNotPay's practice test to get prepared for the real one. You can take the test as many times as you like until you feel completely prepared. These are the simple instructions you need to follow:
Open DoNotPay in your

web browser

Type in the name of the test

Pick the test you want to prepare for

Let us know if you want to practice with 10-, 20-, or 30-question tests

Start taking the test
You can retake the questions you answer incorrectly right away, or you can opt for seeing the results of the entire test and then retake it.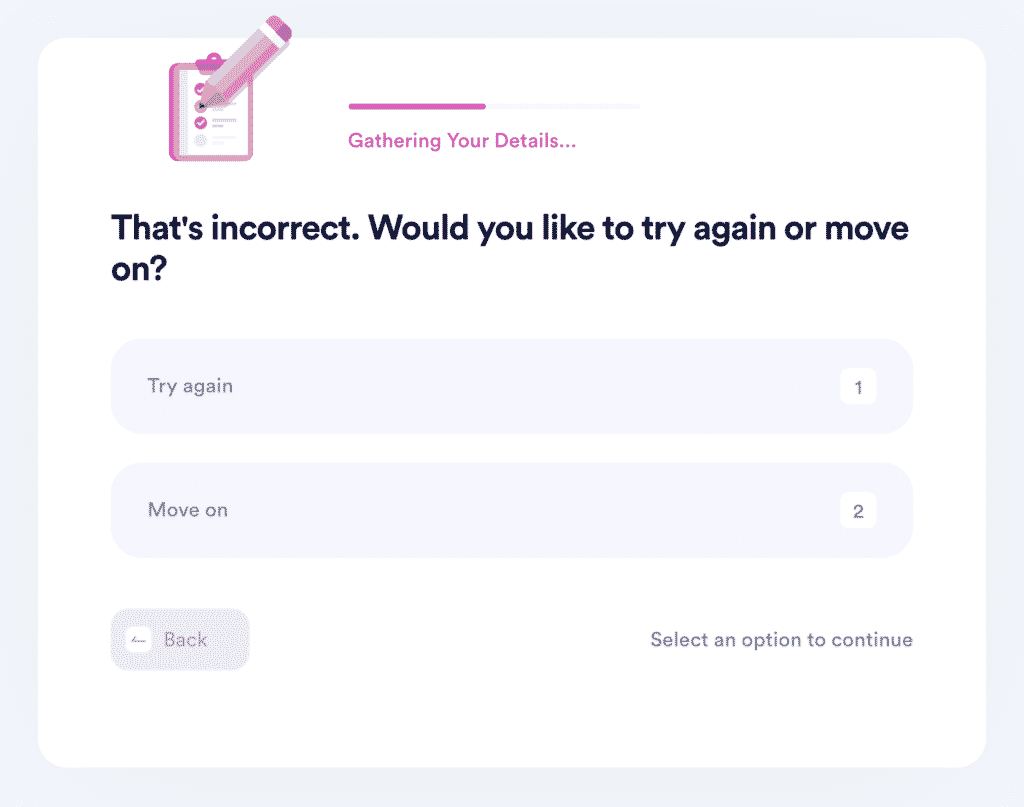 Other DoNotPay's Practice Tests at Your Disposal
DoNotPay has numerous other practice tests that can help you ace the real ones. Our comprehensive database reaches various fields that you can check out by opening our app in your web browser. Take a look at the table below to see your options:
| | |
| --- | --- |
| Other Driving Tests | Tests In Other Categories |
| | |
DoNotPay can also tell you how to check your ASVAB test scores. We also know the best way to schedule a DMV driving test appointment.
How To Make an Appointment for Your
NC Driving Permit Test
North Carolina has made it easy for anyone to schedule an appointment for their tests in this state since everything is done online. These are the instructions you should follow:
Click on the

Make an Appointment

button

Select the appointment type

Choose a location you wish to take the test at

Select the date and time that suit you

Complete the short form with your personal info

Confirm your choices
DoNotPay Is the Champion of Customer Advocacy
If you've never experienced an issue with a purchased item, you should consider yourself extremely lucky. When shopping goes wrong, you usually have to brace yourself for unpleasant and annoying exchanges with customer support centers. 
DoNotPay is here to make exercising your consumer rights easy. Long holds when calling customer service reps and incessant marketing spam emails can stay in the past. We will help you avoid irritating text messages from online retailers by teaching you how to bypass phone verification when signing up. 
Ask for refunds, claim warranties, fix credit card issues, or sue retailers in small claims court—these are just some of the services our platform provides. 
With DoNotPay, you can start free trials for new services risk-free. If you want to get out existing subscriptions, canceling them has never been easier!
Wait, There's More!
Our full portfolio includes features as diverse as contacting inmates and requesting college application fee waivers for students from low-income families. 
If you have a problem with bureaucracy, the chances are DoNotPay knows how to fix it with your minimal involvement. 
Leave the grunt work and unnecessary expenses behind. We will help you pass various government tests with flying colors, find unclaimed money in all states, or get out of parking tickets before you know it!