How to Get Your Own Current Virtual Card

The banking and finance industry has evolved dramatically over the last decade. It's more common than ever for consumers to spend their money online using a computer or smartphone. Payment methods have also evolved over time. These days, financial technology companies like Current are offering a full line of banking services, virtual credit cards, and debit cards to tech-savvy users.
If you're the kind of person that likes to track your accounts closely, Current is a good option. Inside the app, you'll find tools to help you manage your money by providing insights on what you spend and save. When you use the Current virtual card, you can also earn rewards.
While it's great to have a virtual credit card you can use online and in stores to make purchases, you have to be careful. Keep in mind the card number is associated with your account, so be careful. If you're signing up for free trials, memberships, and subscriptions, consider a secure DoNotPay free trial card instead.
What Is a Current Virtual Card?
Think of a Current virtual card like a second debit card attached to your account. It works the same way and you can use it in the same places, but it's contained in your digital wallet instead of your physical wallet. All Current users qualify for a free virtual debit card, which can be used the same as the physical card.
Are There Any Fees to Use a Current Virtual Card?
Because the Current virtual card is a debit card rather than a credit card, you won't be charged interest. Some virtual cards have an annual fee, per transaction fee, and other hidden fees, but not Current.
Their fee structure is much more like that of a bank:
| | |
| --- | --- |
| Overdraft Fees | No |
| Out-of-Network ATM Fees | $2.50 |
| In-Network ATM Fees | No |
| Bank Transfer Fees | No |
How Does the Current Virtual Card Work?
You use the Current virtual debit card the same way you would any other card in your mobile wallet. You can also add a Current card to Apple Pay so you can pay for purchases using your new card.
Either the shop is online or in person.
At checkout, choose the Current virtual debit card.
Approve the purchase amount.
Enjoy your new stuff!
How to Get a Current Virtual Card
Every Current account comes with a free virtual debit card, which makes it very easy for you. Before you can use the card to go shopping, however, you're going to need to activate your virtual card:
Log into your Current account in the app.
Tap 'Card Settings'
Choose 'Activate' next to the virtual card image
Choose a PIN
Enjoy your new card
Does Current Guarantee 100% Safety?
As hard as financial technology companies like Current try to protect users, there's never really a 100% guarantee of safety. That said, a Current virtual debit card is just as secure as one issued by a bank, credit card company, or other financial provider. You can rest easy knowing your data is safe and your transactions are secure. But, you have to track your spending or you may end up with unwanted, recurring charges.
Try Before You Buy With a DoNotPay Free Trial Card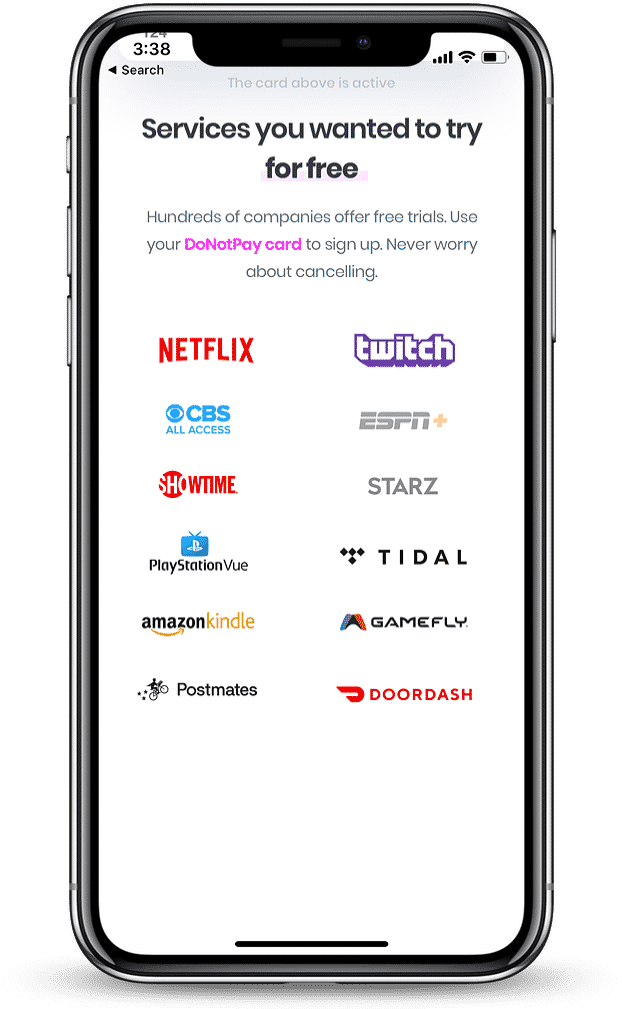 If you're the type of person who likes to try out things before you commit to a big purchase, the DoNotPay free trial card is for you. This virtual credit card not only allows you to try things for free but also makes sure you never get charged for something because you forgot to cancel.
View the DoNotPay Virtual Credit Card Product
Answer a couple of questions
Generate a virtual credit card number
Sign up for all the free trials
Rest easy knowing you'll never pay unless you want to.
Where Can I Use DoNotPay's Free Trial Card?

All kinds of companies are willing to give you a free trial of their service in exchange for some information. Your name, email address, and a credit card are all required when signing up for free trials. With DoNotPay, you will never have to enter your real credit card to get trials of streaming services, music, games, software, education, books, audiobooks, and more.
With the DoNotPay free trial card, you can
What Else Can DoNotPay Do for Me?
When you use the world's first robot lawyer, you can rest assured that you have a partner you can rely on. From mundane tasks to more complex things, DoNotPay is here to help you manage every aspect of your life. Just a few of the ways it can help include:
It's impossible to list everything DoNotPay can help you do in this space. Hop on over to the DoNotPay site and see for yourself how many ways it can help you reach your goals and manage your life.