The Straightforward Way To Contact the Houston Airport Lost and Found Office
The Houston Airport System consists of two airports that organize commercial flights and one dedicated to the US Armed Forces and NASA.
Millions of people pass through commercial airports, and many of them misplace their belongings. If you're one of those people and lost your phone, wallet, or any other precious item, don't fret!
This guide explains the quickest way to to increase your chances of finding your belongings!
How To Reach the Lost and Found Offices of Houston Airports
The two commercial airports that belong to the Houston Airport System are:
George Bush Intercontinental Airport (IAH)
William P. Hobby Airport (HOU)
The contact information you're looking for depends on the airport in question.
How To Contact the IAH Airport Lost and Found Office
The contact information for the IAH airport lost and found department is in the table below:
How To Contact the HOU Airport Lost and Found Office
To reach the HOU airport lost and found office, use the information from the table below:
What Should I Do if I Lost My Item on a Plane?
If you lost your item on a plane, you should contact the airline you flew with as soon as possible. Unfortunately, none of the Houston airports provide contact information for airlines, so you will have to call the number for general inquiries for the airport you flew off or landed at. Those numbers are:
1-281-230-3100 for the George Bush Intercontinental Airport (IAH)
1-713-640-3000 for the William P. Hobby Airport (HOU)
Once you call and a representative answers, you should:
Tell the rep that you lost an item on a plane
Provide information about your airline, destination, and flight number off your plane ticket or flight itinerary
Describe the lost item in detail
Avoid Phone Queues—Contact Any Airport With DoNotPay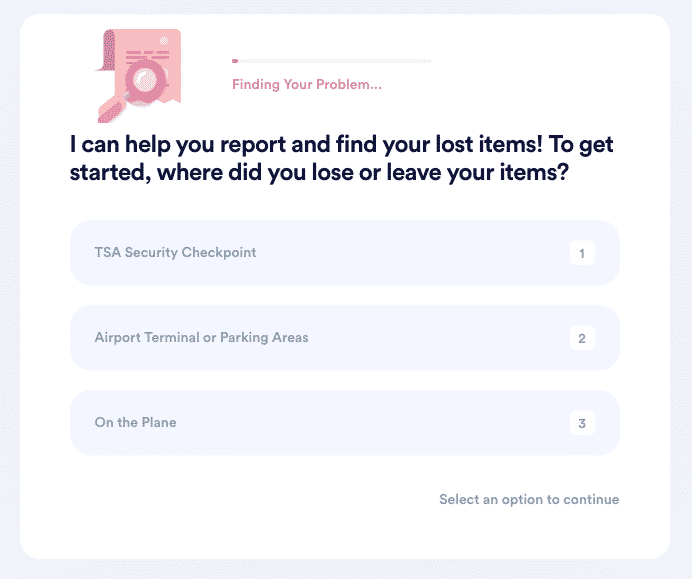 With so many people flying every day, it comes as no surprise that airport and airline hotlines are constantly busy. Statistics show that, on every 1000 passengers, three report loss of an item or baggage, and that's where the fun starts. It can take hours before a representative answers you, and every minute is crucial when you lose a precious item. DoNotPay designed a way for you to report your lost item and contact the airport in question without having to wait all day on the phone—all you need to do is:
Search Find Lost Airport Items
Tell us all about the unfortunate event:

When did you lose the item?
What is the object in question?
Where did you lose the item (at which airport)?
Once you provide all the necessary information, we take it from there. We will contact the airport on your behalf and inform you about your lost items in no time. If you lost a suitcase or two, our app can also track your luggage in a jiffy!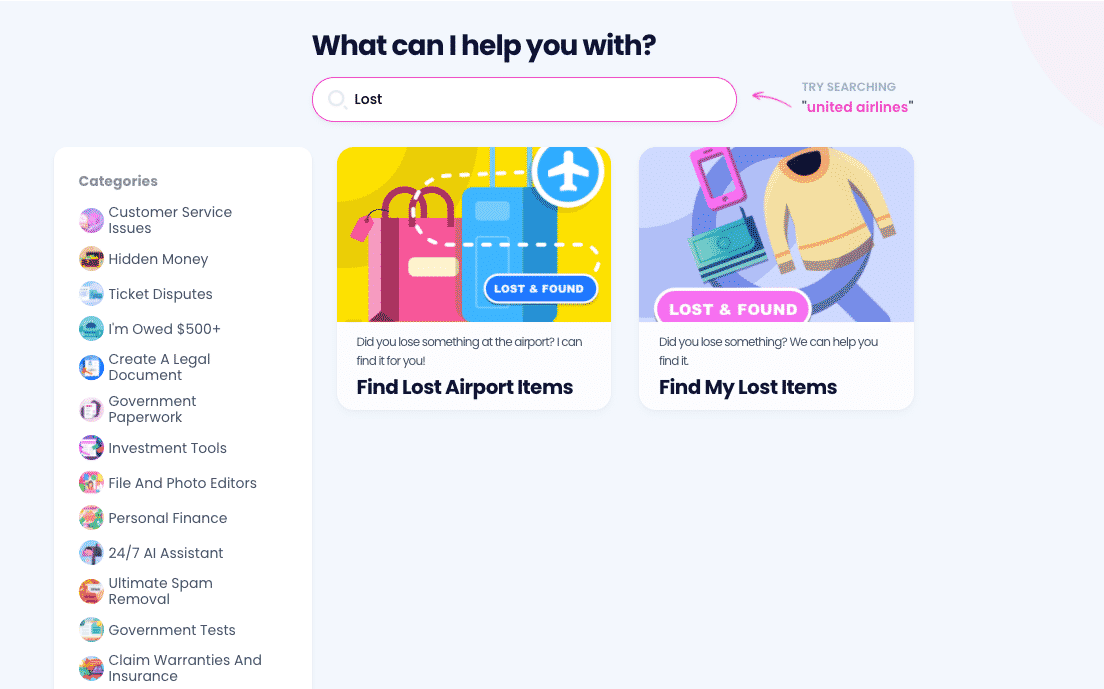 What Happens if You Don't Recover Your Items?
Every airline and airport has a different policy regarding lost items, so you should always try to contact both before you give up on your belongings. The situation becomes more tricky when airlines have their lost and found department and a separate one for TSA security checks. Whichever department gets a hold of your item, they will try their best to reunite you with it, but if you fail to contact them in a specific time frame, your belongings can be destroyed or sold.
Let DoNotPay Help You With Various Tasks
The assistance we can provide doesn't stop here! Check out the table below for more details on our services:
Improving Your Security
Making Your Everyday Life Easier
Creating Customized Paperwork

Draft divorce agreements

Create powers of attorney

Customize health care directives

Generate revocable living trusts

Write other legal documents
Struggling To Be Economical? Rely on DoNotPay!
Our app—the world's first virtual lawyer—can help you save a significant amount of money in a few clicks! Starting from lowering your bills and reducing property taxes to claiming missing funds under your name, DoNotPay will keep the cash in your pockets.
Our system will also prevent you from financing unwanted or unused memberships and subscriptions by canceling them. You will be able to enjoy free trials without getting charged for them and get refunds from any merchant or airline company due to dissatisfying service!