Lost Luggage Statistics—The Analysis
Every passenger's worst nightmare is to discover their airline mishandled their luggage. Have you ever wondered why and how often airlines lose luggage? Is there anything you can do to prevent your belongings from being lost? DoNotPay dives into lost luggage statistics and answers all your burning questions! You will also learn about the quickest way to contact any airport and report lost items!
How Often Is Luggage Lost?
In recent years, airlines have lost an average of 4–6 bags for every 1000 passengers. Check the table below for more detailed information:
| Year | Total Number of Checked Bags | Number of Mishandled Bags | Percentage of Lost Bags |
| --- | --- | --- | --- |
| 2019 | 484,683,339 | 2,822,261 | 0.58% |
| 2020 | 203,324,335 | 853,821 | 0.42% |
As you can see in the table, even though the number of passengers dropped drastically in 2020 because of COVID-19, the percentage of lost bags hasn't changed significantly.
Why Are Bags Lost by Airlines?
According to SITA, airlines lose baggage is because of:
Layover flights—46% of mishandled bags belong to passengers who board connecting flights. If you land and your next plane takes off in less than 90 minutes, there's a high chance that you will board the plane without your baggage. Mishaps occur because airport staff don't have enough time to unload the baggage from one plane and load it into another
Loading errors—Human error is inevitable, especially at an airport during rush hour. 19% of lost bags are mishandled due to mistakes staff makes while loading a plane
Ticketing errors—16% of lost bags get the wrong tag during the check-in
Answers to Frequently Asked Questions Regarding Baggage Loss
The table below contains answers to some questions regarding baggage loss:
Question
Answer
How can I prevent my baggage from being mishandled?
Some of the ways you can ensure your luggage doesn't get lost or stolen are to:

Use GPS luggage-tracking tags
Attach a paper tag with your contact information
Make your bag or suitcase stand out with a:

Charm
Suitcase sleeve
Duct tape
Stickers

What are some ways to minimize the damage done if my bag gets lost?
The loss of your bag won't impact you as much if you:

Keep your valuables and toiletries in your carry-on
Use a bag or suitcase from a lesser-known brand
What Happens When You Lose Your Items on a Plane or at the Airport?
Items lost on a plane or at the airport are usually kept at the lost and found office of the airport or carrier you flew with for up to 30 days, depending on each company's policy. You should report the loss of your items as soon as you notice—to maximize your chances of getting them back. In most cases, you can report lost items:
By phone
Via email
In person
Reporting lost items is a stressful process because it requires a lot of effort and patience on your part. Due to the number of people who fly every day:
Airline hotlines are busy
Customer support takes too long to respond to the flood of emails they receive every day
Lost and found offices are crowded
There is a way to tackle the issue without wasting time or wrecking your nerves—with DoNotPay!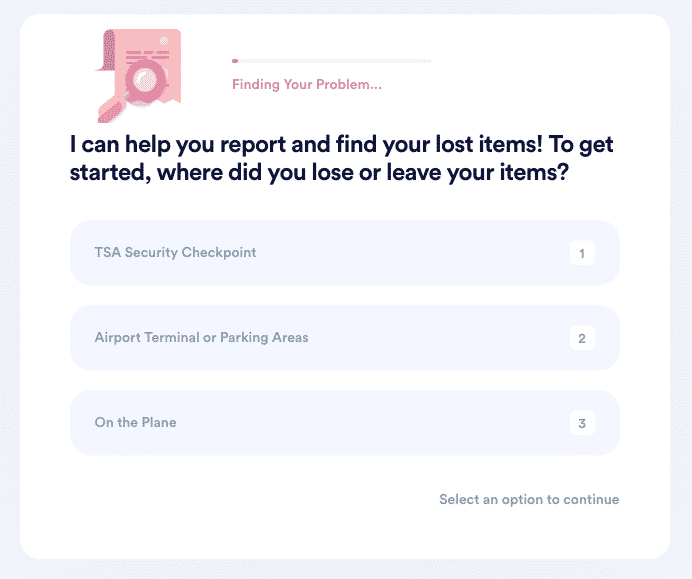 Use DoNotPay To Report Lost Luggage in a Snap!
Don't become the negative part of lost luggage statistics. Our app can help you report and find items you lost during air travel—from wallets and phones to bags and suitcases—using your input and a few minutes of your time. We will handle the hard part of the process in your stead after you:
Search for the Find Lost Airport Items feature
Provide information about the incident:

What did you lose?
When did the event happen?
Where did the loss occur?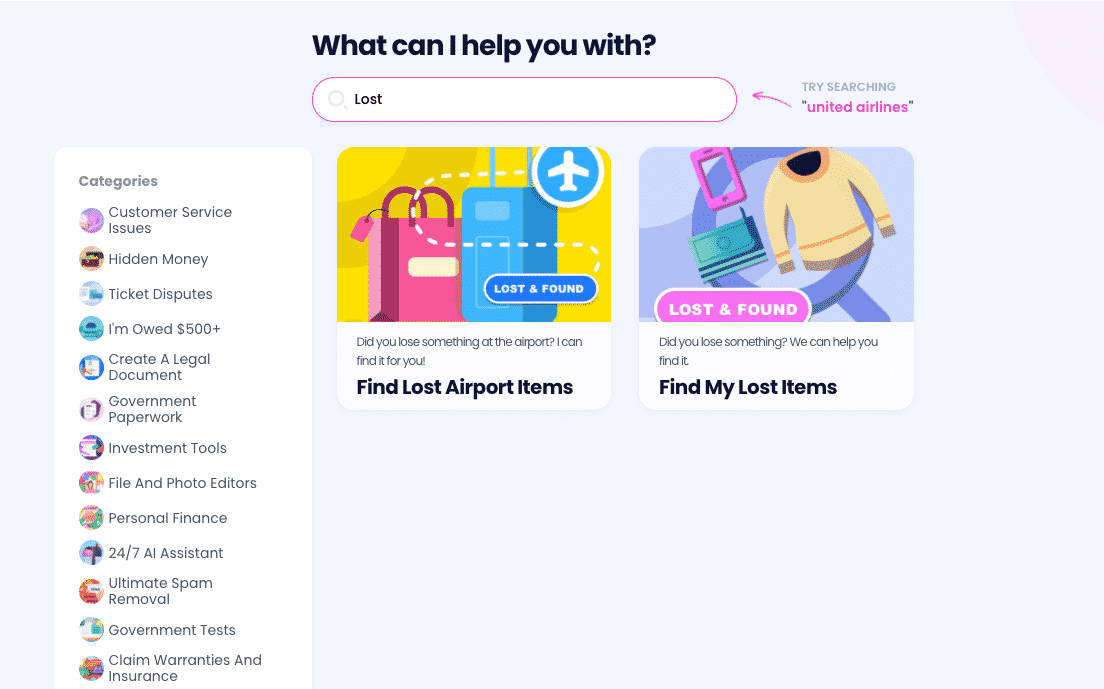 DoNotPay Handles Lengthy and Challenging Tasks on Your Behalf
No time to dedicate yourself to drawn-out procedures or solve administrative issues yourself? Keep calm—that's why DoNotPay is here! By creating an account on our platform, you will be able to:
Keep the Cash in Your Pockets With Our App
DoNotPay doesn't bring you money-saving hacks—it actually assists you in cutting out expenses and living more economically. The tools we provide are made to help you pay less for utilities, end unwanted paid memberships, have college fees waived, or get lower tax bills. You can also save more on education-related costs by applying for scholarships and other financial aid via our app!
If you have a few forgotten gift cards lying around, don't let them go to waste. DoNotPay can cash them out and send the remaining funds to your home address!