How to Deal With the Hope and Prayer Center Ministry Robocall
Like the Christian Prayer Center Ministry scam that made rounds across America in the early 2010s, the Hope and Prayer Center Ministry robocall scam took the pay-to-pray fraud format to a whole new level.
While robocalls are a huge problem in general, the Hope and Prayer Center Ministry robocall scam is particularly ominous since it preys on people's emotions and religious beliefs.
How Does the Hope and Prayer Ministry Robocall Work?
To mask their ill intentions, some robocall scammers start off innocently, and the Hope and Prayer Ministry is the perfect case in point. This is what the first call would sound like:
"Hello, this is the Hope and Prayer Center Ministry calling today to see if you need urgent prayer. If you would like to have someone from our center pray for you, please press one. If you would like to no longer hear from us, please press three."
If you press one, as most Americans would, you could expect to receive a second automated call asking you for a donation to the Hope and Prayer Center Ministry. While the second call would not state how much you will need to donate for the prayer, it will forward you to a service in charge of collecting the payments.
Whenever you see 956-275-9299 pop up on your phone, do not answer the call since it is coming from the Hope and Prayer Center Ministry.
Famous Pay-To-Pray Scams
The Hope and Prayer Center robocall is one among many pay-to-pray scams that have plagued America in recent years. The most famous ones include:
| | |
| --- | --- |
| Pay-To-Pray Scam | How It Works |
| The Christian Prayer Center Ministry scam | The original pay-to-pray scam dates back to 2011. The Christian Prayer Center Ministry operated a website and a Facebook page packed to the brim with positive reviews coming from religious leaders and people claiming that the Christian Center's prayers helped them reach their dreams and desires. The Ministry's prayers used to cost between $9 and $35, but the scam didn't stop there. Victims often ended up in a recurring billing cycle through which the Ministry would charge their accounts each month without their consent. In 2016, the man behind the scam called Benjamin Rogovy was ordered to repay $7.75 million that he collected between 2011 and 2015. |
| St. Mary's Prayer Center Ministry scam | St. Mary's Prayer Center Ministry robocall is a reboot of the original Christian Prayer Center Ministry scam. The Hope and Prayer Center Ministry is reportedly run by the same organization called Manasseh Jordan Ministries. Their automated calls sound the same as Hope and Prayer's, but the numbers are coming from the Dallas area, and they ask for a "small favor" first. Unlike other pay-to-pray scams, this one seriously spams its victims, insomuch that countless lawsuits have been filed against the Manasseh Jordan Ministries. Many of these lawsuits have been settled outside of court, and St. Mary's robocall scams keep making rounds. |
What Are Robocalls?

All automated calls are considered to be robocalls, regardless of them being legal or fraudulent. Typically, the caller leaves a voicemail or, if you answer the call, a pre-recorded message that tells you to press a certain number to get forwarded to a representative. Phone banks are essential to scammers, as the people working there are the ones in charge of stealing your money or personal information.
In general, a small number of people fall for robocall scams. Because of this, fraudsters need to use advanced autodialing technology to be able to dial millions of numbers as quickly as they possibly can. According to YouMail, in 2020, over ninety-five million calls are being placed every single day! That is why a robocall blocker is something you should consider getting if you already have not.
Another thing that robocall scammers do to ensure a satisfactory conversion rate is number spoofing. You are more likely to pick up a call coming from your area, and scammers know this!
Why Are Robocalls Legal?
Robocalls are difficult to manage from a legal standpoint. Politicians and charities use automated calls during their campaigns, and the government cannot prevent them from utilizing these channels of communication.
When it comes to companies and telemarketers, robocalls are hard to pull off legally. Both the Federal Trading Commission (FTC) and the Federal Communications Commission (FCC) put forth a set of rules that robocallers need to adhere to for the calls to be legal. Some of those rules are:
Companies are not allowed to place automated calls before 8 a.m. and after 9 p.m.
The caller has to have your express written consent to be able to dial you
Businesses are not allowed to dial numbers found on the National Do Not Call list
The caller needs to provide proper identification
You must be provided with an option to opt-out of the calls
Express Written Consent Makes the Calls Legal
If you are wondering how to stop robocalls placed by legal businesses, just do not provide them with an express written consent. These consents are defined by the E-SIGN Act and come in various forms, such as electronic signatures or checking a box on an online form.
FTC's Do Not Call List
Another great solution for dealing with spam calls coming from legal businesses is to place your number on the FTC's Do Not Call list. The problem is that scammers will not abide by this rule, so taking this precautionary measure will not save you from scam robocalls. To learn more about how to deal with spam calls, you can check out the FCC guide to robocalls.
Mandatory Identification
For a robocall to be legal, the caller must provide you with proper identification. At the beginning of the call, you should be presented with:
The caller's identity
The identity of the company on whose behalf the call is being made
At the end of the call, you have to be left with the following information:
The company's address
The company's phone number
The Power Should Be in Your Hands
Legal robocalls have to provide you with an option to opt-out of the company's automated calls. This issue is typically resolved in two ways:
A pre-recorded message offers you to press a certain digit to opt-out of the company's automated calls
A voicemail offers you a toll-free call-back number that you can call and place your number on the company's do not call list
DoNotPay's Way of Fighting Annoying Robocalls

The easiest way to fight back against robocalls is to use DoNotPay. You may have used our app for paying bills, lowering your bills, and many other things, but with our new Robo Revenge feature, you can track down scam robocallers, file a claim against them, and claim up to $3,000 in court settlements!
Accessing our services is incredibly easy—all you have to do is open DoNotPay in a web browser.
We have a unique and efficient way of dealing with scam robocallers. Here is what our process entails:
You get a scam robocall
The caller tries to steal your money or personal information
You open DoNotPay and select Robocall Revenge
We provide you with a free virtual credit card
You provide the scam caller with the virtual credit card information
We track them down based on the transaction details
We write a dispute letter so that you can file a robocall lawsuit against the scammer
Why Are Virtual Credit Cards Necessary?
Virtual credit cards help keep your personal information and money protected. Also, they allow us to track down the scammers based on the transaction details. Keep in mind that DoNotPay can only assist you with domestic scam callers. To help you file a claim against an international robocaller, we would need their address, and that information is virtually impossible to acquire.
DoNotPay Puts Your Number on the FTC's Do Not Call List
Placing your number on FTC's Do Not Call list can help you push back annoying telemarketers. You can do this on your own by:
Opening FTC's Do Not Call website
Clicking Report Unwanted Calls
Providing information about the unwanted call you have received
Submitting your request
In case you do not want to waste time on reporting an unwanted call, DoNotPay will gladly do it for you!
If you are wondering how to check if a number is on the Do Not Call list, you can do it by visiting FTC's website or by giving them a call.
The Best Robocall Blockers
Due to the severity of the robocall problem we are facing as a nation, many phone carriers and third-party companies started providing their users with robocall blocking services. If you still have not made your mind up about which app to use, here is a list of the best ones available:
Robocall Blocking App

Service Overview

Free two-week trial
Free for VoIP landlines
$1.99 per month
Large database of scam numbers
Free number lookup service

$5.99 per month for YouMail Plus
$10.99 per month for YouMail
Free for basic service
Easy-to-use transcription services
Free reverse phone number lookup

$2.99 per month for Android devices
$3.99 per month for iOS devices
Free one-week trial
Text spam filtering service
Includes Answer Bots
Customizable Answer Bot messages

$2.99 per month
$14.99 per year for Hiya Premium
User-friendly interface
Phone number lookup feature
Free basic service
How to Protect Yourself From Scam Robocalls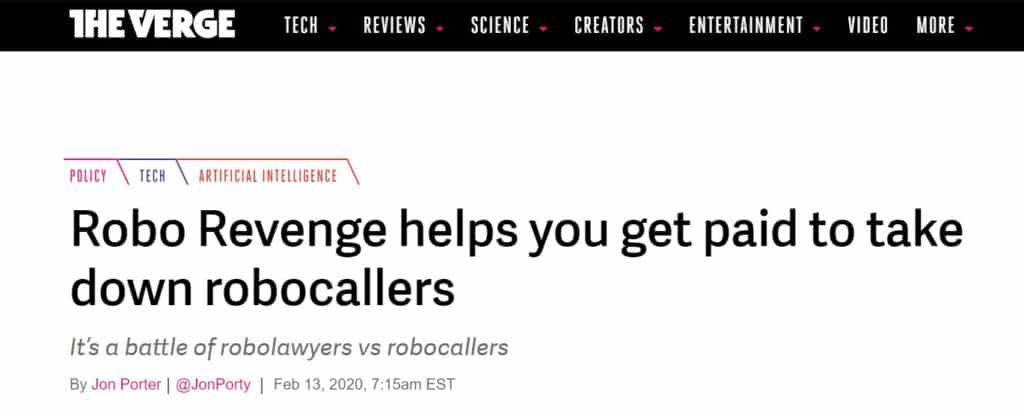 Using DoNotPay's Robo Revenge feature not only helps you track down scammers but sue them for up to $3,000 in compensation as well. There are other precautionary measures you can take to lessen the impact of robocalls on your life:
Do not answer unknown calls
Do not reveal your personal information
Place your number on the National Do Not Call Registry
It Is Best Not to Answer
Whenever you receive a call from an unknown number, it is probably best not to pick it up, especially if the number is too similar to yours. Sometimes, fraudsters do not even ask you for money or personal information. They can record your voice and use it to authenticate purchases over the phone. Not answering is your safest bet.
Never Share Your Personal Information
Some scams can seem incredibly believable, and that is why you should try to avoid providing unknown callers with your personal information. A lot of the time, fraudsters will be on the lookout for your personal information because it will allow them to pull off more lucrative scams, such as credit card or identity fraud.
Stay Safe With the FTC's Do Not Call Registry
Despite being annoying, some robocalls are perfectly legal. You can check the Do Not Call list exceptions to learn more about them.
To keep yourself protected from telemarketers' spam calls, you can put your number on FTC's Do Not Call list. You do not have to worry about the Do Not Call list expiration because once you place your number on the list, it will stay there until you change your mind.
How to Block Robocalls on Your Smartphone
Smartphones nowadays allow you to block specific numbers or even block all unknown calls. While these features can help you keep spam telemarketers at bay, they are not particularly useful with scam robocalls. Fraudsters often change their numbers to avoid getting caught by the authorities.
Blocking Robocalls on iOS Devices
If you are using an iOS device, you can block specific numbers or silence all unknown callers. To block a certain number, you need to:
Open the Phone app
Tap Recents
Tap the info icon next to the number you want to block
Select Block this Caller
Tap on Block Contact
To silence unknown callers, you should:
Go to Settings
Select Phone
Turn on the switch that says Silence Unknown Callers
Blocking Robocalls on Android Devices
Android device users have the option to block a certain number or block all unidentified numbers. To do the former, you have to:
Open the Phone app
Tap on Recent Calls
Tap the number and select block or report as spam
Confirm that you want to block this number
To block all unidentified numbers on an Android device, you should:
Open the Phone app
Select Settings
Turn on the switch that says Block Unidentified Numbers
The Most Common Robocall Scams
Some robocall scams are more common than others. Over the past few years, these are the ones that have plagued America the most:
| | |
| --- | --- |
| Robocall Scam | Telltale Signs |
| Google SEO scam | Google went on record and said that they never use automated calls to contact their customers! If you receive a call from an alleged Google representative threatening to take down your business listings if you do not pay SEO fees, know that you are dealing with a fraud. Small business owners are usually the main target of Google scammers. |
| Government Grants scam | If you become eligible for free government money, you will never be asked to pay any processing fees. The mere fact that you are asked for an up-front payment is the biggest giveaway of Government Grants scams. The caller will tell you that the money will be on your account as soon as you pay the necessary fee for the transaction. |
| IRS scam | Victims of IRS scams are usually told that they have overdue tax bills that they need to pay immediately. The alleged IRS inspector can even threaten to issue an arrest warning if you refuse to cooperate. IRS scams are among the scariest and most believable ones out there, as the caller will even provide you with a badge number to make you think that he or she is a real IRS official. The government never communicates with its taxpayers in this fashion. Even if you had an overdue bill, you would receive a notice via U.S. Mail, not a call from an IRS inspector. |
| SSN scam | Similar to the IRS scam, SSN (Social Security number) fraudsters tell their victims that they have unpaid tax bills. Instead of threatening to issue an arrest warning, these scammers will threaten to delete your Social Security number if you do not make the payment. All legitimate tax payments are addressed to the U.S. Treasury. If the caller provides a different recipient, you should immediately hang up the phone. |
What Makes DoNotPay Different?
Unlike most other digital assistants, DoNotPay offers a wide variety of services that make a difference in your day-to-day life. Start using our services by opening DoNotPay in your web browser. Apart from helping you report robocalls, we can also give you a helping hand with:
Fighting speeding tickets
Disputing traffic tickets