Beware of Health Hotline Robocalls
Robocalls can be useful, but over time, they have become a problem for most people all around the country. This comes as no surprise considering the fact that Americans received as many as 58.5 billion automated calls in 2019, according to USA Today. The same source implies that in some cities, such as Washington D.C., people received two robocalls per day, which is quite irritating.
Not only are automated calls disturbing, but they can cause quite some trouble when a scammer is on the other end of the line. It has become easy to use robocalling software. Many fraudsters have access to robocall technology, and they use it to trick people into giving them money or revealing personal information. 
Healthcare fraud calls have become rather frequent. If you've received Health Hotline robocalls recently, or you know someone who has, then you know what we're talking about.
How to Identify a
Health Hotline Robocall
?
Health Hotline robocall scam is not that difficult to recognize. Here are a few things that will be enough for you to spot a Health Hotline robocall fraud right away:
In most cases, people reported receiving these calls from number 855-895-2838

The fraudsters introduce themselves as someone from USA's Health Hotline  

You can expect to receive several robocalls a day

The scammers might leave you a voicemail without your phone ringing
Are
Health Net Robocalls
Legal?
In addition to Health Hotline, you may also receive a robocall from Health Net, which is also a scam. What's important to note here is that Health Net is a legitimate healthcare insurance provider, but many scammers use their name to trick people into giving them money. So, if you receive a Health Net robocall and you think it sounds suspicious, do not hesitate to report it to the provider.
Should you decide to do this, you'll be required to submit the following:
Name

Phone number

Email

Address
You can also decide to stay anonymous, in which case you will need to "withhold personally identifiable information."
What Is the Difference Between Legal and Illegal Robocalls?
There are various healthcare robocall scams, but some of these automated calls might be legit. You should also be familiar with other examples of both legal and illegal robocalls, so that you know how to spot the difference. Here are the most common examples of both legal and illegal automated calls to keep in mind:
| | |
| --- | --- |
| Legal Robocalls | Illegal Robocalls |
| Charitable organizations often make robocalls in an attempt to reach as many people as possible and ask them for donations. | Robocallers who want you to reveal your financial information are most likely scammers looking to steal your money, so be careful and never give them any sensitive data. |
| You shouldn't be surprised if you get robocalls as part of a political campaign—they are legal and can't be blocked. | When you receive an automated message that tells you that you've won a prize, be it money or a trip, you can be sure that you've answered a robocall scam. |
| Service providers are allowed to make robocalls about anything regarding your subscription if you've previously and willingly given them your phone number. | When a robocaller wants you to reveal your personal information, don't expose any of your sensitive info—in most cases, a scammer trying to commit identity theft is on the other end.  |
| People who carry out government-approved studies often make robocalls to reach potential participants, and this is legal to do. | Many scammers manipulate numbers to make the call look like it's coming from a reputable institution, such as the government. |
| Pharmacies are allowed to use robocalls as a reminder when the time comes for people to refill their prescriptions.  | If a robocall wants to sell you a product or service and it's coming from a company you're not familiar with, it is illegal. |
| Are you struggling with paying bills? If so, you can expect to receive robocalls from debt collectors looking to find out more about your debt progress.   | Be on alert for robocallers who offer to lower your bills if you transfer funds into a given bank account instead of paying it to your utility company. These are scammers trying to steal your money, so don't fall into their trap. |
Put Your Number on the Do Not Call List to Protect Yourself From
Health Hotline Robocalls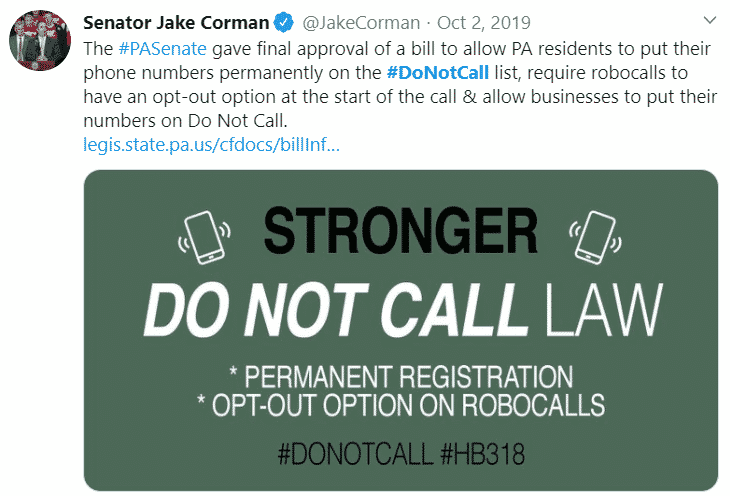 In addition to intercepting robocalls with the help of call-blocking apps and devices, you can and should register on the National Do Not Call list. When you put your phone number on this list, you protect yourself from annoying legal robocalls, too, not just scammers.    
If you take a look at the FCC's guide to robocalls, you can see that the first step they advise people to take is to register on the Do Not Call list. 
The registration process is rather simple, but it would still be a good idea to check if your number is on the Do Not Call list once you complete the registration. Here's how you can do this:
Dial 1-888-382-1222

Dial 1-866-290-4236 to call via TeleTypewriter
When you confirm your registration, you should also check out the Do Not Call exceptions. Some annoying automated calls might be among the exceptions, and they cannot be blocked. Another crucial thing to know is that there is no Do Not Call expiration date. When you put your number there, it will remain on the list for as long as you want. If you're still getting robocalls after registration, it might be time for more drastic measures, such as reporting robocallers.
Make Sure You Report
Health Hotline Robocalls
on Time
Even though there are some things you can do to stop robocalls, none of them is one hundred percent effective. You may be able to protect yourself from most legal robocallers, but what about Health Hotline and other scammers? Fraudsters do not respect rules, so they will find a way to get around them and contact you even when you use a robocall blocker, or you're on the Do Not Call list.
This is why you should be prepared to report robocalls to the Federal Trade Commission as soon as you start getting them. 
The tricky part is that Health Hotline and other scammers usually change numbers every time they call you. That's why it can be challenging to track the fraudsters and gather information required to file a complaint against them. The good news is that DoNotPay knows how to reveal the scammers' true identity and location, so we've got you covered. Here's how our app can solve this issue for you.
Rely on DoNotPay to Help You Get Revenge on
Health Hotline Robocalls

Being frequently disturbed by robocalls is frustrating enough, but having to deal with robocall scammers can turn into an even greater problem. Whether you start to feel like robocallers are harassing you or the fraudsters actually manage to trick you, you shouldn't just let it be—DoNotPay is here to help you get robocall revenge and sue robocallers for up to $3,000.
There's no need to worry about anything when it comes to filing a robocall lawsuit—DoNotPay is here to help you out. We want to make sure that you get the justice you deserve as fast as possible. That's why we've created a straightforward robocall solution. Our Robo Revenge option allows you to make the scammers pay for what they did in just a few steps. This is what you need to do:
Use the

web browser

to log in to your DoNotPay account

Click on

Robo Revenge

option

Put your phone number on the

Do Not Call list

When robocallers ask for your credit card number, give them the virtual card number

DoNotPay will gather all the details about the scammers needed to file a complaint against them and make them pay for what they did to you
How Does Robo Revenge Work?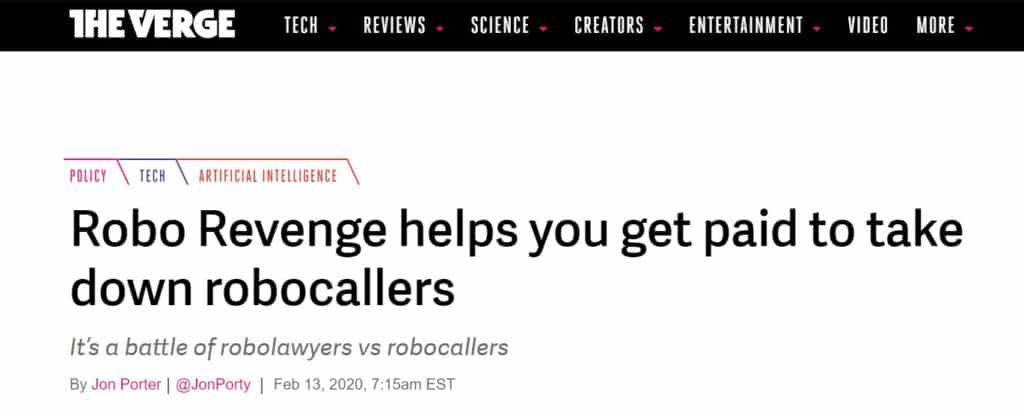 It doesn't take much to activate Robo Revenge and get the job done. The process behind this solution is also rather simple. You only need to be familiar with a few crucial points to fully understand why our Robo Revenge option is the most efficient solution against robocall scammers. Here's what you need to know:
Our

free virtual credit card

is not linked to a real credit card number. That way, you can be sure that your actual card info is safe and scammers cannot access your funds

A virtual credit card is a set of randomly generated numbers, but it looks just like a real credit card. The fraudsters planning to steal your money will believe this, so they will try to take money from your account, except there will be no cash to take. The attempt

will give us enough insight into their information to figure out who they really are

We will give you all the details that we find out about the scammers so you can file a complaint against them

DoNotPay can also generate a

demand letter for compensation

for you, as well as send it on your behalf
Other Healthcare Robocall Scams 
In addition to Health Hotline and Health Net, there are quite a few alleged healthcare companies that might contact you and try to scam you. Check out the table below to learn about healthcare robocallers you should immediately hang up on:
Healthcare Robocall Scams

What to Expect

Top Health 

They spoof numbers when they call potential victims

They call at least three–four times a day

Whitestone Health

They may contact you from these two numbers: 760-292-9596 and 774-221-4654

They have nothing to do with the legit medical recruitment company called

Whitestone Healthcare
Be on Alert for Healthcare Robocall Scams During the Open Enrollment
Health Hotline robocalls are not the only healthcare scams that you may encounter. There are many other fraudsters who use the names of legit health insurance providers to try to wrong people. They often tend to hide behind the following companies:
These are some of the best-known health insurance companies in the country, and it's no coincidence that scammers choose them in particular—they want to sound trustworthy to make you believe whatever they say. 
A suspiciously affordable insurance plan is, most likely, suspicious for a reason, so don't let them manipulate you. Before you accept anything, you should call the mentioned insurance company yourself and check whether they really have such an affordable offer or not. 
Health-related robocall scams happen more frequently than you may expect. According to the Los Angeles Times, in 2018, there were more than 850,000 healthcare robocalls made in just one month. 
These figures haven't changed significantly ever since, so you should be on alert for potential scams. 
It is particularly important to be careful during the open enrollment, as this is when most Americans start looking for health insurance plans. Fraudsters are aware of this, so they are always most active during this period. People are more likely to believe health insurance providers during the open enrollment.
Other Common Robocall Scams
Healthcare robocalls are not the only type of scam people encounter so you should be familiar with other frequent frauds, too. The more you know about robocall scams, the greater your chances are to dodge them. Make sure you keep these in mind:
Fake bank robocalls 

Fake debt collectors

Investment fraud
Fake bank robocalls 
Many scammers might contact you and impersonate a representative from your bank to gain your trust. These fraudsters usually tell people that there has been unusual activity on their account, or that their credit or debit card information has been stolen. They will tell you that they need your credit card information to verify that you are the cardholder. Here's the trick—fraudsters expect you to be scared and confused and give them anything they ask for to protect your funds. Don't fall into that trap!
Fake debt collectors
Since there are many people who have unsettled debt waiting to be paid, some scammers present themselves as debt collectors. Similarly to the previous example, the scammers count on people being too stressed about their debts to be able to think clearly. 
To put some additional pressure on you, the fraudsters will rush you and ask you to pay a certain amount of money into a given account, so that the collection agency doesn't take further steps like repossession.
Investment fraud
If you get a message from robocallers telling you that you can expect a guaranteed gain after you invest a certain sum of money into their venture, hang up because it's a scam. Sometimes, they may not be after your money, rather your personal information. In any case, don't believe anything these fraudsters say.
How to Protect Yourself from
Health Hotline Robocalls
and Other Scams in the Future?
You should make peace with the fact that no robocall blocker can protect you fully from Health Hotline or other unwanted automated calls. But, there are things that you can do to reduce the risk of facing unsolicited calls and getting scammed. Here are a few suggestions to keep in mind:
Make sure your phone number is on the

National Do Not Call List

 

Change your home phone number and switch to an unlisted one

Don't believe just anyone who asks for your phone number—don't reveal this piece of information unless it's necessary or you want to

Think carefully before you reveal any financial information to avoid potential scams and

credit card issues

 
What Else Can You Use DoNotPay for?
We know that fighting robocalls can be quite a problem, but we also know that this is not the only one that people have to deal with every day. That's why we've developed several other features to help you resolve bureaucratic issues or get the justice you deserve. 
To get access to our services, you just need to create a DoNotPay account and log in via the web browser. After that, you can ask our virtual legal team to help you with:
Fighting speeding tickets

Disputing traffic tickets