The Scoop on the DePaul Application Fee
DePaul University is the largest Catholic University in the United States. It's based in Chicago, IL, and has around 20,000 students.
This university is known for trying to recruit first-generation students and people from disadvantaged backgrounds. This is why the school offers numerous ways to lower tuition and other college fees for its students.
We have relevant information about the application process and fees involved. If you want to get your fees waived, DoNotPay is the easiest solution.
Application Fee Waivers—The Way To Remove College Expenses
The road to getting a higher education is not cheap, as future college students quickly find out. The expenses begin even before you enroll—with application fees! You can count on spending more than $50 to apply to a school of your choice.
Now add that amount for each application you submit—you might spend hundreds of dollars even though you will only attend one school in the end.
Here's a brief overview of the application fee cost to give you a better idea of how much money students are spending:
If trying to think of ways to cover those expenses is giving you a headache, requesting an application fee waiver might help. It is a useful way to lower the burden on students coming from families not doing great financially. You only need to check if you are eligible for one first.
Is There an Application Fee for DePaul University?
DePaul University is among the minority of schools that do not require their students to pay application fees. The only exception is international students who have to spare $40 on a non-refundable application fee.
If you don't fall into this category, this is one less school fee you have to worry about. But what of the others? DoNotPay can show you the fastest way of sending fee waivers to universities across the U.S. that do require an application fee!
Request Application Fee Waivers With DoNotPay
DoNotPay may not be able to help you with DePaul University, but we can ease up requesting application fee waivers for numerous other schools! Our comprehensive database contains all the universities in the United States!
We can help you with waiving these fee types:
Transfer Student

Enrollment Deposit

New Student Application
If you want to save some money, follow these simple steps:
Open DoNotPay in your

Find the

College Application Fee Waiver

feature

Select the application fee waiver you want to ask for

Choose the school you're applying to

Answer some questions about your financial status
DoNotPay will automatically complete the form on your behalf and handle the mailing process. We can send the form to your school counselor if you ask us to. If there is no need for the signature, we will mail the document to the university's financial aid office.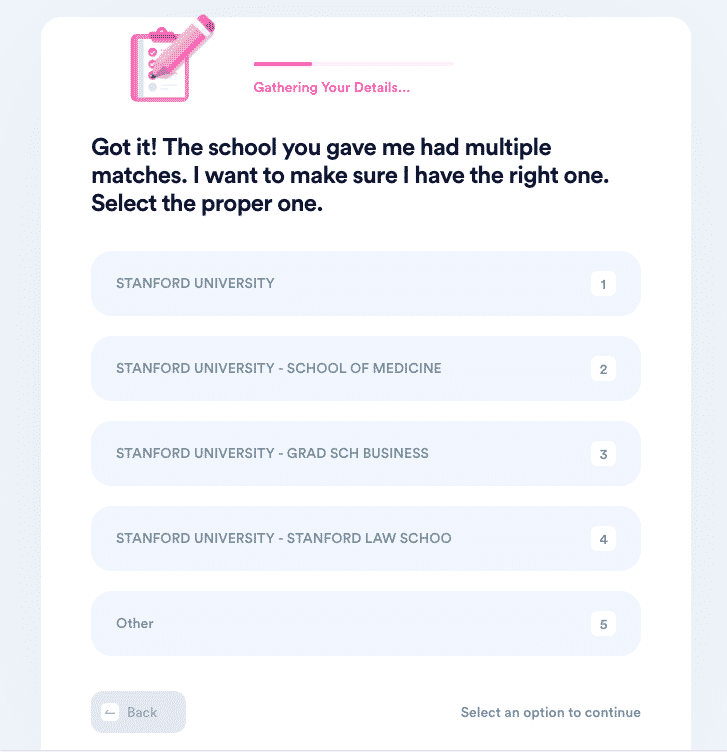 Other Ways To Request Application Fee Waivers
You can request college application fee waivers in numerous ways depending on the school's requirements. Unlike DoNotPay's seamless way of dealing with this task, those options are often complicated and time-consuming.
Here are some of the common examples of asking for application fee waivers:
By visiting the school

By filling out an online form

Through the

Common App

Via the Coalition App

By letter

Via email
What Makes an Applicant Eligible for a College Fee Waiver?
Applicants must meet specific requirements before they can ask for their fees to be waived. Fee waivers are there to help the less-fortunate students who come from difficult backgrounds. If you feel like this applies to you and would like to lessen your expenses, you can get a waiver if you:
Live in a federally subsidized public housing

Are homeless

Are eligible or included in the

Federal Free or Reduced Price Lunch program

Reside in a foster home

Are included in programs that offer help to students with families that experience financial hardships

Are an orphan

Belong to a family that receives public assistance

Are a ward of the state

Have a family income that meets the

USDA Food and Nutrition Service

Income Eligibility Guidelines
Schools often check the amount of money your family receives annually. This is an overview of the financial status that can make you eligible for a fee waiver depending on the number of people in your family:
| | |
| --- | --- |
| Number of Family Members | Yearly Family Income |
| Six | $65,046 |
| Five | $56,758 |
| Four | $48,470 |
| Three | $40,182 |
| Two | $31,894 |
| One | $23,606 |
Colleges offer application fee waivers both for transfer and graduate students. Apart from the financial status, you may get fees removed based on other criteria as well—like being a part of certain programs such as AmeriCorps or Peace Corps. Some schools offer application fee waivers for first-generation students as well.
The criteria differ from university to university, and you need to check the requirements for each one separately.
Can Someone Be Automatically Eligible for a College Application Fee Waiver?
People who have already gotten an ACT or SAT fee waiver become eligible for college application fee waivers quickly. If that's the case with you, you shouldn't have trouble skipping this expense when applying for universities.
DoNotPay Is the Virtual Assistant You Need
DoNotPay can be used for dealing with many other administrative tasks in Chicago, IL. If you want to cancel your subscriptions with popular local newspapers, such as The Chicago Tribune or Chicago Sun-Times, we'll gladly assist with the process.
In case you finally admitted to yourself that the new year's resolution about going to the gym regularly won't happen, we can help you terminate your membership with Charter Fitness.
Maybe you or your loved one is struggling with a disease without an adequate cure in the standard treatments? DoNotPay can help you find the right clinical trial in Chicago.
If you are a driver in this busy city, we can assist you in appealing parking citations as well.
For students living on a budget, DoNotPay has a solution that involves saving some money by lowering electric bills.
If any of these neat features intrigued you, you should access DoNotPay from your and see numerous other tasks we can help you with:
Disputing your speeding tickets

Appealing your traffic citations