Find Out What Delivered to Agent for Final Delivery Means
Waiting for your USPS package to arrive can get inconvenient easily, especially when it takes longer than anticipated. What happens if USPS informs you that your package was delivered to an agent for final delivery instead of you? We help you find out where your USPS lost package is and how to track it!
Subscribe to DoNotPay and learn how to file a complaint or request a late delivery refund easily!
What Does Delivered to Agent for Final Delivery Mean?
If a USPS driver attempts to make a delivery, but you're not present to receive the package, they will ask someone to take the package on your behalf—usually an authorized person or a family member. Once that happens, the tracking status will say ''delivered to agent''.
An agent refers to whoever receives the package, but it doesn't only have to be an authorized person. Packages often end up at the local postal service, and the USPS tracking system shows the same status.
The USPS final delivery agents are the drivers who deliver packages to you or someone on your behalf. If the tracking system shows that your package is delivered to an agent for final delivery, it's likely in the driver's hands, and they're on their way to deliver it to you or an agent.
USPS Says Delivered to Agent, But No Package in Sight? Track Your Parcel!
You can track your parcel at any time to see where it is or if it got stuck in transit. These are the available tracking options:
USPS website—Go to the USPS official website and type in your tracking number to get started. If you don't have the tracking number, reach out to the shipper and have them send it
USPS mobile app—Visit Google Play Store or Apple's App Store and download the official USPS mobile app. You can use it to track your parcel at any time
Phone—Call 1-800-222-1811 and ask for the info on where your package is
Text message—Send a text message with your tracking number to 28777
How To Reach Out to USPS Customer Support
If you want to clear up any confusion and ask USPS representatives what you want to know directly, here's how you can contact them:
| | |
| --- | --- |
| How To Contact USPS | What To Do |
| Over the phone | Call the USPS customer service at 1-800-275-8777 and let them know about the status that your tracking system shows. Follow the instructions they provide until the issue is resolved |
| In person | Visit a nearby USPS location and speak to an employee about your request. They should tell you what happened to your package and how you can retrieve it |
You can't file a claim if your USPS package isn't damaged or missing. Since you're still waiting to see whether the parcel will reach you, you should hold off with filing a claim. If USPS doesn't manage to locate your parcel, you will be able to file your lost package claim within 60 days of the mailing date.
When Can I Request a USPS Refund?
USPS allows refunds only for the delayed items that were sent using either Priority Mail or Priority Mail Express. The Priority Mail items will be considered delayed if you don't receive them in more than five days from the date of mailing. The Priority Mail Express packages should arrive in no more than two days.
Before requesting a refund, you should gather the following documents:
The tracking number
The purchase receipt
Your photo ID
Don't forget to prepare all of the above-mentioned documents since USPS can refuse to issue you a refund if you don't provide them.
You can request a refund:
Online—Visit the official USPS website and submit your request
In person—Fill out the required forms at any USPS location
With DoNotPay—Let our app request a refund in your stead using the info you provide
DoNotPay Files a Claim and Requests a Refund for You!
Why bother filling out confusing forms and waiting in lines for hours when you can have DoNotPay do the job for you? We'll gather the info you provide and use it to submit your request with the USPS claims department in a few minutes!
The process is streamlined to a tee as well. Here's how the process works once you subscribe to DoNotPay:
Access the Late Delivery Refund feature
Choose the shipping company responsible for your parcel
Answer a few questions about your request
Once you complete these steps, DoNotPay will send your claim, and you're done!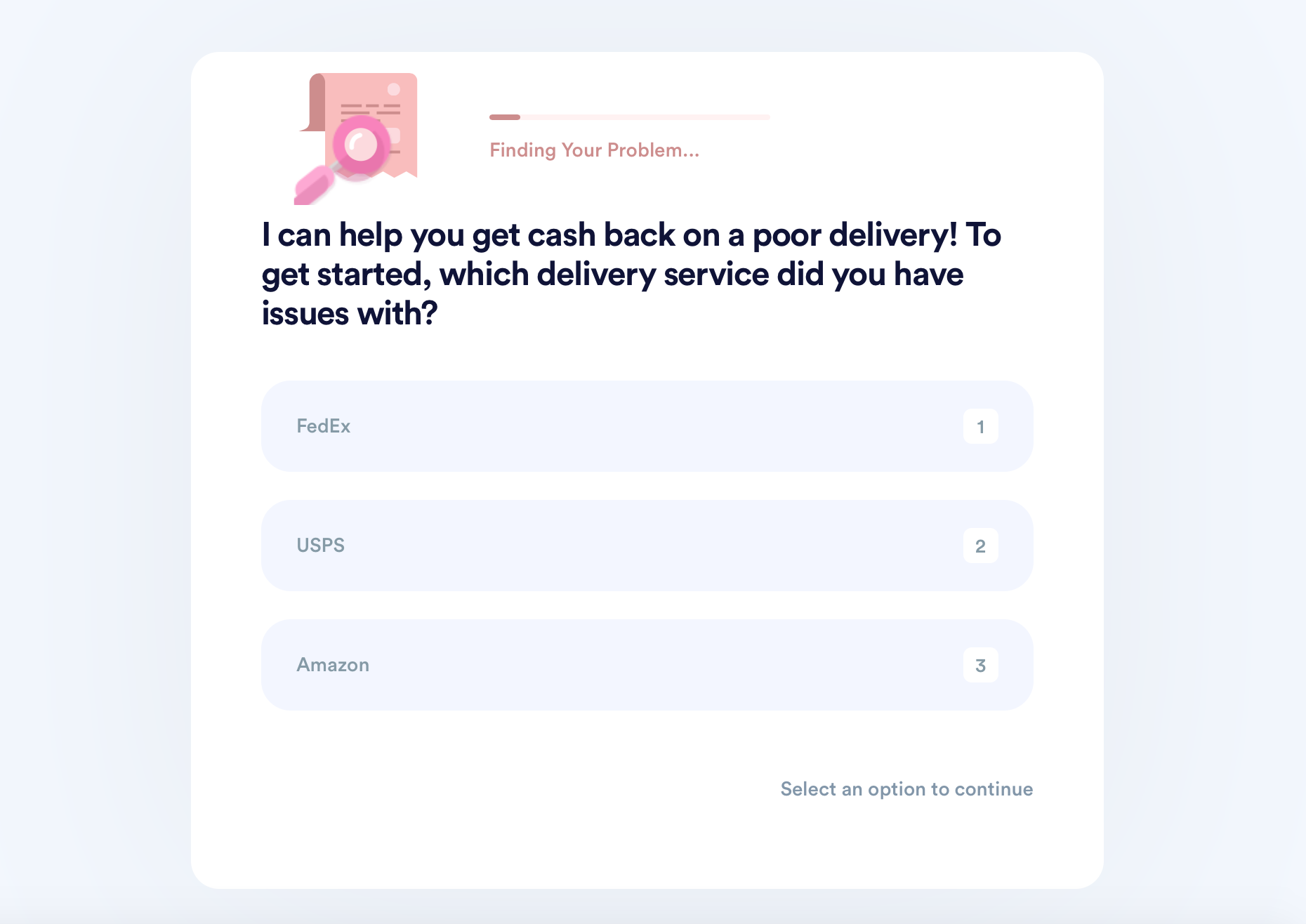 We'll also help you track your USPS, UPS, and FedEx missing packages and file claims for Amazon, FedEx, USPS, and UPS late deliveries fast and easy!
Wondering what to do if USPS says 'delivered in mailbox,' but there is no package, why Amazon delivery is so slow, or how late USPS delivers packages? Sign up for our app and find the answers to all of these questions and more!
DoNotPay Takes Care of Your Consumer Rights
Whether the products you ordered are late, missing, or faulty, you can ask for your money back through the DoNotPay app. We can help you get refunds from any delivery service or company you purchased from, and we can also digest any seller's return policy so that you can both send the product back and get a refund!
DoNotPay is an advocate of consumer rights and can help you bypass time-consuming and tedious processes when dealing with small-time sellers and multinational retailers alike! Check out some of what we can do for you in minutes:
Use Our AI-Lawyer App to Your Advantage!
Apart from protecting your consumer rights, DoNotPay can break down and fast-track many legal procedures for you. Use our app to do any of the following and more: