Dispute Seattle Parking Tickets
DoNotPay can help you beat your Seattle parking ticket for free in seconds using an AI-powered chatbot. Money.com reported that DoNotPay's services have helped people appeal their citations, save millions of dollars, and fight all kinds of civil and legal disputes.

Follow these instructions to help appeal your ticket:
Dispute your parking ticket

.

Answer a few questions about your ticket, including in which jurisdiction you received it.

Take a picture of your parking citation and upload it to the app.

After pressing "send," DoNotPay generates the exact template you need to dispute your ticket successfully.

Watch how to dispute parking citations in any city:
Is appealing a parking ticket in Seattle worth the time? Can I fight it and win?
Yes, contesting a parking citation is worth it. DoNotPay uses AI-powered technology that provides you advice in seconds. DoNotPay offers suggestions of details to use when appealing your ticket, including:
Missing or incorrect information on the ticket

Faded paint on street signs

The infraction was issued after you sold the vehicle

You did not own the car at the time

Illegibility of the ticket

Lack of clarity of street restrictions
Even if you dispute and don't get your fine dismissed, the city will often agree to a reduction. You should always dispute a parking ticket immediately. Access DoNotPay through any .
It's a speedy process to appeal your parking infraction with DoNotPay. It doesn't make sense not to try.
How much time can DoNotPay save appealing parking infractions in Seattle?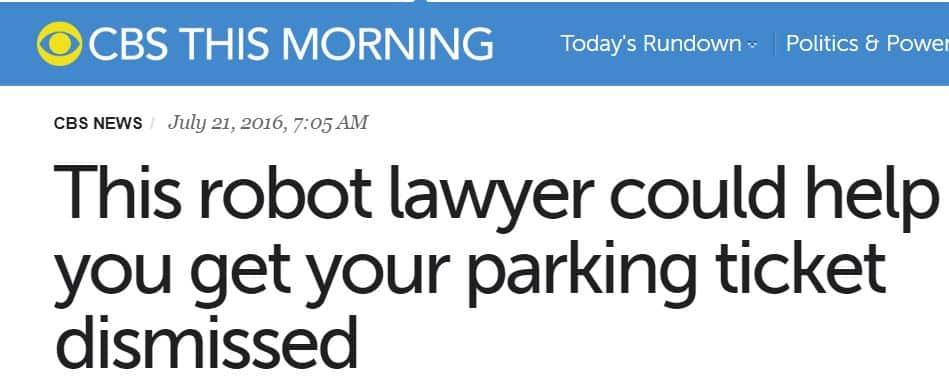 On average, DoNotPay can save you half a day's work. If you appeal your parking infraction manually, you can spend over half your day gathering evidence, taking everything to the appeal, collecting witness statements, waiting in lines, writing checks, and writing letters. At times, this process takes even longer, depending on the jurisdiction in which you live.
Whenever possible, choose the quickest option of challenging a parking ticket. Missing a whole day of work and having to make it up will cost you more in the long run. Access DoNotPay through any .
Can DoNotPay help me fight and win against private parking companies in Seattle?
Of course! DoNotPay will not only help you fight parking tickets you receive from the government, but also tickets from any private parking company. Here are a few of the big ones:
Lanier Parking

Towne Park

Laz Parking

ABM Parking Services

Douglas Parking

Imperial Parking, aka Impark

SP+, aka Standard Parking

Ace Parking
Access DoNotPay through any .
Read more about parking tickets from private parking companies in Seattle here.
How do I reduce the fine?

In Seattle, there aren't too many ways to get your parking ticket reduced. However, there are ways to make paying for your ticket a more manageable process.
If you are unable to pay your ticket in full, the Seattle Municipal Court will work with you to set up a payment plan with a minimum monthly payment for up to 2 years. If you are a low-income resident, you may be eligible for a smaller monthly payment, or even request to do some community service instead of paying.
Find more information about Seattle parking ticket payment plans here.
Should I get a lawyer?

Good news! You do not need a lawyer to beat your ticket. A good parking infraction lawyer can be quite expensive.
DoNotPay is the perfect alternative. It's the world's first robot lawyer that can give as much advice as you need to dispute your parking citation in a matter of seconds. All you have to do is type in your legal issue, and you get a step-by-step solution for free!
However, if you'd like to hire a lawyer, here's what you should do:
Research

Check their credentials

Beware of red flags

Consider the costs

Interview
Research is a necessary first step you need to take before hiring a lawyer. You can use personal recommendations, which are by far the best or search for a lawyer online.
Make sure to check each lawyer's credentials and see if they are capable of solving your issues. Look for customer reviews to see if they have ever dealt with a similar situation before and what the outcome was.
Hiring a lawyer can cost a fortune, depending on your location and the severity of your parking violation. It doesn't make much sense to pay more for your lawyer than the cost of the ticket.
It isn't a good idea to go with the first lawyer you see without talking with them first. So, take a couple of afternoons off and speak to the people that you might want to represent you.
How much does a good parking attorney cost in Seattle?

The fee for a Seattle lawyer can run from $200-$1000 per parking citation case. You do get what you pay for when it comes to services, so be especially aware of the "too good to be true" offers that some lawyers may present. The adventure will end up costing more than their original "low, low price."
But there is another option. Use DoNotPay to fight your legal battles. You will need to submit your evidence (mostly in the form of photos), provide the basis of your dispute, and notify the app of the location of where you received the ticket.
Dispute or pay?
| | | | | |
| --- | --- | --- | --- | --- |
| | Ease | Time it takes | Cost | Benefits |
| Dispute | It is easier when you use the DoNotPay app. | Appealing a ticket through DoNotPay takes only seconds. | DoNotPay's services are free. | Save money on parking tickets. |
| Pay | The easiest option is to pay in person. | If done in person, it can take hours. Via mail: 2 weeks. Online: a couple of days | Price of the citation + transportation costs if you are paying in person + cost of missing part of your workday | Your wallet will be lighter |
What happens if I don't pay off my ticket?
Luckily, you will never have to go to jail if you do not pay off your parking infraction. However, punishments do vary.
Here's what can happen if you do not pay off your citation:
The ticket fine increases

Your credit score goes down

The DMV refuses to renew your car's registration

The money you owe gets taken out of your tax refund

Your vehicle gets booted, or to make matters worse, towed

Your fine gets sent to a collection agency
The fine of your parking ticket can be raised to $90 if you don't pay it off within 90 days of receiving it. If your citation goes 100 days without payment, you may have to pay 9 percent interest for every year it goes unpaid.
Not only can your vehicle get "booted" or towed, but depending on how many tickets you haven't paid, the city of Seattle can take your car into possession and auction it off to pay for the fees that you owe.
If your fine gets sent to a collection agency and the parking bureau reports your misdemeanor to a credit bureau, your credit score can be harmed, preventing you from applying for a loan or mortgage.
Do parking citations go on my record?
Fortunately, parking tickets are not listed on your driving record. However, unpaid tickets can be reported to your local DMV, which can lead to severe consequences. If you refuse to pay off your parking fines, the DMV can suspend your driver's license, or even reject the renewal of your car's registration.
Instead of ignoring a parking citation, why not try to appeal it? You will fail if you never try, so try to fight the good fight and don't waste your hard-earned money on parking infractions that can you challenge.
What if I got a citation and someone took it off my vehicle, or it blew off? Is that a valid excuse not to pay?
If you got a parking ticket and someone took it off of your vehicle, you still have to pay the ticket fine. Parking enforcement will notify you of your violation twice through the mail before the payment's due date. If the address on your registration is incorrect, or if you changed your address without notifying the DMV, the parking infraction can be turned over to a collection agency. This can lower your credit score, making it harder for you to sign a mortgage or apply for a car loan.
Find more information about this issue here.
Can my car insurance rates go up?
Your insurance rates will not go up after receiving a parking ticket. Companies like Progressive will not be able to see if you have gotten any citations because there is no correlation between parking tickets and vehicle insurance coverage. But this does not mean that you aren't going to pay any price for not paying off your parking infraction.
If you ignore your ticket, you will not be able to get your registration renewal sticker when it's time for renewal. This article states that some vehicle insurance companies will refuse to cover non-registered cars.
How about if I'm not from Washington? Do I need to pay for the tickets I received in Seattle?
Yes, you need to pay off the tickets that you receive while driving out of state, or out of the country for that matter. You need to follow all parking laws in every state or country that you enter, even if you don't live there. If you receive a parking infraction out of state, you will need to pay for it at the state's legal offices or on their website. If you want to fight the ticket in-person, you will have to dispute it in the jurisdiction in which you got the parking citation. Keep in mind that if you do not live in that state, it may be harder to appeal in court.
If you want to dispute your ticket from out of state without going to court, you can use DoNotPay. By using DoNotPay, you can receive free advice on how to not pay for your ticket. DoNotPay removes all the roadblocks that may be in the way of fighting your parking citation in seconds. Access DoNotPay through any .
Can I get a citation even if I'm in the car?
Though you most likely won't, there is a possibility that you still can get a ticket while sitting behind the wheel of your car if it's illegally parked. Whether you are sitting in or standing by your vehicle, you can get a ticket. Whether or not you are inside your car when an officer is writing you a parking citation isn't relevant to the legality of your parking.
It isn't very typical for people to get parking tickets while they are sitting behind the wheel. However, you should always be conscious of where you park while you answer a phone call or text. If that happens, you can still appeal your parking ticket using DoNotPay. Access DoNotPay through any . Read more about this issue here.
What if I get a ticket while in a rental car? Do I have to pay?
You do have to pay off parking infractions that you receive while driving a rental car. Many car rental companies, such as National Car Rental, will require you to pay the amount of the ticket plus an administrative fee if you get a parking citation while driving their cars. Administrative fees are typically between $30 and $45. If you want to appeal a ticket you receive while driving a vehicle from National Car Rental, click here to learn more.
In most cases, the company charges administrative fees for parking tickets automatically as part of the total of your vehicle rental. If you fail to pay off a parking infraction that you received while driving a rental car, both the administrative and ticket fee can increase. The next administrative fee can be up to $100.
Read this article to learn more about getting a ticket while driving a rental car. Access DoNotPay through any .
How much does Seattle make from parking tickets?
The average parking ticket in Seattle can cost anywhere from $44 to $200. These costs are high enough to be the same amount as the monthly cost of a space in a parking garage or parking lot in the city. For example, parking spots can cost as little as $75 per month in Seattle.
Seattle has the eighth highest parking ticket revenue in the nation averaging $20.8 million per year. In comparison, New York City made over $540 million in 2017 from parking citation fees, according to Matador Network.
If I lose, how do I pay?
Don't give up too quickly! Appeal your ticket with DoNotPay . DoNotPay makes fighting a parking citation a trouble-free process. It takes hardly any effort to answer a couple of questions regarding your parking infraction, which you can dispute in no time.
If you lose your appeal, it's time to pay, which you can do online:
Go to the city of Seattle's

website

.

Click the "Menu" button and click "Services and Information."

Scroll down and click "Transportation."

Scroll down the page until you find "Pay a parking ticket."

Click the link, and decide how you want to pay for your ticket.

If online payment is possible, you can pay for your ticket this way. You may be charged an extra fee to process the payment.
Fees for online payments for Seattle parking tickets is $3.60. Paying your citation by mail is another option. There are instructions on how to pay for it by mail on the "Pay a parking ticket" page. Accepted forms of payment through the mail are money order or cash.
You can also pay for your parking infraction by phone. The number to call to pay for Seattle parking tickets is (206)-233-7000. You can pay by phone using a Visa or Mastercard. It's important to remember your citation or case number to use this service.
If you would like to pay your parking citation fine in person, you will need to visit the first floor of the Seattle Municipal Court during regular business hours, which are Monday to Friday from 8:00 a.m. to 5:00 p.m. No appointment is necessary to pay your parking fines. Just drop off your payment in the secure drop box located to the right of the main entrance of the courthouse.
You can also pay for your parking infraction in person at the Seattle Customer Service Center.
DoNotPay helps users fight and beat tickets in any city
DoNotPay helps users fight parking tickets in every city in the US and UK. Here are a few cities we've helped users dispute the most tickets in:
What else can DoNotPay do?
DoNotPay can also assist in providing you free support in:
Disputing traffic tickets

Fighting speeding tickets
Using can help you save money, time, and the stress of fighting all of your legal battles by yourself. The Verge reports that DoNotPay's services underscore a "big problem with the justice system, which is that it doesn't matter how much protection the law gives you if you're not aware of it." Access DoNotPay through any .
To summarize:
| | |
| --- | --- |
| Appealing your parking tickets can take minimal effort. | Collectively, DoNotPay has helped people save millions of dollars from hundreds of thousands of parking tickets. |
| You can dispute your parking citation in under 120 seconds. | You can use DoNotPay to appeal your parking ticket appeal in a short time by following a couple of simple steps. |
| DoNotPay can help you appeal parking infractions from private parking companies. | Companies like Impark are big in Seattle. |
| There are many possible consequences of not paying your ticket fees. | However, there is no jail time involved. |
| Disputing your parking citation is worth the hassle. | Especially so when you use DoNotPay's services to help you fight fines. |
| There are various ways to pay off your parking infraction in Seattle. | But you don't have to pay a parking ticket fee if you appeal it using DoNotPay. |
| There are ways to get your parking ticket fine reduced. | There are even payment plans to pay it off if you can't afford it all at once. |
| Your driving record will not be affected if you receive a parking ticket. | But this does not mean that you won't pay any price for getting one. |
| If you got a ticket and someone took it off your car, you still have to pay for it. | Parking enforcement will send notice by mail to the car's registered address. |
| Your vehicle insurance coverage won't increase if you receive a parking infraction. | But your insurance provider may refuse to renew your coverage if you have accrued parking ticket fees. |
| It can be worth the hassle to appeal your parking violation in court. | But first, you should try using DoNotPay's free services to ease your effort. |
| You are required to pay for tickets you get while driving out of state. | All parking laws nationwide should be obeyed. |
| There are many ways to avoid future parking tickets. | There are also multiple ways to dispute them. |
| You can get a parking infraction even when you're sitting at the wheel. | Make sure that you are parked legally next time you stop to answer a call or text. |
| You need to pay for parking citations you obtain while driving a rental car. | You also need to pay an additional administrative fee with the ticket. |
| Cities can make up to hundreds of millions of dollars from parking infractions per year. | Seattle makes $20.8 million every year. |
| DoNotPay has other services that can help you. | Services include canceling free trials and suing people in small claims court. |