Cancel Vimeo at the Speed of Sound
Vimeo is a video hosting service that enables its users to upload and promote videos. It has over 80 million users.
If Vimeo has become too pricey for you or you want to try another video hosting service, you're in the right place! DoNotPay will help you cancel Vimeo in a few simple steps.
How To Cancel Vimeo Subscription
on Your Own
Canceling Vimeo is different on every device. You can deactivate Vimeo on:
iOS device

Android device

Amazon

Roku channel

Vimeo's website
How To Cancel Vimeo Subscription
on Your iOS Device
Follow the next few steps to cancel Vimeo on an iOS device:
Open the

Settings app

Enter your name

Click on

Subscriptions

Find the

Vimeo app

and click on it

Select

Cancel subscription
How To
Cancel Vimeo
on Android
Uninstalling the app won't cancel your subscription. In order to stop paying, do this:
Open

Google Play Store

Click on

Menu

and find

Subscriptions

Select

Vimeo

Tap

Cancel subscription
Canceling Vimeo on Amazon
Follow these four steps to cancel Vimeo on Amazon:
Go to

Your Account

Click on

Your Apps

under

Digital content and devices

Select

Vimeo

Update your subscription information
Your access to Vimeo will continue until the end of the month's billing period.
Canceling Vimeo on Roku Channel
To cancel Vimeo on the Roku channel:
Click the

Home

button on your remote

Select

Options

Find

Vimeo

and press

*

or

OK

Tap on

Manage subscriptions

Select

Cancel subscription
You can choose to either remove Vimeo immediately or keep it for the rest of the subscription period.
How To Cancel Vimeo Subscription Online
You can cancel Vimeo on the service's website like this:
Tap on your profile icon in the upper right corner of the site

Click on

Manage Subscription

Select

Cancel Subscription

Confirm cancellation
You should receive an email confirmation—if you don't, check whether you canceled or paused your subscription.
Canceling Vimeo Subscription With DoNotPay Will Be Smooth Sailing

We all know that it's in companies' best interest to prolong the cancellation process as much as possible. Sometimes, they'll wait for the month to end so they can bill you one last time—for good old times' sake. No one will ask you if that's what you want too.
DoNotPay can stop this! Our app will act as your assistant and cancel any subscription or membership for you in 48 hours.
This is how to enlist our assistance:
Open DoNotPay in your

Select

Find Hidden Money

Enter

Vimeo

as the service you're canceling

Wait for an email confirmation
DoNotPay can cancel other video services for you—such as Youtube Premium and Redbox—or streaming services—like ESPN, Hotstar, Netflix, Youtube TV, and Amazon Prime Video.
We are able to cancel music services for you too—Tidal, Spotify, Amazon Music, and many others.
| | |
| --- | --- |
| Can You Cancel Via | Yes/No |
| DoNotPay | Yes |
| Phone | No |
| Email | No |
| Online | Yes |
| Letter | No |
Does Vimeo Free Trial Automatically Upgrade to a Paid Subscription?

Vimeo offers a free trial, and after it's over, they will charge you automatically. You can avoid unwanted charges by using DoNotPay's virtual credit card for free. Sign up with our card and shield yourself from automatic renewals!
Preventing Automatic Charges With DoNotPay's Virtual Credit Cards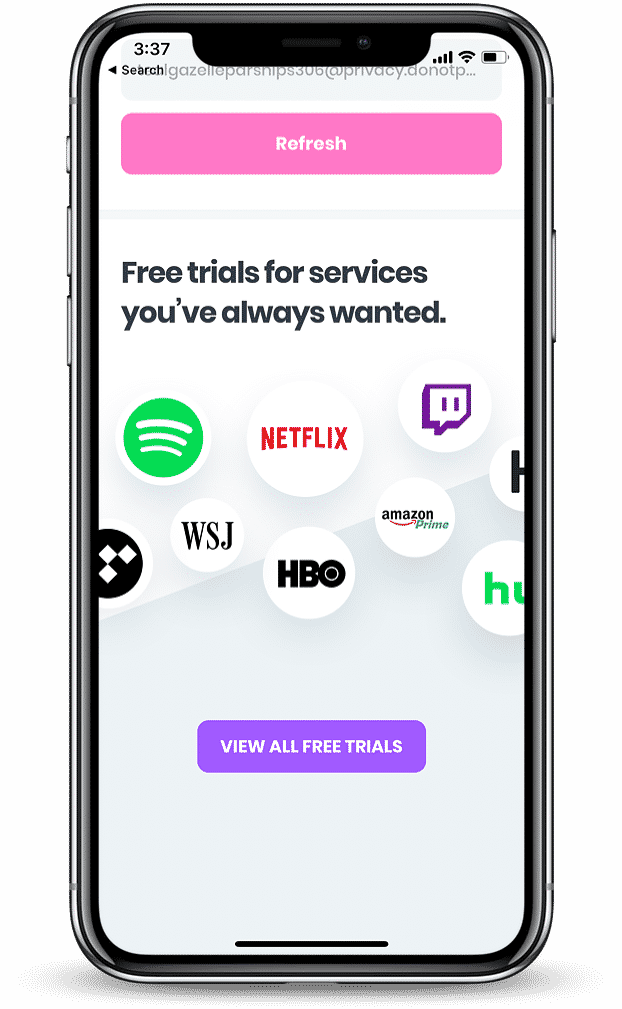 DoNotPay's virtual credit cards are your ticket to as many free trials as you can imagine.
What exactly is the DoNotPay free virtual credit card all about? It is a unique, randomly generated credit card number, created with a virtual credit card generator, that seems authentic to the merchant and gets instant approval.
The truth is, virtual credit cards have no deposit, so they prevent companies from charging you after your free trial has ended. The company will cancel your subscription automatically after they try—and fail—to bill you.
What Might Vimeo Charges Look Like on Your Statement?
Vimeo charges might show up on your statement like this:
| | |
| --- | --- |
| VIMEO PLUS 000-000-0000 | VIMEO.COM, 212-314-7390 US |
| VIMEO PLUS MONTHLY 000-000-0000 NY | VIMEO PRO 000-000-0000 |
| VIMEO, LLC | PAYPAL INST XFER VIMEO LLC WEB ID: PAYPALSI77 |
| VIMEO PLUS MEMBERSHIP | VIMEO.COM 646-470-8422 |
| VIMEO PLUS MONTHLY 000-000-0000 | TO VIMEO LLC |
| VIMEO.COM 646-470-8422 NY | FROM VIMEO, INC. |
| PAYPAL INST XFER VIMEO INC WEB ID: PAYPALSI77 | Payment to Vimeo, Inc. |
| VIMEO.COM MEMBERSHIP | Payment to Vimeo, LLC |
| VIMEO INC. | VIMEO PLUS MONTHLY 000-000-0000 US |
| PaymentTo Vimeo LLC | VIMEO |
| VIMEO.COM | VIMEO PLUS MONTHLY, 000-000-0000 |
| Payment To Vimeo Inc. | VIMEO INC 6464708422 |
| VIMEO.COM 212-314-7390 | VIMEO PLUS+ 000-000-0000 |
| PAYPAL INST XFER VIMEO LLC | Purchase from Vimeo, Inc. |
| VIMEO.COM, 212-314-7390 | |
Has Vimeo Mistreated You? Make Them Face the Music With the Help of DoNotPay

A lot of companies like to lure their customers in with false promises and great advertising. But what happens when they go too far? DoNotPay helps you take them to small claims court. If such is the case with Vimeo, let our award-winning, robot-lawyer app help you get justice. This is what we'll do for you:
Gather the information about your case

Help you fill out a legal form

Generate a script of what you should say in front of the judge
Monitor Your Subscriptions for Unused Services With DoNotPay's Help

Americans underestimate how much they spend on their subscription services every month. A survey shows that for 84% of people that amounts to $240 a month. This number sounds ridiculously exaggerated—but it is what it is. If you think you might be one of the affected, DoNotPay can help!
Join your email and bank account to DoNotPay so that we can monitor your subscriptions. We will help you by:
Making a list of all the subscriptions you pay for

Highlighting the subscriptions you don't use

Canceling the ones you tell us to
Find Out What Else DoNotPay Has in Store for You

DoNotPay is the kind of app you wish you'd found sooner. Once you start exploring all the things our app can do for you, you'll be baffled by all the tasks that you can automate with our help.
DoNotPay offers help in solving many tedious, everyday issues such as paying high bills, disputing parking tickets in NYC, and reporting robocalls.
If you open DoNotPay in your we'll assist you with:
Fighting traffic tickets

Appealing speeding citations