Is Akimbo Virtual Card the Best Option for Me?

Many people have received $100 as part of the vaccine incentive program in different cities. Reviews have been mixed, with some people being delighted with their ease of use and others unhappy with glitches and difficulties. However you feel about the Akimbo virtual card, one thing is for sure: Virtual Credit Cards are the future when it comes to online purchasing and payments.
Free trials, offered by companies who want to get you to buy their products or services, often require your personal credit card information up front. When you get busy and forget to cancel within the trial period, they charge your card, and you get stuck paying for a product or service that you don't want. But DoNotPay has a solution for all that–free trial virtual credit cards.
What Is an Akimbo Virtual Card?
are offered by many companies who want to pay or offer incentives to many people.
Many companies who use contractors and do not want to deal with multiple bank accounts, payments in cash, or writing multiple checks, have found companies like Akimbo useful.
They can virtually load money onto a virtual card, bypassing the extra manpower to deliver the cash or checks to the appropriate parties.
Since the pandemic, contactless payments have become more and more popular, not only because of their ease, but because of the limited exposure.
However, there have been some problems along the way. Many complaints have to do with redemption of funds and the inability to transfer funds to an account. Others include:
Access codes do not work properly
Unable to get the correct credentials
Returns and refunds are not handled properly or promptly
Incompetent customer service
Akimbo does offer other services, such as prepaid debit cards. With these cards, you actually have possession of the card, and you can add to the balance by reloading at any retail location. You can also electronically transfer funds from a bank account or have direct deposit from an employer.
Prepaid cards are most useful for people who do not want to accrue debt with a credit card or do not qualify for a credit card. They do allow for purchases and payments online or in other locations and enable you to do so without carrying cash or checks.
What Is a DoNotPay Virtual Credit Card?

DoNotPay knows that your time is valuable, so we created the Free Trial Virtual Credit Card. It works anytime you sign up for a free trial, trial subscription, or free month's use on nearly everything. Since most companies require a credit card when you sign up to take advantage of a free trial, DoNotPay can help with that.
DoNotPay knows that you are busy, and companies count on you forgetting to cancel. So, to keep you from being charged for something that you don't want or need, we developed the virtual credit card. Use it once for validation and never get charged!
This is all you need to do:
On the DoNotPay website, search for a free trial card.
Enter the company you want a free trial for.
Our virtual credit card number generator will give you a number complete with expiration date and security code to use.
Copy the info from your screen.
Sign up for the free trial, using the information.
Easy, Peasy! You can kick back and never think about being charged when the trial ends. Keep in mind, the numbers are for one use only. Since there is no money on the card, no charges can be approved. The card will be verified, but declined when charges are made.
Where Can I Use a DoNotPay Virtual Credit Card?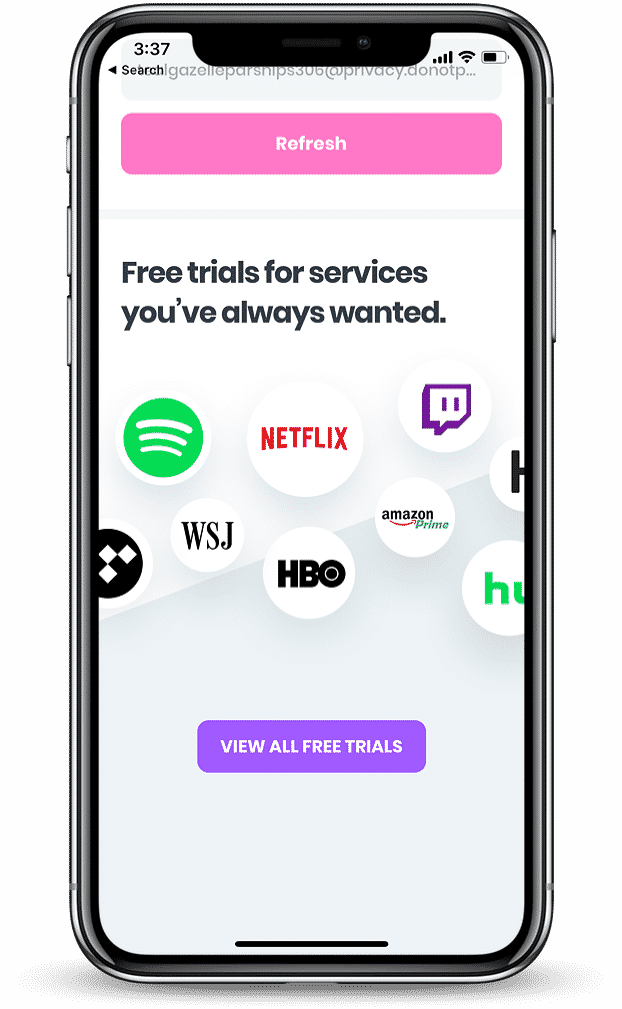 It's easy to use a DoNotPay virtual credit card! If the merchant offers a free trial, first month free, free copy, etc., you can use DoNotPay's Free Trial Card when they ask you for your personal information. The card will pass the validation process, but cannot be charged when the free trial is over.
If you decide to continue the service or product, simply then enter your own credit or debit card info to continue. Use for services like:
What Else Can DoNotPay Do?
DoNotPay has solutions to most of the problems you face every day. We make it quick and easy to solve your issues, so you can spend your time, energy, and money in the other areas that you choose. We can help with:
How can we help you today? Visit DoNotPay to learn more.