Buy Now Pay Later With the Afterpay Virtual Credit Card

You work hard, but the money you need to buy the things you want isn't always easy to come by. Whether you're shopping online or in-store, wouldn't it be nice if you had the option to buy now and pay later? And, wouldn't it also be great if you didn't get charged fees or interest on those purchases?
is a financial technology company that's based in Australia but also operates in the United Kingdom, Canada, the United States, and New Zealand. You can use the service to make secure purchases at a large variety of merchants. It's a convenient way to get what you want without incurring any additional fees for interest.
If you want to try before you buy, you'll also want to look into the DoNotPay free trial virtual credit card. While it won't spread your payments on purchases out, it will save you from paying for unwanted, forgotten subscriptions and expensive memberships.
What Is an Afterpay Virtual Credit Card?
When you get a , it allows you to buy the things you want today without having to pay for them all at once. Whether you like to shop online or in person, you can make purchases with ease using your Afterpay virtual credit card through your mobile wallet on your smartphone or Apple Watch.
When you use the Afterpay virtual credit card, you get what you want without having to shell out a huge amount of cash.
How Much Does an Afterpay Virtual Card Cost?
It's hard to imagine being able to buy now and pay later without worrying about interest and other fees. In fact, it's practically unheard of, especially with traditional credit cards. But, with Afterpay, you won't pay a dime unless you are late for your payment.
Afterpay Virtual Credit Card Fees
Afterpay Virtual Card Application Fee
None
Interest Rate
None
Other Fees
None
Late Fees
$10; an additional $7 if payment is unpaid 7 days after the due date
How Does the Afterpay VCC Work?
Once you get a VCC from Afterpay, all you have to do is shop for things like you always do. You can either choose one of the merchants that accept Afterpay online, or you can locate a brick and mortar retailer that does. Some things to keep in mind include:
Afterpay is accepted by more than 23,000 North American retailers and more than 84,000 worldwide.
Credit limits start at $500 with increases for good payment history.
A payment of 25% of the purchase is due at the time of purchase.
The remaining balance will be split into equal payments of 25% every 2 weeks.
How to Get a VCC From Afterpay
Unlike a traditional credit card, getting a virtual credit card from Afterpay is incredibly easy. You never have to worry about whether your credit score will qualify, there are no income requirements, and approval is instant. To get a VCC from Afterpay, you'll need your email address, phone number, home address, D.O.B, and debit/credit card handy:
Download the Afterpay app.
Choose the Card tab to set up the Afterpay Card
Add your new Afterpay card to your digital wallet. (Google Pay, or Samsung Pay)
Use your Afterpay card to buy the things you want and need.
Make your first payment at the time of purchase and the rest over 6 weeks.
Is the Afterpay VCC Safe to Use?
You'd be right to worry about the safety of your personal data and financial information. After all, identity theft and fraud are serious and you don't want to become a victim. When you use Afterpay, your information is completely safe, protected by the industry's most stringent security protocols.
Is There an Alternative to Afterpay for a Virtual Credit Card?
Shopping for things isn't the only reason you may want a virtual card. If you would like to sign up for free trials, memberships, and subscriptions, you'll have to provide a credit card number. If you forget to cancel during the trial period, you will get charged until you do. It's a hassle. Until now. With DoNotPay's free trial card, you'll only pay when and if you want to.
What Is the DoNotPay Free Trial Card and How Does It Work?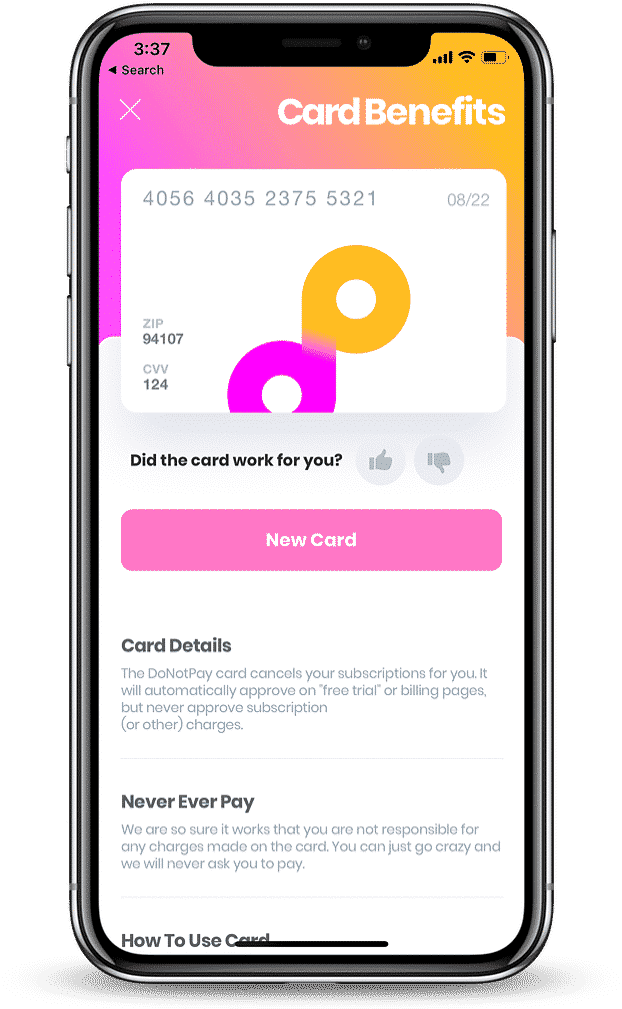 When you sign up for a free trial, your credit card information is required. If you don't cancel, you'll be charged for automatic renewal at the current subscription price. To avoid automatic renewals, you need a DoNotPay Virtual Credit Card. That way, you can sign up knowing you won't be charged. To get a virtual credit card:
Check out the DoNotPay Virtual Credit Card Product
Answer a few quick questions
Generate a virtual credit card to use for free trials
Rest easy knowing you'll never pay unless you want to.
Where Can I Use DoNotPay's Free Trial Card?

Unlike , the DoNotPay free trial card can't be used to make purchases at retailers. Instead, this product is designed for the sole purpose of protecting your personal data when you try services.
Just a few of the companies that the DoNotPay free trial card can be used at include:
What Else Can DoNotPay do?
Think of the world's first robot lawyer as your new personal assistant. If you need something done, DoNotPay can help you. Just a few of the amazing ways DoNotPay can make your life easier include:
Keep in mind, this is a very short list of things that DoNotPay can do for you and your family. Visit DoNotPay today to learn more.