How to Get an Affirm Virtual Card

It's always in the back of your mind when you shop online, sign up for a free trial, or make a purchase in a store. Someone might take your credit card information and make additional charges. Sure, your bank will eventually make it right, but not without a lot of hassle and wasted time. Do you really need to take the risk and stop worrying about it?
As you've searched for a solution, you might have heard talk about the . You're trying to find out more information about the Affirm virtual credit card, but the more that you learn means the less you understand about the process. You need a helping hand to make the best decision for your financial safety. DoNotPay has all the information you need to make an informed decision about virtual credit cards.
What Is a Virtual Credit Card? 

In the simplest terms, a virtual credit card is a substitute for your real one. The virtual credit card features 16 credit card numbers, a security code, and expiration date that's different from yours but acts like yours when the vendor processes a charge on it. Most virtual credit cards allow you to dictate the amount that a merchant can charge to the card to protect your money.
The virtual credit card is designed for both convenience and confidence, and you can find ones to use on your mobile phone to make purchases in person. A virtual credit card is a shield that your real credit card number hides behind and people who shouldn't see it never do. It lets you shop with peace of mind.
How Does a Virtual Credit Card Work? 
A virtual credit card works by providing a merchant with a credit card number that works for the purchase, but isn't your actual number. In this way, the merchant never sees your real info and can't make additional charges later on without your permission. Also, your real credit card information isn't in the vendor's system if they're ever hacked.
Some virtual cards make it easy to create a single-use card that's only good for a specific company or business.
You can even find ones that allow you to set a limit as to how much money can be charged onto it.
All of these features make it unlikely that your real credit card will ever see unauthorized transactions.
Drawbacks of Using a Virtual Card
When using a virtual card, you might find that there are some drawbacks to it. However, these drawbacks might be worth the convenience and protection for your real credit card. Here's a look at the two largest drawbacks:
If you want to use a virtual credit card everywhere you shop on your phone, it's possible that some of the stores that you frequent aren't set up to take a virtual card.
You might find that the virtual credit card company charges an expensive fee if you try to use it to get cash or send cash to someone else.
Benefits of Virtual Credit Cards
To balance any of the drawbacks that affect you, you'll find that there are also some great benefits when you use a virtual credit card. Most people, who use virtual credit cards, list four main benefits.
Some benefits that you can enjoy are:
The information on a virtual credit card differs from your own, making it almost impossible for someone to clone or steal your information.
You won't find yourself scrambling to find your credit card when you opt to have a virtual credit card on your phone.
You won't need to worry about fraud or unauthorized use when a virtual credit card hides your real one.
Use your virtual credit card to start a free trial and avoid future charges.
Are Affirm Virtual Credit Cards Free?
Affirm is a cross between a credit card and a layaway program, and they don't charge a fee for their . However, you might find yourself paying interest if you stretch the payments over a certain number of months that varies by the amount of the purchase.
What Is the DoNotPay Free Trial Card?
The DoNotPay free trial card is made for you to use when you sign up for a free trial that requires a credit card. You create the free trial card, sign up, and enjoy the service without the need to worry about future charges.
Where Can You Use DoNotPay's Free Trial Card?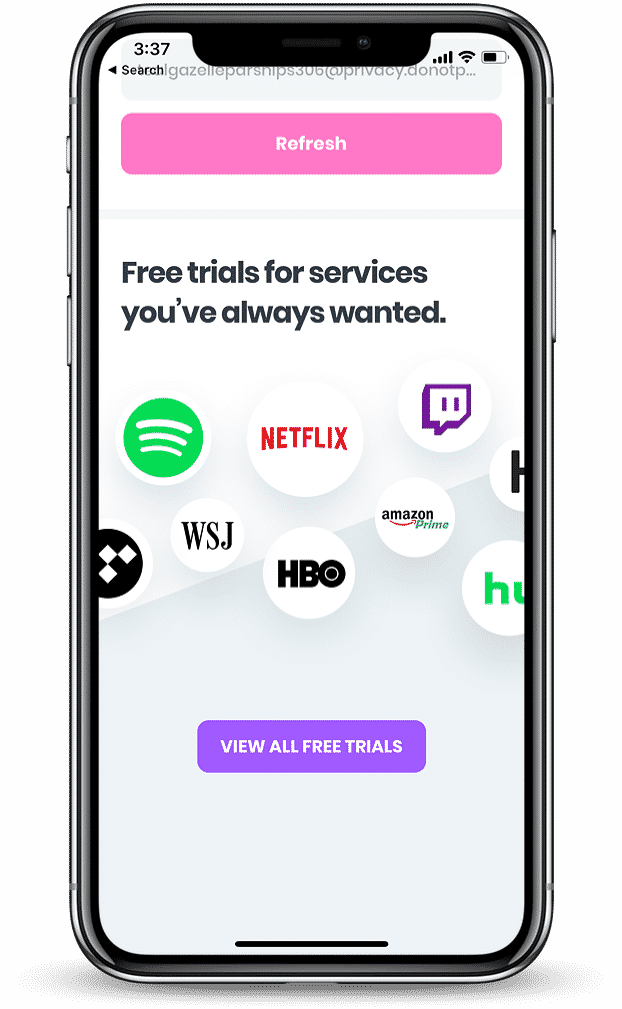 When you decide to choose the DoNotPay free trial card over the Affirm virtual credit card, you'll open up a new world of places to use it. It might be that you've been considering a free trial but worried too much about remembering the date to cancel.
You can use DoNotPay's Free Trial Card in a lot of different places, including but not limited to:
What Else Can DoNotPay Do?
The DoNotPay app provides you with assistance to tackle many time-consuming tasks that you find challenging. You might need help with more than a virtual credit card to protect your financial information. You can explore your options by starting with these:
There's so much more DoNotPay can do for you. Utilize the DoNotPay app to create a virtual credit card and try that new subscription service today!