What Indiana CDL Test Sites Can You Visit To Take the CDL Exam?
Have you decided to upgrade your driver's license to a commercial driver's license (CDL)? If you'd like to become a professional driver and turn your good driving skills into an earning profession in the State of Indiana, you will have to take the CDL test.
DoNotPay provides information on various government tests, including the CDL test for different U.S. states.
What Material Do You Need To Cover for the Indiana CDL Test?
If you would like to receive an Indiana CDL, you will have to take the general knowledge and skills tests. When you pass these tests, you show that you are knowledgeable and skillful enough to operate a commercial motor vehicle (CMV).
You can find all the relevant regulations in the Indiana CDL manual that you need to become familiar with. Should you decide to haul hazardous materials after you have obtained your CDL, we can help you prepare for the HAZMAT test by supplying our Indiana HAZMAT practice test.
Who Qualifies for the Indiana CDL Test?
You need to be at least 18 or 21 years old to own an intrastate or interstate CDL, respectively. The documents you will need to provide are a valid Indiana driver's license, the required medical documentation, proof of your U.S. citizenship or permanent residence, together with two documents proving your Indiana residence.
Only a certified medical examiner can perform your CDL medical examination and complete the required medical documentation that includes the following:
What Steps Do You Need To Take To Receive an Indiana CDL?
To obtain an Indiana CDL and operate CMVs, you will have to:
Pass a vision test proving you have at least 20/40 vision in each eye

Pay the commercial learner's permit (CLP) fee of $17

Pass the written knowledge test

Own a CLP for at least 14 days

Take the skills test
You should prepare for the CDL exam by covering the Indiana CDL manual.
Indiana CDL Test Sites Where You Can Take Your Skills Test
Once you have aced your Indiana CDL knowledge test with the help of our practice test, you can proceed to the Indiana CDL skills test that consists of:
A pre-trip inspection

Basic control skills

The road trip exam
You need to pay the CDL skills test fee of $100 before you can take the skills at one of the following Indiana CDL test sites:
| | | |
| --- | --- | --- |
| Name | Address | Telephone |
| AB Driver Testing | 3542 E County Road 500 N, Whiteland | 800-360-7364 |
| ProSafe CDL, LLC | 3603 E Raymond St, Indianapolis | 888-844-6521 |
| A-1 CDL Testing, LLC | 2552 Old Decker Road, Vincennes | 812-849-5400 |
| Great Lakes Testing Services | 4604 Bluff Road, Indianapolis | 463-206-9644 |
| AB Driver Testing | 24645 State Road 23, South Bend | 574-289-9093 |
| A-1 CDL Testing, LLC | 4195 State Road 37 S, Mitchell | 812-849-5400 |
| Baylor Trucking | 9269 East State Road 48, Milan | 812-623-2020 |
| AB Driver Testing | 1523 Avco Blvd, Sellersburg | 812-246-1085 |
| Commercial Testing Site, LLC | 2701 S Coliseum Blvd, Fort Wayne | 260-466-7560 |
| Schneider National Carriers | 7238 Western Select Dr, Indianapolis | 317-322-3063 |
| Automedon CDL Testing, LLC | 361 W US Hwy 6, Valparaiso | 866-351-9260 |
| CDL Testing Services, LLC | 4119 S Walnut St, Muncie | 765-760-3739 |
| Great Lakes Testing Services | 3566B Village Court, Gary | 219-293-0037 |
| MRP CDL Testing Site Inc | 301 Lewman Court, Jeffersonville | 812-252-4323 |
| Commercial Testing Site, LLC | 3010 N Apperson Way, Kokomo | 260-466-7560 |
You should be prepared to pay a rental fee for a CMV. Different Indiana CDL test sites charge different fees, but they are in the range of $75–$150. The examination site will forward your results to the Indiana Bureau of Motor Vehicles directly.
DoNotPay Helps You Ace the Indiana CDL Knowledge Test!
Memorizing rules and regulations from a more than 160-page long CDL manual can be challenging. That is why DoNotPay is here to help you see how much you have understood and remembered and what areas you should go back to.
Our Indiana CDL practice test will help you prepare for the real exam in no time! Start practicing by following these steps:
Go to DoNotPay from a

Choose the practice test by typing

CDL

or

commercial driver's license

Pick the

Indiana CDL practice test

Let us know how many questions you would like to answer—10, 20, or 30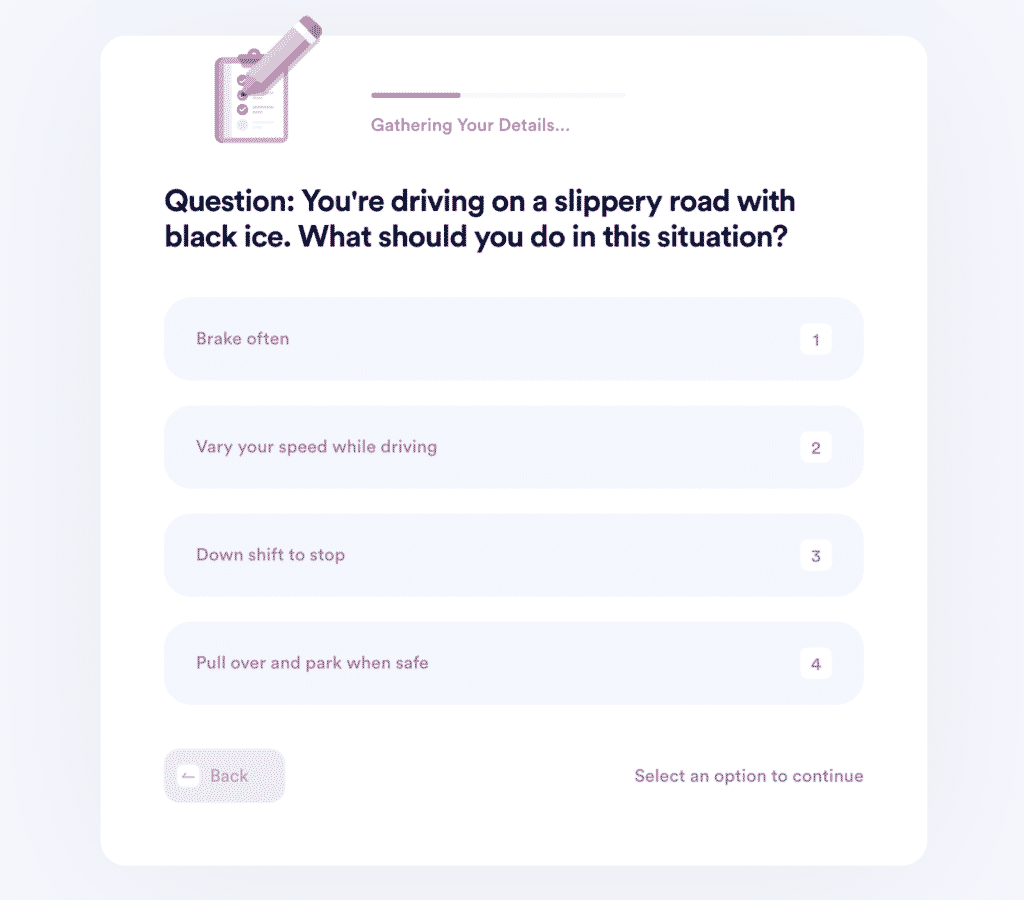 Study hard at the time best suitable for you from the comfort of your home!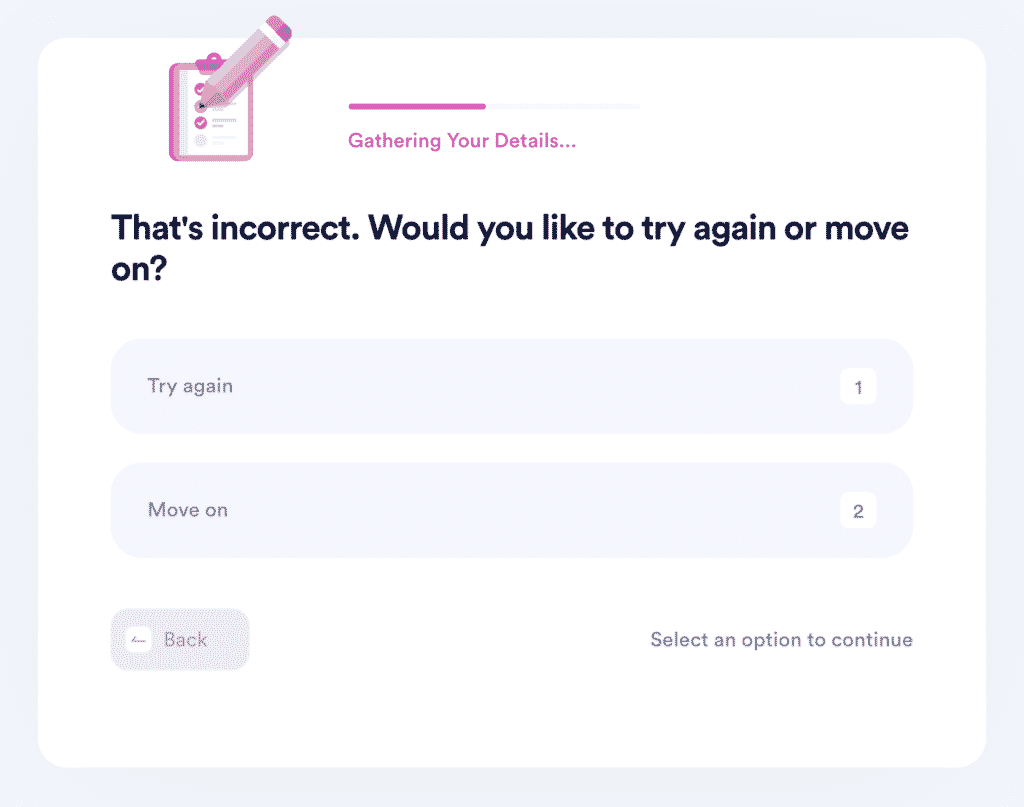 If you make a mistake, go back to the Indiana CDL manual, brush up on that part and resume our test.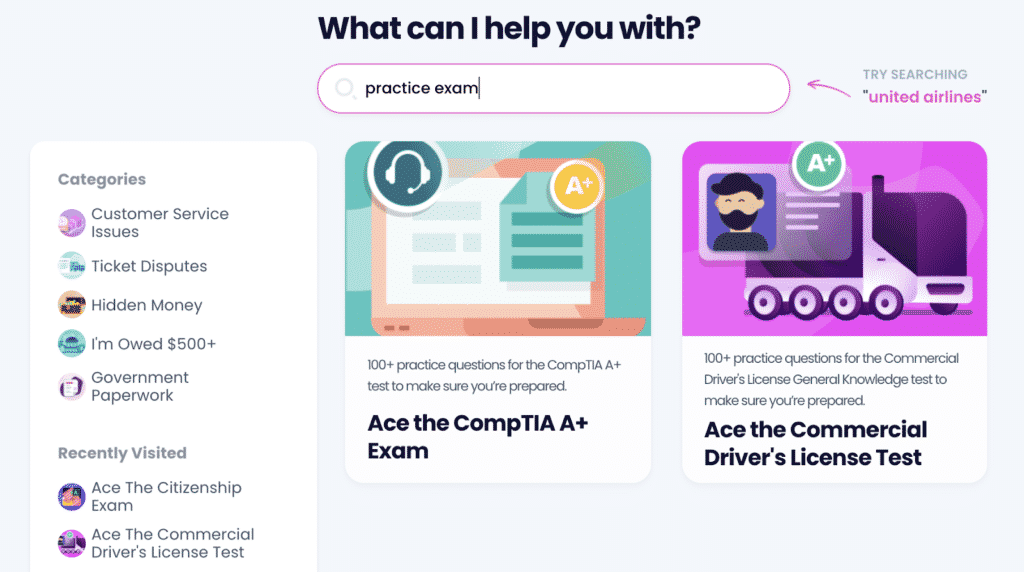 DoNotPay can help you prepare for multiple government tests. Use our practice tests to study for your notary, postal, U.S. citizenship, CCAT, ASVAB, CompTIA, or DMV exam.
Apart from providing useful practice tests, DoNotPay offers advice on how to schedule a DMV driving test, pass the written driving test, achieve the best ASVAB test scores.
Our app offers other Indiana-related assistance, such as what clinical trials you can apply for or how to locate your lost assets in this state.
Subscription Issues? DoNotPay Can Help!
If you are looking to test out a service, think twice before disclosing your payment info. Companies will often ask you for your credit card details even when signing up for a free trial—they charge you once the trial expires.
Use our virtual credit card, and don't worry about unwanted charges!
Our credit card gets automatically approved for any free trial, but it rejects any real charges since there is no money on it.
DoNotPay will locate and cancel all your unwanted subscriptions without you having to deal with customer service reps.
We can also help you request refunds from companies or take them to small claims court if they refuse to cooperate.
Clear Out Your Daily Tasks Fast With DoNotPay
Are your parking tickets piling up, but the process of appealing them is way too complicated? Do you struggle to pay your bills but are not sure how to get an extension? Is it time to extend your driver's license, but reaching the DMV is a nightmare?
DoNotPay will turn all of these dreadful tasks into easy-to-do items you can check off your agenda quickly!
Get rid of spam emails, texts, and calls quickly using our AI-powered app!
Learn how to secure compensation from airlines, get your college fees waived, claim your lost funds, or reduce your property tax—all with a few clicks!