UT Dallas Scholarships—Everything You Need To Know
Applying for a scholarship at the University of Texas at Dallas (UT) is the best option for students who can't afford sky-high tuition and other associated costs. In addition to being non-repayable, this type of financial aid offers a variety of options for different types of students. Check out this easy-to-read guide and get all the answers concerning UT Dallas scholarships.
What Scholarships Does UT Dallas Offer?
UT Dallas scholarships are awarded based on:
Nearly 70% of students enrolled at UT Dallas receive some form of need- or merit-based financial aid in the form of loans, work-study, scholarships, and grants.
Scholarships at UT Dallas can be divided into three groups:
Freshman scholarships
Transfer scholarships
Additional scholarships
Freshman Scholarships
Each year, UT Dallas freshmen are offered Academic Excellence Scholarships (AES). See more details about this one and other freshmen scholarships in the table below:
| Scholarship | Description |
| --- | --- |
| Academic Excellence Scholarships (AES) | UT Dallas Academic Excellence Scholarships are given to students based on their overall academic achievements, community service, leadership, extracurricular activities, work experiences, or any national recognition |
| Eugene McDermott Scholars Program | One of the most selective and prestigious undergraduate merit awards in the country. To apply, you must be an incoming freshman to UTD, be in the top 5% of your class, and show interest in science, literature, and the arts |
| Terry Foundation Scholarship | Provides opportunities for scholars to improve intellectually, culturally, and personally. Incoming freshmen who demonstrate exceptional leadership, scholastic ability, and character are welcome to apply |
| National Merit Scholars Program | Combines unique educational opportunities with a generous financial award. Applicants must be National Merit finalists who designated UT Dallas as their first-choice institution when applying for a scholarship |
| Diversity Scholarship Program | Targets students who have excelled academically in high school or community college while also demonstrating financial need |
Transfer Scholarships
If you are a transfer student, you can apply for these scholarships:
Comet Transfer Scholarship
Phi Theta Kappa (PTK) Scholarship
The award amount for both scholarships depends on your GPA. To be able to apply for these scholarships, you must:
Be a Texas resident at the time of admission
Have a cumulative transferable GPA of 3.5 or higher at the time of admission
Must have earned at least 30 semester credit hours
For all questions regarding UT Dallas transfer scholarships, you may contact the Financial Aid Office at 972-883-2941 or send an email at financial-aid@utdallas.edu.
Additional Scholarships
You can find additional scholarship opportunities on the UT Dallas Scholarship Listing page as well as through the following schools:
School of Arts and Humanities
School of Arts, Technology, and Emerging Communications
School of Behavioral and Brain Sciences
School of Economic, Political and Policy Sciences
Erik Jonsson School of Engineering and Computer Science
School of Interdisciplinary Studies
Naveen Jindal School of Management
School of Natural Science and Mathematics
There are some other external scholarships you can apply for but keep in mind this requires a lot of research.
If you want to avoid all the hassle of looking for scholarships, . DoNotPay will match you with all scholarships you qualify for within minutes!
We can help you find other scholarships that are not associated with a specific university or college. Some of them are scholarships for women, international students, veterans, and high-school seniors.
Who Qualifies for UT Dallas Scholarships?
To be eligible for one of UT Dallas scholarships, you must:
Be admitted to the university
Have a record of academic merit in high school or community college
Be a full-time undergraduate student enrolling for the first time at UT Dallas in the fall semester
Have a GPA of 3.0 if transferring from another university or community college
How To Apply for a UT Dallas Scholarship
You have to take the following steps to apply for a UT Dallas Scholarship:
Fill out the Free Application for Federal Student Aid (FAFSA) form or the Texas Application for State Financial Aid (TASFA)
Submit a scholarship essay on the topics indicated on the application
Present a letter of recommendation from a professor or advisor
Send your resume (as a PDF or Microsoft Word document)
Need Help With Finding the Best Scholarship? Use DoNotPay!
If you are drowning in the sea of information and have trouble finding a scholarship that would be the best fit for you, do not despair. Let us take the matter into our hands and solve the issue in no time!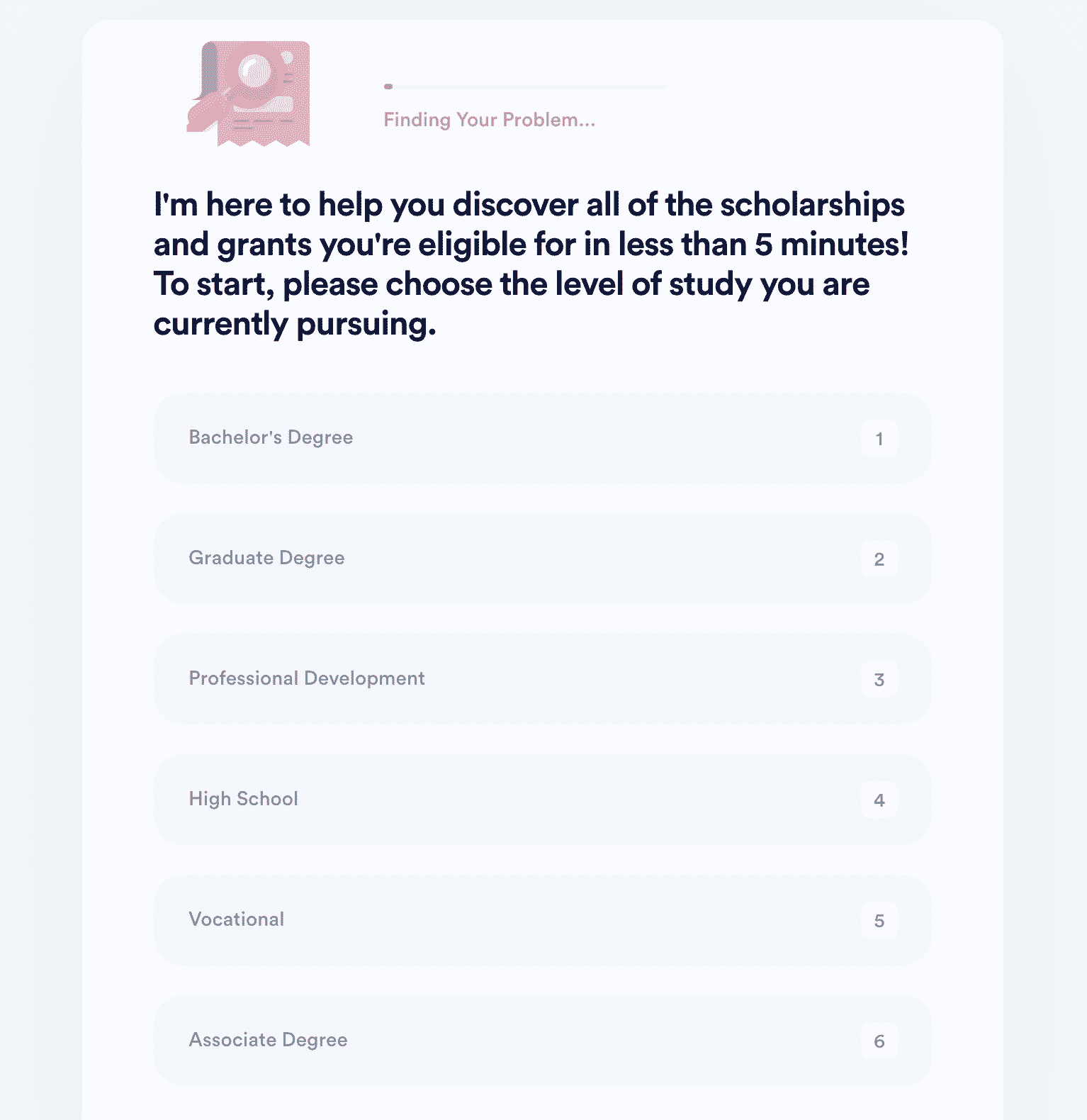 Follow these four simple steps to get started:
Locate the Apply for Scholarships feature
Answer a few questions about your:

Level of study
Types of scholarships you want
Residency
Grades
Educational interests

Submit the questionnaire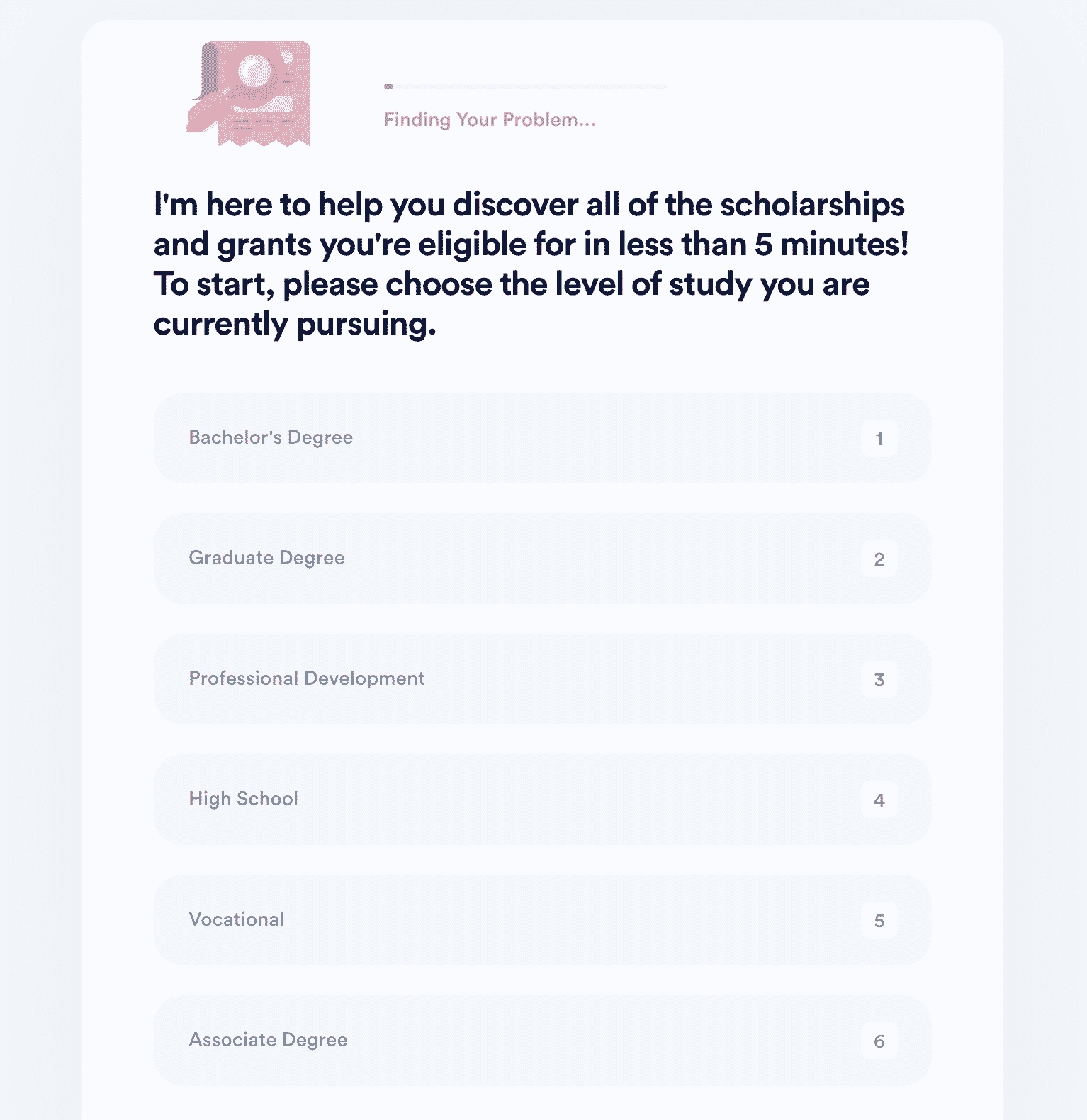 Once you've completed all four steps, we will process your answers and create a list of the best scholarships you qualify for. We will also inform you about the exact amount you can get, the application deadline, and more.
If you are interested in applying for some no-essay scholarships from colleges or grad schools other than UT Dallas, we can send an application in your stead!
Use DoNotPay To Deal With a Plethora of Bureaucratic Tasks!
Tired of dealing with bureaucracy? We understand the struggle, and that is why our app makes handling administrative tasks a breeze!
Regardless of whether you need to compose a legal document, such as a power of attorney or a child travel consent form, appeal property taxes or your parking tickets, file a financial aid appeal and a FOIA request, or get a document notarized, DoNotPay has got you covered!
In case you also need to submit anonymous HR complaints, our app will provide you with the easiest way to do so!
Go on a Stress-Free Shopping Spree With DoNotPay
Do you like to shop until you drop? With DoNotPay, you won't have to worry about dropping! We'll make sure you can:
If you need more money to continue your shopping spree, let our app help you find any unclaimed funds under your name and enter numerous giveaways and sweepstakes!