Save Your Money—Get the UNCG Application Fee Waiver
The University of North Carolina at Greensboro (UNCG) is a public research center and a part of the University of North Carolina (UNC) system. It was founded in 1891 to help women get a college education. Like other UNC members, the UNCG is an independent university, with its programs and degrees.
The university offers around 180 programs for undergraduate, graduate, and doctoral students. To apply for any of the studies, UNCG requires their prospective students to pay the application fee. Considering that college fees are a standard requirement for most universities, that does not come as a surprise. But as standard as they are, most students find these charges unreasonable since there are other college-related expenses many of them struggle with.
To help their financially challenged students, UNCG offers application fee waivers for those that meet the eligibility criteria.
Everything You Should Know About College Application Fee Waivers
An average American student applies to seven to ten colleges at once. The reason for this is to expand their options and strengthen their chances of enrollment. While these reasons are valid and applying to several colleges is a wise strategy, it can also seriously burden your finances.
You can choose to apply to one of the universities that don't have application fees, but that seems a little restrictive.
College application fees range from $25 to even $100, depending on the university. Considering you probably won't risk your chances for higher education by applying to a single college, these costs pile up to a thousand dollars. If you are coming from a low-income family, it is in your best interest to apply for a fee waiver.
What Makes Someone a Qualified Candidate for an Application Fee Waiver?
To obtain a college application fee waiver, students have to meet certain eligibility criteria. These requirements are the same for waiving college fees anywhere in the U.S., and they include the following:
The applicant is homeless

The student and their family receive the U.S. or state of North Carolina public assistance

The person is an orphan or ward of the state

The future student lives in a federally subsidized public home or a foster home

The student is a part of the

Federal Free or Reduced Price Lunch

program

The applicant's family income meets the requirements from the

Income Eligibility Guidelines

The person is qualified for or enrolled in one of the programs that aid students from families with low income
How Much Is the
UNC Greensboro Application Fee
?
The University of North Carolina at Greensboro requires prospective students to pay a $65 application fee, which is not refundable.
How To Get the
UNC Greensboro Application Fee
Waiver on Your Own
You can get your UNCG application fee waiver by sending a fee waiver request along with the completed application form. Take a look at the following table to find out what kind of fee waivers the UNCG allows:
The university does not participate in the College Foundation of North Carolina (CFNC) Free Application Week.
How To Obtain the
UNCG Fee Waiver
With the College Board, NACAC, and ACT Fee Waiver
When you take the SAT exam with a fee waiver, the College Board grants you automatic eligibility for any college application fee waiver.
If you qualify for the following fee waivers, you should include it in the application letter and send it to the UNCG Undergraduate Office:
College Board fee waiver

ACT fee waiver

NACAC fee waiver
Whichever fee waiver you have, you should mail it with the application to the UNCG admissions office mailing address:
UNCG Undergraduate Admissions
P.O. Box 26170
Greensboro, NC 27402-6170
How To Obtain the
UNCG Fee Waiver
With the Common App
To acquire a fee waiver using the Common App, you should follow these instructions:
Access your Common App account

Open the

Common App

tab

Click on

Profile

Select the

Common App Fee Waiver

option

Put the information regarding your eligibility for the UNCG fee waiver

Choose the financial factors that apply to your case

Answer additional questions

Confirm and sign by using any electronic signature app
Your counselor or other designated school official can attest to your financial hardship by signing the fee waiver form.
Use DoNotPay for Acquiring College Application Fee Waivers
DoNotPay has a handy feature that helps students enduring financial hardship get the financial aid they need by getting college application fees waived. You can use this practical feature to get three types of fee waivers:
Transfer student fee waiver

Enrollment deposit fee waiver

New student application fee waiver
We can also obtain a signature from your high school counselor or other designated official to verify your financial needs and increase the chances of getting a college fee waiver.
How Do We Manage This?
DoNotPay uses an extensive database of all the universities in the U.S. that allow us to work with any college in America. This way, you can request fee waivers for as many colleges as you like without doing the research and collecting information about each university separately.
What Is It That We Do for You?
Helping you avoid tedious work is DoNotPay's specialty. When it comes to waiving fees, we make that possible by:
Filling out the form on your behalf

Taking care of the complete mailing process

Contacting your high school counselor to obtain their signature, if necessary

Sending the fee waiver request directly to the university's admissions office
How Can You Obtain a College Fee Waiver Using DoNotPay?
We are aware of how stressful and demanding it can be to apply to multiple colleges while trying to make ends meet. To streamline the process, DoNotPay created the most practical and time-effective feature for requesting fee waivers—College Application Fee Waiver.
Here's how it works:
Access your DoNotPay account from any

Locate the

College Application Fee Waiver

feature

Choose the type of fee waiver

Pick the college you are applying to

Answer several questions regarding your financial situation

Notify us if you need the counselor's signature
Most of the time, the universities' admissions offices take two weeks to review fee waiver requests. Once they process yours, DoNotPay will notify you.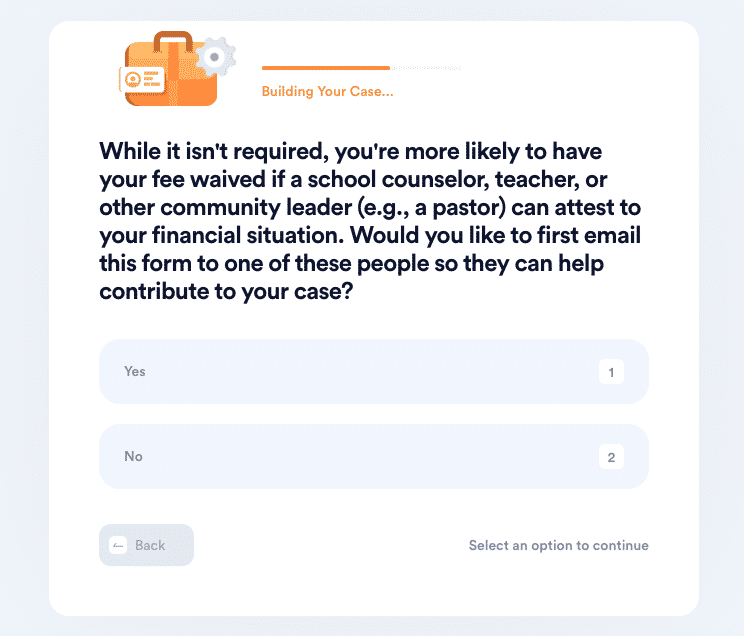 Tackle Monotonous Daily Tasks With the Help of Your Private AI Assistant—DoNotPay
Many students fear the costs of applying to multiple colleges or often settle for universities that don't have application fees. DoNotPay helps you broaden your options.
You can focus on getting the best college experience since we help you get college application fee waivers for universities such as Columbia, Brown, Emory, the University of Texas in Dallas, and many more.
Find out how to get fee waivers for other universities from the UNC system—University of North Carolina in Wilmington or the University of North Carolina at Chapel Hill.
Don't stop with college-related issues. Access DoNotPay from any and see how we can help you to:
Appeal traffic tickets

Dispute stress-inducing speeding tickets