How To Avoid Paying the UNCW Application Fee
The University of North Carolina Wilmington (UNCW) is a part of the University of North Carolina System. It has more than 14,000 undergraduate and over 2,000 graduate students.
If this university is on your application wishlist, you should know more about the money you'll need to give to this school. The expenses are not negligible when you take into account the tuition and numerous other college fees. The good news is that there are ways to lower the costs. The best place to start is by looking into college application fees and the ways to get fee waivers for them.
What You Should Know About College Application Fee Waivers
An average American who wishes to apply to a university won't put all his or her eggs in one basket. The chances of enrollment are higher when expanding your options and sending applications to several schools.
If you decide to go with this approach, you should count on spending several hundreds of dollars on application fees. Most universities in the U.S. require you to pay the fee, and they don't give refunds.
The average amount that students spend on application fees can be anything between $50 and $100. For people coming from low-income families or difficult living conditions, that amount is a lot. This is why fee waivers exist—you can get rid of application fees and cut your costs to a point.
The easiest way of obtaining college fee waivers is DoNotPay, and we can tell you all about the simple way of using our app for this process.
Waive College Application Fees With DoNotPay
If you want to waive college application fees the fastest way, you should turn to DoNotPay for help. We can assist you in getting rid of enrollment deposit fees, transfer student fees, and new student application fees. You only need to heed these instructions:
Access DoNotPay from any

web browser

Scroll down to the

College Application Fee Waiver

feature

Choose the fee you wish to waive

Pick the college you are applying to

Answer a few questions regarding your economic status
Inform us if you need a counselor's signature. DoNotPay will complete the form and send it to the counselor to sign. If you don't need a signature, we will mail the form to the financial aid office of the university of your choice.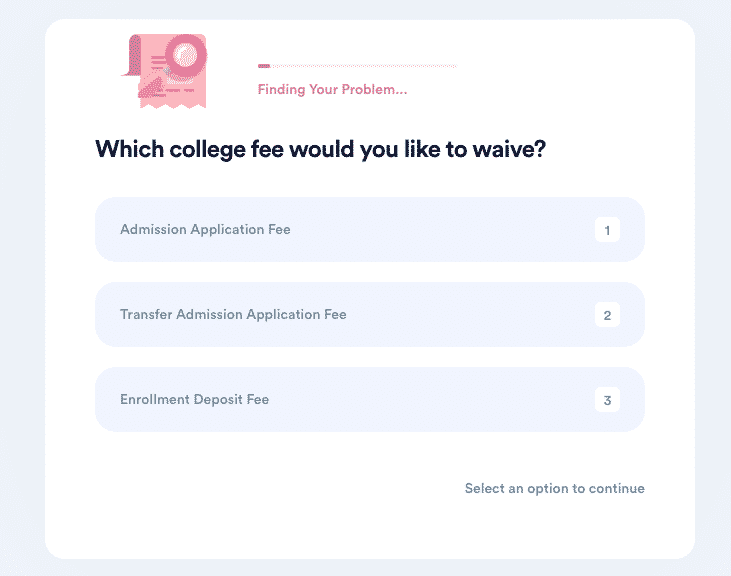 The University of North Carolina Wilmington Application Fee
You will need to spend as much as $80 on your application fee for UNCW, and it is not refundable. This is one of the most expensive fees, and not everyone can afford it. If you meet the criteria, you should apply for a fee waiver. The fee waivers can help you avoid spending too much money.
What Makes a Student Eligible for a UNCW Application Fee Waiver?
Students who come from low-income families are usually the ones eligible for fee waivers. Sometimes universities add more factors, but usually, the student has to be:
Homeless

Living in a foster home

Residing in a federally subsidized public housing

A ward of the state or an orphan

Eligible or a part of any program that aids students from families that struggle financially

A part of the family with an income in alignment with

the USDA Food and Nutrition Service

Income Eligibility Guidelines

Eligible to get public assistance

A part of the Federal Free or Reduced Price Lunch program
Depending on the number of family members, the income shouldn't be more than $23,606 (one family member) or $65,046 (six family members).
How To Obtain a UNCW Application Fee Waiver on Your Own
You can request a fee waiver when you send in your application to UNCW. Take a look at your options in the table below:
How To Request a UNCW Fee Waiver via Email
In case COVID-19 has affected your employment status, you can request an application fee waiver by sending an email to UNCWTransfer@uncw.edu. Make sure to include:
Your full name

Date of birth

Name of employer

The termination date
How To Request a UNCW Fee Waiver With the Common App
First-year students can apply with the Common App and request a fee waiver by following these instructions:
Log in to your account on the app

Open the

Common App

tab

Click on the

Profile

link

Select the

Common App Fee Waiver

category

Provide the information regarding your eligibility for the fee waiver

Select all the economic factors that apply to you

Answer other questions

Finish the process by providing your signature
Your counselor will need to vouch for your answers if you haven't already gotten an SAT or ACT fee waiver. This is usually done with their signature.
How To Request a UNCW Fee Waiver via the College Foundation of North Carolina
You can apply to UNCW via the College Foundation of North Carolina. You will need to create an account and follow all the directions. This way of applying is available for both first-year students and transfer students. You will need to include the fee waiver request with your application.
How To Request a UNCW Fee Waiver by Letter
You may also send all the required documentation along with the fee waiver request by mail to the University of North Carolina Wilmington, Office of Undergraduate Admissions, 601 S College Road, Wilmington, NC 28403-5904.
Who Is Eligible for an Automatic College Application Fee Waiver?
In case you already received an ACT or SAT fee waiver, you are automatically eligible for college application fee waivers. You should always check with the university for the specifics and see what they take into consideration just in case.
DoNotPay Tackles Everyday Tasks Without Trouble
DoNotPay can be of much use for North Carolina residents apart from helping students waiving fees. If you need assistance with passing a DMV permit test in North Carolina or want to renew your license, we have all the useful tips and tricks. 
Perhaps you need help with managing high electric bills? Our app can help you lower them. In case you are struggling with a condition or a disease, we can help you find the right clinical trial in NC that can possibly solve your troubles.
We even have the scoop on using the Do Not Call registry in North Carolina.
This was only a brief overview of several tasks our app can help you tackle. To see everything else the world's first robot lawyer is capable of doing, access DoNotPay from your web browser and let us help you manage tasks such as:
Challenging speeding tickets

Contesting traffic tickets