How To Avoid Paying for the UC Davis Application Fee in a Few Clicks
The University of California, Davis (UC Davis) is a public university near Davis, California. It has one of the largest enrollments in the University of California system, after UCLA, UCSD, and UC Berkeley. The university is rated R1, which means it has a high level of research activity.
UC Davis has mid-priced college fees, but its application fee is above average. The good news is that DoNotPay can help you obtain a UC Davis application fee waiver in under five minutes.
How Much Is the Application Fee for UC Davis?
The application fee for domestic applicants is $70, whereas, for international students, the fee is $80.
If you are applying to graduate studies at UC Davis, you'll pay a hefty application fee of $120 if you're a U.S. citizen. For international applicants, the fee is even higher—$140. Unfortunately for graduate applicants, fee waivers aren't available based on financial circumstances.
How To Avoid Paying College Application Fees With the Help of DoNotPay
Let DoNotPay help you lower your expenses—get a college application fee waiver with a few clicks. The process of waiving application fees with DoNotPay is the fastest because we fill out the form instead of you and mail it directly to the financial aid office of your desired university. Because we have an extensive database of all U.S. universities, our College Application Fee Waiver feature will work with any school in the USA.
We can help you avoid the following fees:
New Student Application Fee

Transfer Student Fee

Enrollment Deposit Fee
DoNotPay can also request a signature from your school counselor by emailing the fee waiver form and information about your financial situation. Your counselor's signature will strengthen your fee waiver request.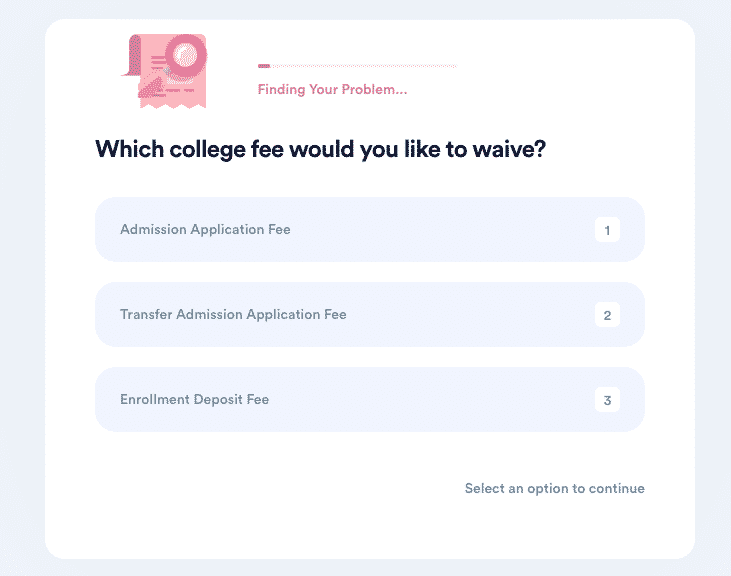 How To Use the Fee Waiver Feature To Avoid the UC Davis Application Fee
To obtain a college application fee waiver from UC Davis, you'll need to open DoNotPay in your web browser. After you set up your account and log in, do the following:
Find the

College Application Fee Waiver

feature

Select the type of fee you want waived

Enter

UC Davis

as the college you're applying to and provide information about your financial situation

Tell us if you want DoNotPay to get your counselor's signature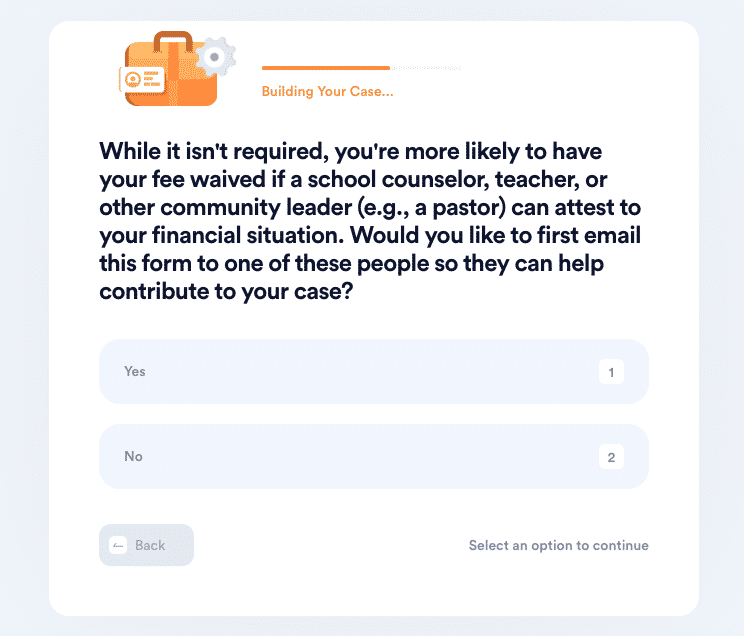 How To Obtain a UC Davis Application Fee Waiver on Your Own
You can apply for a fee waiver in any of the following ways:
Can You Request a Fee Waiver Via
Yes/No

DoNotPay

Yes

The Common App

No

SAT

/

ACT

/College Board/NACAC

Yes

Email

Yes

UC Application

Yes

School Visit

No
How To Apply for a Fee Waiver via the UC Application
To apply for the UC Davis application fee waiver, follow these steps:
Click on

Create an Account

on the UC Davis

application page

Start filling out your application

Enter information about your family size and income under the

Your Household

section

Tap on

Yes

during the submission process to send the request
How To Avoid Paying an Application Fee With Other Fee Waivers
If you've already acquired an SAT, ACT, NACAC, or a College Board fee waiver, you can use that to your advantage. Here's how to do it:
Select

Pay by Check

during your application

Send the SAT/ACT/NACAC/College Board fee waiver form to the UC Application Center at:
UC Application Center
PO Box 4438
Greenwood Village, CO
80155
Requesting a Fee Waiver via an Email
Even though you don't qualify for a fee waiver, you can still ask the school to waive it under specific circumstances. A recent job loss or the death of the main income earner in your family could count as special circumstances.
To ask UC Davis to waive your application fee via email, do the following:
Select

Pay by Check

when filling out the application form

Send a letter to the UC Application Center or an email to

ucinfo@applyucsupport.net

explaining your situation
Who Is Eligible for a UC Davis Application Fee Waiver?
The federal free or reduced-price lunch program and the UC Davis application fee waiver have similar eligibility criteria. Permanent residents must meet the eligibility criteria defined by the Assembly Bill 540 (AB540) benefits.
What Are the Eligibility Criteria for American Citizens?
When you are a U.S. citizen, you can get your application fee waiver if:
You acquired an SAT or ACT fee waiver

The family you belong to has income at or below 130% of the federal poverty level

You can prove your economic need by obtaining a high school counselor's signature on a fee waiver request form
Permanent Residents Eligibility Criteria
Permanent residents can apply for an application fee waiver if they are eligible based on AB540. The requirements of AB540 are:
Attending a California high school for three years or longer

Having a California high school degree or an equivalent, like GED

Submitting an affidavit to the Californian public college or university
Are You Eligible for a Fee Waiver if You're a Graduate Student?
The university will waive application fees only for students who participated in specific graduate programs:
Alliances for Graduate Education and the Professoriate (AGEP)

Cal-Bridge Scholars

LSAMP (Louis Stokes Alliance for Minority Participation)

NIH Bridges to the Baccalaureate

CAMP (California Alliance for Minority Participation)

Envision UC Davis program participants

Gates Millennium Scholars

UC LEADS (Leadership Excellence through Advanced Degrees)

MMUF (Mellon Mays Undergraduate Fellowship)

NIH Bridges to the Doctorate

HSI Pathways to the Professoriate

MBRS (Minority Biomedical Research Support)

McNair Scholars

PREP (Postbaccalaureate Research Education Program - NIH)

Sally Casanova Pre-Doctoral Scholar (CSU)

IRT (Institute for Recruitment of Teachers)

UC-HBCU Initiative Summer Research Program

UCDGAP (Graduate Admissions Pathways)
You'll need to provide the name and contact information of your program coordinator. After you submit your application, the university will waive your application fee automatically.
The complete list of programs is available on the Admission Requirements page. 
Solve Your Legal and Administrative Issues With DoNotPay
Don't give up on your dreams because you're not able to pay for all the applications—let DoNotPay handle this issue for you. We can help you obtain college application fee waivers for colleges across the U.S., including UIUC, Cornell, University of Michigan, University of Miami, and various others.
If you've decided to study in California, you can try to obtain the BOG fee waiver. Those who intend to drive while studying there need to make sure that their CA driver's license is valid. DoNotPay can help you renew your driver's license in California without unnecessary delays.
Find out what else our platform can offer you by opening it in your web browser. We'll help you with:
Disputing traffic fines

Contesting speeding tickets