How to Stop Fake TripAdvisor Robocalls
Did you know that, according to TechCrunch, the number of robocalls in the U.S. increased by 35% in 2019? If you've been feeling like automated calls harass you, you are not alone—people all around the country complain about different forms of unsolicited calls coming from various companies.
Many representatives use robocalling as a convenient method to contact a great number of people in a short time. These calls alone are annoying enough, but when you add robocall scams to the equation, the entire situation can become much more frustrating and problematic. Fraudsters most commonly use the names of big brands to try to trick you into believing whatever they say. If you've received numerous TripAdvisor robocalls recently, you know what we're talking about, right?
DoNotPay can help you stop robocalls and get revenge for the damage done. 
What Are Robocalls?
Robocalls are automated calls made by a computer program to deliver a pre-recorded message to the greatest number of people possible. Different people and companies use this technology for different purposes, with some of the most common being the following:
Telemarketing

Political campaigns

Appointment reminders

Public-service announcements
Depending on the purpose, some robocalls are made more frequently than others, which, in turn, makes them more or less irritating for those who receive them. This mere annoyance can easily turn into anger and frustration if a scammer trying to fool you is on the other end of the line. 
One of the common examples of robocall scams are TripAdvisor robocalls, so let's find out more about them so that you know what to expect.
What to Expect When You Receive TripAdvisor Robocalls?
These robocalls usually start with a man named Joe saying that he's an agent from TripAdvisor or someone from TripAdvisor gift center. In some cases, this is all they tell you before they hang up on you. Another option is that they ask you if you can hear them, and then hang up. All these fraudsters need you to do is say "yes." They then use your affirmative answer to claim that you've agreed to pay for whatever it is that they want you to pay. In any case, the point of this call is to steal your money.
If these fraudsters don't hang up immediately, you can expect them to tell you that you've won a free trip, or they may offer you a cheap travel deal. 
In most cases, people receive at least three–five robocalls from TripAdvisor scammers on a daily basis. It's often hard to predict from which number you can expect the call—these scammers usually spoof the numbers each time they call to hide their true identity and location. Their goal is to lead you into thinking that someone from your local area is calling you. For instance, a victim from Worcester, Massachusetts reported the following numbers:
774-701-6052

774-701-6041

774-701-6023

774-701-6026

774-701-6021

774-701-6062

774-701-6053

774-701-6033

774-701-6035
You should also keep in mind that scammers using TripAdvisor brand name don't necessarily limit themselves to phone calls—some people even reported that they had received faxes at their workplace. 
Before you accept anything from these fraudsters or just blindly believe what they say, make sure to check that TripAdvisor, in fact, offers whatever the scammers offer you.
How to Identify Fake TripAdvisor Robocalls?
The crucial thing to remember when a robocaller tries to impersonate a TripAdvisor representative is that TripAdvisor never asks its users for a phone number. So, if they don't have this piece of information, how can they contact you? 
Another clue you can hunt for is the very message they leave. This one you can get only if you're a very careful listener—the message goes: "Hello, I am Joe, I'm A trip adviser. Can you hear me?" So, they don't even say TripAdvisor, but most people don't catch this, and they immediately think of the well-known travel company.  
What to Do If You Receive a TripAdvisor Robocall?
The best thing you can do when you receive a call from TripAdvisor scammers is not pick up the phone. We understand that sometimes you can't manage to avoid these fraudsters. They can easily trick you by spoofing the numbers—it's rather challenging to judge when to leave the call to the answering machine. When this happens, the smartest thing you can do is hang up the phone as soon as you hear the caller mentioning TripAdvisor. 
Another crucial thing to avoid is making the same mistake twice. If you pick up the phone once, these scammers are highly likely to contact you again. The more they manage to engage you, the more they'll call, so remember this golden rule to avoid TripAdvisor and other scammers in the future—when you're not completely sure who's calling, don't pick up! If someone really needs you, they will leave a message or call again, right?
Will the National Do Not Call List Stop TripAdvisor Robocalls? 

If you check out the FCC's guide on dealing with robocalls, you will notice that the Federal Communications Commission advises robocall victims to register their number on the National Do Not Call List as a first step when fighting against robocalls. The purpose of the Do Not Call list is to protect you from all unsolicited calls, whether they are legal or illegal. But the question is, how effective is this method? 
The truth is, not so much when it comes to fighting robocall scams. The fraudsters can easily find a way to get around rules, so you putting the number on the Do Not Call list will probably not stop them from contacting you anyway. This goes both for TripAdvisor and any other robocall scammers that may disturb you.
It won't hurt to register anyway to at least reduce the risk of scammers finding your number. When you do this, make sure you check if your number is on the Do Not Call list after the registration to be on the safe side. Here's how you can do this:
Dial 1-888-382-1222

Dial 1-866-290-4236 to call via TeleTypewriter
If you've completed the registration successfully, then that's it—your number will remain there for as long as you want it to, as there is no Do Not Call expiration date. There are some Do Not Call exceptions, though, so these are worth checking out, just so you know which numbers cannot be blocked even though you're on the list.  
Make Sure You Report the TripAdvisor Robocall Fraud to the
Federal Trade Commission
When you register your number on the Do Not Call list, but it doesn't help you, and the scammers continue to harass you, it's time for you to file a robocall lawsuit. Be prepared for this option, as fraudsters often don't respect the Do Not Call list. Don't wait for the fraudsters to wrong you—report them to the Federal Trade Commission as soon as possible.
You can always count on DoNotPay to help you sue companies and individuals in small claims court. We understand that you don't know how to get all the paperwork required in small claims court, including the script, so we offer to prepare everything for you.
Robocall King Meets the FCC
If it feels like you will never be able to put an end to TripAdvisor robocalls, you should learn about the story of the Federal Communications Commission (FCC) joining forces with TripAdvisor to stop fake robocalls using this brand's name. They discovered that one man was behind these robocall scams—Adrian Abramovich, better known by the preposterous name of  no less than "Robocall King". 
At first, the FCC and TripAdvisor worked separately, trying to track down a man who managed to make more than 96 million robocalls in just three months. 
Fred Garvin, a member of TripAdvisor anti-fraud team, received one of these robocall scams himself. He used this experience to gather enough information to file a complaint against the scammer. When TripAdvisor had everything required for a case, they turned to the FCC for help. It was then that both organizations realized that they were after the same man. 
They managed to build a case against the Robocall King and eventually shut down his operation.
TripAdvisor Robocall Fraud Is One of the Many, but Are All Robocalls Scams?
TripAdvisor robocalls are illegal, but many others aren't. If you want to protect yourself from robocall scams in the future, the first thing to do is learn how to spot an illegal automated call and how to differentiate it from those that are not only legal but also can't be blocked in some cases. To be able to see the difference between these two categories, take a look at the following common examples of each:
Legal Robocalls

Illegal Robocalls

Political campaign robocalls are always legal, and even though they can be annoying, many

robocall blockers

still aren't allowed to block them.

Robocallers that tell you that you've won a trip or some other prize out of nowhere are scammers—these calls are illegal, and you should avoid them at all costs.

Service providers often find it easier to contact their users via robocalls. If you give them your phone number willingly, they are allowed to contact you about anything regarding your subscription. 

Robocalls asking for your personal information are usually scams. People behind these calls need your info to commit identity theft, so you need to be careful with them. 

Schools are allowed to use automated calls to contact students or their parents about various school-related issues.

Robocalls trying to send you something, be it a product, service, or something else, are illegal, especially when coming from an unknown company.

If people who are in charge of government-approved studies contact you via robocalls to ask you to participate in their study, that's legal.

Be on alert for scammers who only manipulate numbers to make the call look like it's coming from a reputable institution. 

Are you struggling with

paying bills

? If so, you can expect a robocall from a debt collection agency about anything that has to do with your unpaid debt progress.

Robocallers offering to lower your bills if you transfer the money into a given bank account only impersonate real debt collectors, so be careful not to fall into their trap.

Charitable organizations are allowed to contact people via robocalls to ask them for donations.

If a robocaller asks you to reveal your credit card information or your bank account, this is most likely a scammer trying to steal your money.
DoNotPay Can Help You Get Revenge on TripAdvisor Robocalls

Are you looking for a way to make robocallers pay for what they did to you? We can only imagine how frustrated you must be. And how wouldn't you be? But don't worry—DoNotPay is at your disposal, ready to help you get robocall revenge on the fraudsters that wronged you. 
We know that you can't wait to get the justice you deserve, which is why we've created an efficient and easy-to-use solution—our Robo Revenge option. When you rely on this feature, you don't have to do much—most of the hard work is on us. Here's what the entire process looks like:
Use the

web browser

 

to log in to your DoNotPay account

Click on

Robo Revenge

 

Register your phone number on the

Do Not Call list

When TripAdvisor or other robocaller scammers ask for your credit card number, give them the virtual card details

We will obtain enough information on your fraudsters so you can sue them

If you need help with writing a demand letter for compensation, DoNotPay can give you a hand with that—we can both generate and send a demand letter on your behalf
How Exactly Does Robo Revenge Fight TripAdvisor Robocalls?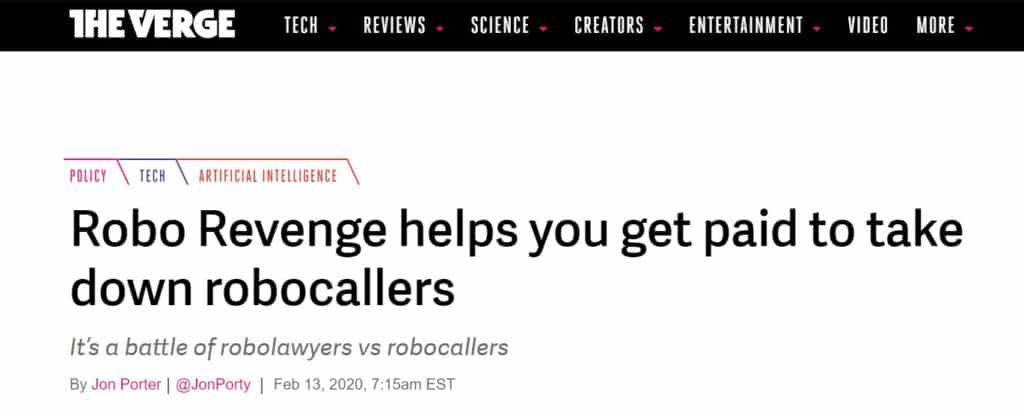 Just like it doesn't take much for you to activate the Robo Revenge option, it doesn't take much for the process behind it to be completed, either. Here's what happens when you use Robo Revenge:
By giving you a

free virtual credit card

, we protect all your real card information—the virtual credit card that we provide you with is not linked to your actual account, so no one can access it or take any money

Even though the virtual card number that we give you is nothing but a string of generated numbers, the scammers—or anyone else, for that matter—won't be able to tell the difference. T

he fraudsters will try to take the money off your account, which will allow us to access their information

Based on the info that we gather, we can reveal who your scammers really are and tell you where they are, no matter what the local area code says when they call you 

We will forward you all the info, so you have everything you need to file a complaint against the robocallers who've wronged you
How to Deal With TripAdvisor and Other Robocalls?
Just because there is a way to stop robocalls and get revenge on them, it doesn't mean that you should wait for the scammers to start harassing you to do something about it. There are a couple of steps that you can take to avoid unsolicited calls altogether or prevent robocall fraudsters from causing any harm. Here are some of the most effective solutions:
The National Do Not Call Registry

Make sure you put your phone number on the

National Do Not Call List

. Even if it doesn't help with robocall scams, it can protect you from legal robocalls.

Be careful about who has your number

If you're thinking about giving your phone number to someone new, make sure the person or company that asks for it is reliable.

Never reveal your financial information easily

If you make a mistake and reveal your credit card info to a wrong caller, you can end up having severe

credit card issues

. To avoid the worst-case-scenario, be extra careful when you receive a robocaller asking for your financial information, even if the person claims they're calling from a reputable institution.

Install a call-blocking device/app

Depending on whether you're getting robocalls on your landline or mobile phone, consider buying a call-blocking device or installing a call-blocking app that can block all unwanted numbers.

Change your number

Sometimes, drastic measures are the only way to go. Think about buying an unlisted number and switching to it to make it challenging for fraudsters to reach you again.
Turn to DoNotPay in Other Problematic Situations
We understand just how irritating and problematic robocalls can be. Things can become even trickier if you have to cope with several problematic situations simultaneously, which can easily happen. Let's say you have an unfair parking ticket to deal with, you're getting robocalls all day long, and your flight just got canceled, but they won't give you your money back. How frustrating!
Luckily, DoNotPay has got you covered in all these and many other situations. We just need you to log in to your account via the web browser and select the type of service that you need. Here's what we'll be happy to do for you:
Fight unfair speeding tickets

Fight your traffic tickets