Stopping Robocalls With the STIR/SHAKEN Framework
Caller ID authentication is necessary to protect Americans from scammers who use caller ID spoofing to trick people into answering robocalls. Since 2014, the Federal Communications Commission (FCC) has been encouraging the telecommunications industry to develop new technologies that can put a stop to America's robocall epidemic. The new STIR/SHAKEN framework is what the industry had come up with.
What Does STIR/SHAKEN Mean?
STIR/SHAKEN are abbreviations for the Secure Telephone Identity Revisited (STIR) and Signature-based Handling of Asserted Information Using toKENs (SHAKEN) standards.
Thanks to the STIR/SHAKEN framework, all calls traveling through America's interconnected phone network will have to be signed as legitimate by the originating carrier, and verified by other carriers before reaching the consumer.
How Does the STIR/SHAKEN Framework Work?
The new Caller ID authentication process includes the use of public key infrastructure. Session Initiation Protocol (SIP) headers will show a level of confidence indicator from the originating carrier to verify whether the party who placed the call has the right to use the given number via the attestation field.
The originating service provider can indicate three different levels of attestation:
Full attestation

- the service provider authenticates that their customer has placed the call and that they are authorized to use the calling number

Partial attestation

- the service provider authenticates that their customer has placed the call, but they cannot verify if the customer is authorized to use the calling number

Gateway attestation

- the service provider can authenticate where the call is coming from but cannot verify the call source
Explaining the Call Path
When a call is being placed, the originating service provider's Secure Telephone Identity Authentication Service (STI-AS) creates an encrypted SIP Identity Header containing the following information:
Date and time

Attestation level

Signature

Calling and called numbers

Encryption algorithm

Location of certificate repository
To decode the SIP Identity Header, the terminating service provider puts the STI Verification Service (STI-VS) into effect.
Basic Tips on How to Deal With Robocalls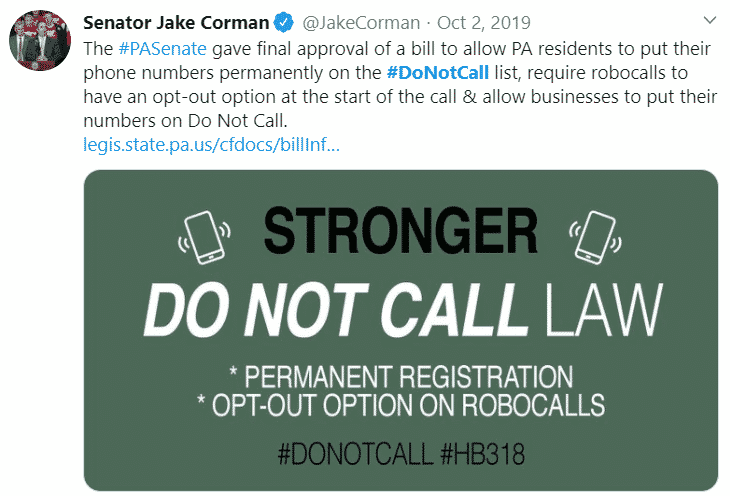 While you can check out the FCC guide to robocalls and learn how you can legally block scam calls and sue robocallers, there are simpler ways of mitigating the impact robocalls make on your life.
Stop answering unknown calls

Place your number on the National Do Not Call list

Keep your personal information to yourself
Best Not to Answer
Phone companies are stopping robocalls with STIR/SHAKEN standards because of the scammers' tendencies to spoof their calling numbers.
Whenever you receive a call from an unknown number, it is best not to answer it—especially if the number is too similar to yours!
Fraudsters rely on the so-called "spoofing" method to increase the likelihood of called parties picking up the call.
Scammers will record your voice and use it to authorize over-the-phone purchases. They will not necessarily ask you for money or your personal information.
Rescued by the Do Not Call Registry
You can stop telemarketers from calling you by putting your number on the National Do Not Call registry.
While legal businesses will abide by this rule, note that scammers will probably disregard the fact that your number is on the Do Not Call list, and call you nevertheless!
Never Share Your Personal Information
No matter how persuasive the caller may be, try to avoid sharing your personal information with unknown callers.
More often than not, robocallers will be on the lookout for your personal information because it allows them to pull off more lucrative scams such as credit card or identity theft.
Fighting Robocalls With the TRACED Act
On December 13, 2019, President Donald Trump signed into law the Telephone Robocall Abuse Criminal Enforcement and Deterrence Act (TRACED), which requires the adoption of the STIR/SHAKEN framework by telecommunication companies.
While the STIR/SHAKEN framework plays a crucial role in combating annoying robocalls, the TRACED Act also calls for:
Increased fines for illegally placed robocalls

FCC's annual reports on robocall enforcement

Prosecution of offenders by the Justice Department

Changes in policies regarding the accessibility of numbers' resources

FCC's promulgation of rules that can help protect consumers from unwanted robocalls and robo texts

FCC's promulgation of rules about when a provider can block a call based on the information acquired through call authentication framework
Are Robocalls Legal?
In some cases, robocalls are perfectly legal.
Politicians and charities, for example, are free to use automated calls during their campaigns. Many schools use robocalls to notify parents and students about upcoming events, school closures, and emergencies.
Robocalls are not legal when a company uses them to promote their products and services without having the called party's permission to do so.
Thanks to the Telephone Consumer Protection Act (TCPA), telemarketers need to abide by certain rules in order to place a legal robocall:
All calls have to be placed between 8 a.m. and 9 p.m.

People whose numbers are on the

Federal Trade Commission

(FTC)

Do Not Call list

cannot be called without written consent

Callers have to provide proper identification

Automated calls have to allow the called party to opt-out of future robocalls
FTC's Do Not Call List
The FTC launched its Do Not Call registry back in 2003. Its purpose is to protect Americans from annoying spam calls coming from telemarketers and other legal businesses trying to market their products.
To place your number on the National Do Not Call list and report an unwanted call, you have to:
Open the

FTC's Do Not Call website

Select Report Unwanted Calls

Provide details about the spam call you received

Submit your request
If you are unsure how to check if a number is on the Do Not Call list, feel free to read our instructional guide and find out.
You can read more about the Do Not Call list exceptions and Do Not Call list expiration here.
Proper Identification Is Obligatory
Whenever a telemarketer places an automated call, they have to provide proper identification to the called party. At the beginning of the call, the caller has to:
Reveal his or her identity

Reveal the identity of the company on whose behalf the call is being placed
Before the call ends, the called party has to be left with:
The company's address

The company's phone number
The Called Party Must Be Offered an Option to Opt-Out
Even if the telemarketer has the customer's permission to autodial, the customer has to be able to revoke his or her consent via the robocall.
Pre-recorded messages have to allow the called party to press a certain number and opt-out of the company's future calls.

Voicemails have to contain a toll-free, callback number that the customer can dial and remove their number from the company's calling list.
Robocall Scams You Are Most Likely to Encounter
While robocall scams come in various shapes and forms, some of them are more persistent and dangerous than others. Because some of these scams are incredibly believable, we have decided to share with you the most common telltale signs that can help you discern whether you are dealing with a scam or not.
| | |
| --- | --- |
| Robocall Scam | Telltale Signs |
| Google SEO scam | Google SEO scammers typically target small business owners. Victims are told that they need to pay additional SEO fees in order to avoid getting their listings wiped out by Google. The fact that Google has publicly stated that they do not use automated calls to get in touch with their customers is a reliable telltale sign of a scam. |
| IRS scam | IRS scams are the ones you should be careful about. Victims are called by an alleged IRS inspector claiming that they have an unpaid tax bill that they have to pay immediately—otherwise, the IRS will issue an arrest warrant. If you had an unpaid tax bill, the IRS would send you a notice via U.S. Mail first. Also, you would be given an opportunity to appeal the owed amount. The government does not communicate with its taxpayers over the phone, let alone threaten them with arrest warrants. |
| Government Grants scam | Government Grants scammers call their victims and tell them that they have become eligible for free government money. The only thing victims have to do is pay a small, one-time processing fee for the money to get transferred to their accounts. Up-front payments are the red flag that should instigate you to hang up the phone. Government grants come free of charge. Processing fees are never included. |
Taking Down Robocall Scammers With DoNotPay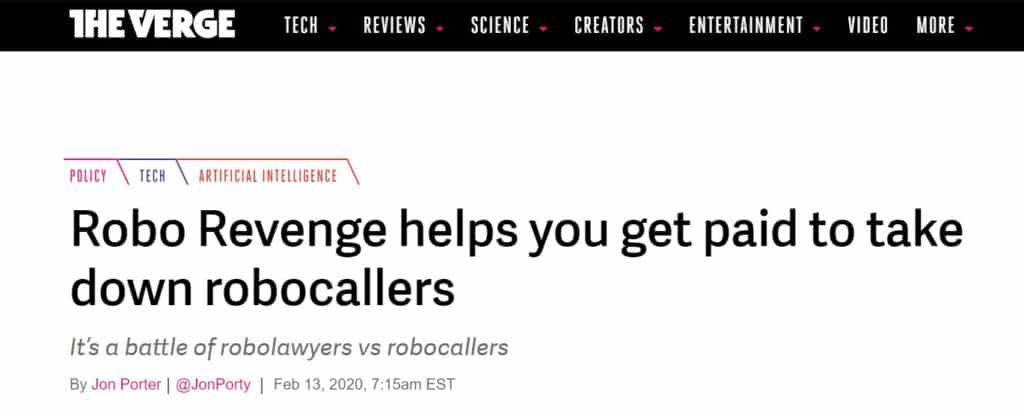 Wondering how to stop robocalls? DoNotPay has a powerful solution for you!
Instead of just blocking a scam number, we believe that fraudsters need to be punished for their wrongdoings. That is why, with our app's latest Robocall Revenge feature, you can track down scammers, file a robocall lawsuit against them, and claim up to $3,000 in court settlements.
To start using Robo Revenge today, simply open DoNotPay in a .
Here is what fighting back against robocall scams looks like with DoNotPay:
You get a scam robocall

The fraudster tries to extort money from you

You open DoNotPay and select Robo Revenge

Our app generates a

free virtual credit card

for you

You share the

virtual credit card

details with the scammer

We track them down based on the transaction details

We help you write a dispute letter and file a claim against the scammer
Virtual Credit Cards Are Absolutely Essential
DoNotPay is the only robocall-blocking solution that uses virtual credit cards to take down scammers. There are two main reasons why we use VCCs:
Virtual credit cards allow us to keep your personal information far from the fraudsters' hands

Virtual credit cards enable us to track down scammers when they try to charge your virtual account
For the time being, we can only help you take down domestic robocallers. Location information is mandatory for filing a robocall lawsuit, and we simply cannot access that information with overseas callers.
Third-Party Robocall Blockers You Have to Try
Using a robocall blocker is an efficient and reliable solution for keeping scam callers at bay. While major phone carriers provide robocall blocking services to their customers, they will not be up to par until STIR/SHAKEN standards get implemented. That is why third-party apps do a better job of stopping robocallers in their tracks. Some of the best robocall blockers on the market are:
Robocall Blocker

Service Summary

Free basic service

$2.99 per month for the Hiya Premium package

User-friendly interface

Area code blocking

Ad-free basic version

Free 7-day trial

$2.99 per month or $24.99 per year for Android devices

$3.99 per month or $29.99 per year for iOS devices

Answer Bots

Customizable Answer Bot messages

Free basic service

Personal blacklist feature

$2.99 per month or $26.9 per year for Truecaller Premium

$249 per year for Truecaller Premium Gold

Precise and efficient caller ID service

Free two-week trial period

$1.99 per month

Free for VoIP landlines

Allows legal robocalls

User-friendly interface

Extensive database of verified scam numbers
Using Your Smartphone to Block Spam Callers
Regardless of whether you are using an iOS or Android device, your smartphone boasts a number blocking feature.
Keep in mind that this solution can be effective in fighting back against spam telemarketers or other legal businesses that use automated calls to promote their products and services.
To keep their scam going for as long as possible, fraudsters have a habit of changing their phone numbers frequently, and because of that, blocking them can be a completely futile endeavor.
How to Block a Number on an iPhone
If you are using an iPhone, you have the option to block a specific number or silence all unknown callers (the latter is available only on iOS 13 devices or higher).
To block a number on an iPhone, you must:
Open the Phone app

Select Recents

Tap the info icon next to the number you want to block

Choose Block this Caller

Select Block Contact
To silence all unknown callers, you have to:
Open Settings

Select Phone

Turn on the Silence Unknown Callers switch
How to Block a Number on an Android Smartphone
Similar to iPhones, Android devices allow you to block certain numbers or all unidentified numbers that try to reach you.
To block a number on an Android smartphone, you need to:
Open the Phone app

Select Recent Calls

Tap on the number and select Block or Report as spam

Confirm that you want to block the selected number
To block all unidentified numbers, you have to:
Open the Phone app

Select Settings

Toggle on the Block Unidentified Numbers switch
Blocking Robocalls on a Landline
Most households in America use Voice over Internet Protocol (VoIP) landlines that rely on more sophisticated and up-to-date technology, unlike traditional copper wire landlines. Because VoIP landlines use advanced technology, STIR/SHAKEN standards will be implemented on them in the foreseeable future.
Modern VoIP landlines can utilize third-party number blocking apps such as Nomorobo to fight back against robocalls.
Nomorobo is free of charge for VoIP landlines, and it uses the so-called "simultaneous ring" technology to ward off annoying robocallers.
Every time your phone rings, Nomorobo gets the call as well. If the app picks up the call first, it will run the number through its database in an effort to discern whether you are dealing with a scammer or not. If Nomorobo verifies the number as fraudulent, your phone does not ring the second time.
Blocking Robocalls on Copper Wire Landlines
Dealing with robocalls on copper wire landlines is not as straightforward as it is with VoIP landlines. To protect yourself from scam callers, you would need to purchase additional hardware and attach it to your phone.
These devices screen out scam numbers when they detect them, but the problem is that they have a limited database of "bad numbers" that cannot be expanded.
Given how frequently fraudsters change their numbers, these devices are simply not efficient in stopping scammers from bothering you.
Additionally, given that copper wire landlines are not fully digitalized, they do not support STIR/SHAKEN standards.
DoNotPay Changed the Landscape

Thanks to DoNotPay, the digital assistant landscape will never be the same. Do you need to lower your bills? Do you need help paying bills? Do you want to report a robocall? DoNotPay has solutions for all of these issues, as well as many others. Start using our services by opening DoNotPay in a . Our app can help you:
Dispute traffic tickets

Fight speeding tickets