SFO Lost and Found Department—All You Need To Know
Being the largest airport in the California Bay area, the San Francisco airport (SFO) serves around 35,000 people daily, and many of them lose something in the facility's vicinity. If you are one of those people, don't fret because you are likely to retrieve your lost item—be it your phone, wallet, or luggage—if you act quickly.
DoNotPay compiled all the relevant information on how to in one place so you can find your lost item in no time!
What To Do if You Lose Something Near the San Francisco Airport
There are several ways to start the process of finding your lost item, depending on where you suspect the incident happened:
On an airplane
On the bus to the Long-Term Parking Lot or Rental Car Center
Public areas of the San Francisco airport
Security checkpoints
What To Do if You Lost Something on an Airplane
If you lost your item on an airplane while flying to or from the San Francisco airport, you will have to contact the airline you flew with. You can find the contact information for all SFO airlines on the airport's website.
Losing Items on the Bus to the Long-Term Parking Lot or Rental Car Center
The SFO Shuttle Bus Company handles items left behind in its vehicles, and you can contact it by calling 415-915-9760.
Items Lost in Public Areas of the San Francisco Airport
The San Francisco Police Department (SFPD) Lost and Found office stores and processes all items lost in public areas of the SFO. To find out how to contact the San Francisco Police Department Lost and Found office, take a look at the following table:
Contact Method
Contact Information
In person
Terminal 1, Arrivals Level, near Domestic Garage Core C Tunnel,

San Francisco airport

By phone
650-821-7014
Via email
sfolostandfound@flysfo.com
The working hours of the SFPD Lost and Found office are Monday through Sunday, 8:00 a.m. to 10:00 p.m. If you call the office and nobody answers, leave a message with:
Your first and last name
Your contact information, such as your:
A detailed description of the item you lost
The time and location you last saw your item
If you decide to write an email, include pictures and a receipt for the lost item, if you have any.
Finding Items Lost at SFO Security Checkpoints
Covenant Aviation Security (CAS) is in charge of all items lost at SFO security checkpoints, and you can contact the company's lost and found office by:
Calling 650-457-2670
Sending an email to lostandfound@covenantsecurity.com
The working hours of the CAS lost and found office are Monday through Friday, 9:00 a.m. to 3:00 p.m.
DoNotPay—An Easier Way To Contact Airports and Locate Lost Items
All of the contact methods mentioned above can be tiring, complicated, and time-consuming. You want to learn about your item's whereabouts and get it back as soon as possible—that's whyDoNotPay helps you contact the department you need without any hassle!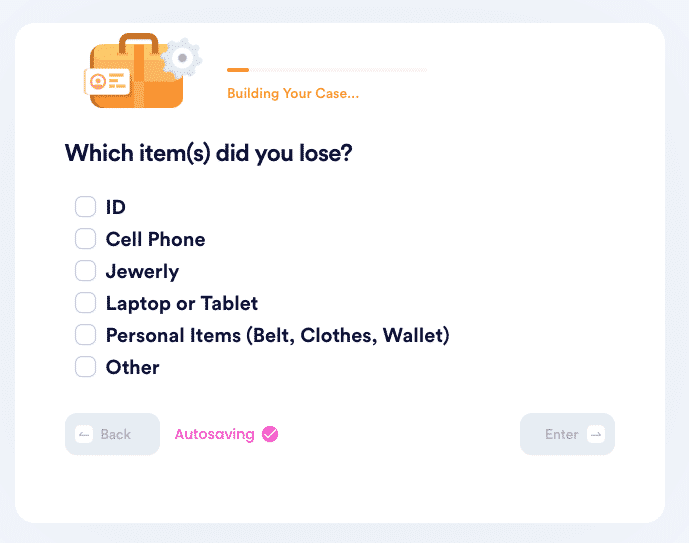 The process takes only a few minutes, and all you need to do is:
Type Find Lost Airport Items into the search bar
Tell us more about the incident:

When did you last see your item?
Where do you suspect you lost the object?
What does the item look like?
After you complete all steps, our app will:
Get in touch with the airport you need
Track your lost luggage or other items
Inform you about your item's status and location (if found)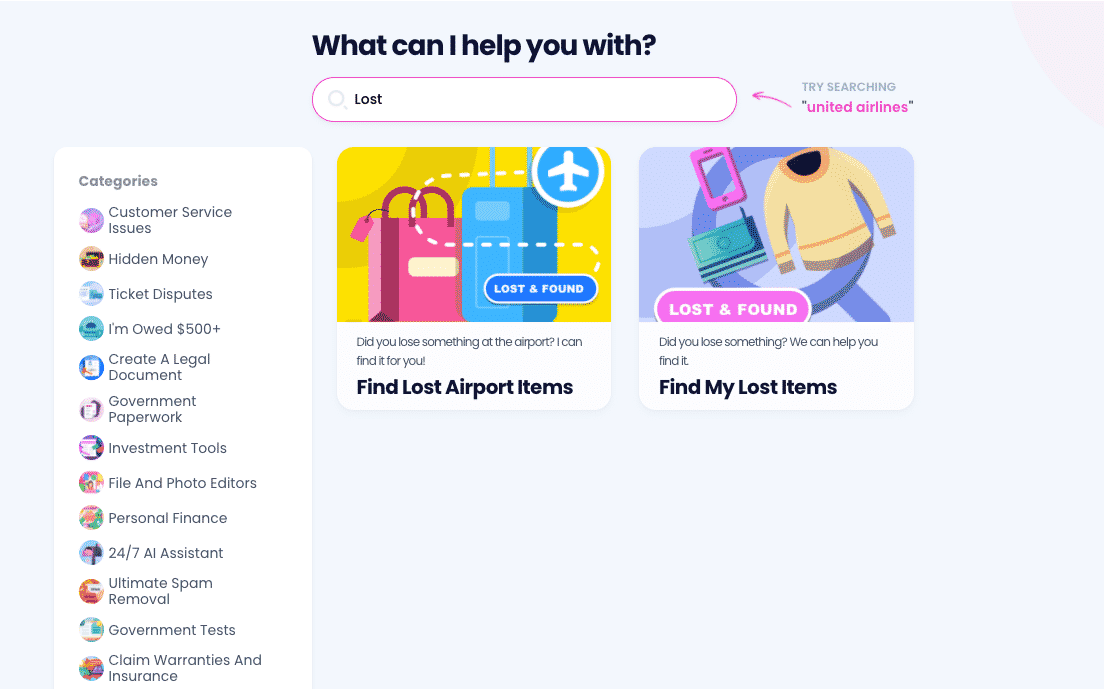 Administrative Issues Are No Longer a Problem With DoNotPay
By signing up with DoNotPay, you can say goodbye to tiring bureaucracy and:
Our App Generates Legal Documents and Letters in Your Stead
If you need some important paperwork, DoNotPay can generate it for you in record time! Our tools can assist you in drafting the following categories of documents:
Legal Documents
Appeals and Letters

Revocable living trusts

Advance health care directives

, including living wills and medical powers of attorney

Standard powers of attorney

Divorce settlement agreements

Defamation demand letters

Property tax appeals
All legal documents you create can also be notarized and faxed online in our app!