Is the Sezzle Virtual Card the Best Option for You?

The Sezzle virtual card allows you to make purchases that you pay off in installments. When you need to make a larger purchase and your credit score could use a boost, use Sezzle to split your purchase into four payments. When you make your payments on time, the company will report your on-time payments to the credit reporting bureaus, giving your score a boost.
We will also discuss DoNotPay's new free trial card. This is a different type of virtual card that can be used without providing your credit card information directly to the merchant. Here are some of the other product series you might be interested in checking out.
What is a Sezzle Virtual Card Used For?
The  allows Sezzle members to make a purchase that is billed in 4 installments. This means you can make that big purchase that you have been anxious to make even if you do not have the full amount in your account. When you become a member, you will be approved for a spending limit based on your financial situation.
Sezzle cards can be used at any online retailer, by phone, and even in-store. Just present your card information and complete your purchase the same as with any debit card. The store does not get notified that you are making your purchase on an installment plan. The terms stay between you and Sezzle.
Improve Your Credit While You Shop
When you use Sezzle to make purchases and then keep your installment payments current, Sezzle will report to the three credit reporting bureaus that you are paying on time. This will boost your credit score over time and looks good to other potential creditors. If you do not keep the installments paid currently, there could be a negative impact as well.
How Does the Sezzle Virtual Card Work?
If you have been approved for a Sezzle virtual card, you can request the card in the app.
You will be given a 16-digit card number with an expiration date and CVV.
You can then purchase with the card just like you would any other debit card.
The merchant will show the status of your order as paid.
You make your first payment on the purchase to Sezzle, which is 25% of the purchase price.
Every two weeks you will make another payment to Sezzle. 
Is There a Charge for a Sezzle Card?
There is no charge to sign up for Sezzle, no membership fee, and no charge for issuing a Sezzle virtual card. You will be charged 25% of the total purchase price at the time of purchase. You will then be charged 25% more every two weeks until you have paid in full.
At Purchase- Pay 25% of total
Two weeks later- Pay 25% of total
Two weeks later- Pay 25% of total
Two weeks later- Pay 25% of total
How You Can Get Your Own Sezzle Virtual Card
When you download the Sezzle app from the app store for your device and open it for the first time, you will need to make an account. When your account has been approved, you will have your approved spending limit available in the app. You must then go to the cards tab in the app and request your
You can choose between the two Sezzle card types
Card Type
Fees
Requirements
Benefits
Sezzle
None

Must be 18 Years Old
Have a US or Canadian Phone Number that can receive texts
A working email address

Buy Now Pay Later in 4 easy installments in 6 weeks
Interest-Free.

Sezzle Up
None

All of the above
Link your bank account
Pay your order.
Enter your Social Security Number
Verify your identity

All of the above
Increase your credit score by allowing Sezzle to report your payment history to the credit bureaus.
What is a DoNotPay Free Trial Card Used For?

There are plenty of reasons for using a DoNotPay free trial card.
Not linked to your bank account.
Protection from data breaches.
Take advantage of free trial offers.
Cancels automatically for you.
Cannot be charged.
One-time use cards, make a new one for each use.
Never give out your real account information.
No risk of fraud.
Where Can a DoNotPay Free Trial Card Be Used?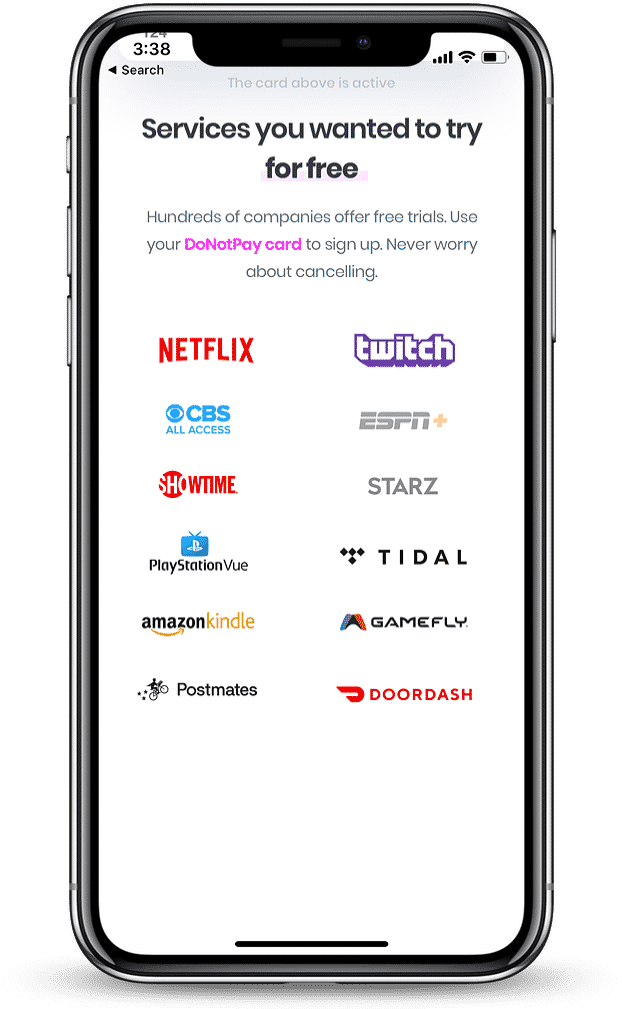 Your free trial card from DoNotPay can be used by any company or entity that offers free trials. Here are some common places where a free trial card has been used successfully.
What Else Can You Do With DoNotPay?
The products that DoNotPay offers save you money and time in countless ways. Handle your tasks quickly, easily, and successfully. With DoNotPay, you will find you have time and money to spare. Find the next product to help you save.
Or you can learn more about credit card products in these articles.