How to Get a Teachable Free Trial With a Virtual Credit Card

Teachable is a learning management system that provides an online platform for creating and teaching courses.  Similar to an online classroom, content creators create a course and upload them onto Teachable.  Teachable takes care of everything from web hosting to payment processing and offers several plan tiers that increase in options as the cost increases.  
You can obtain a 30-day Teachable free trial on any of their paid plans. Or, you can sign up for their Forever Free plan which offers basics that are all free.
So what happens if you sign up for the 30-day Teachable free trial and forget to cancel it? When you give up your credit card information, your card will automatically be charged.  Even though Teachable says that you can cancel at any time, sometimes by the time you realized you have been charged, you have already completed a billing cycle, and it is too late.  This is where DoNotPay can help.
DoNotPay can help with our virtual credit card.  We can make it easy to sign up for the free trial and never get charged, even if you forget to cancel!
What Are the Teachable Plans and How Much Do They Cost?
Teachable has several plans to choose from, and you can always upgrade from one plan to the other if you need more options.
Plan
Cost
Basic Features
Forever Free
The cost for this plan is free for as long as you use it

Unlimited students
$1 + 10% per transaction
Instant payouts
Unlimited courses
Unlimited coaching services
Product bundles
Course design templates
1 admin-level user Admin users include primary owner, owners, and authors.
Product support
Third-party integrations  Includes Google Analytics, Sumo, and Segment
Basic quizzes

Basic Plan
$29 per month, paid annually
All features in Forever Free plan are included.  Plus:

5% per transaction
 Members only community access
Two Admin-level users
Product support
Course creator training.
Custom domain support
Coupon codes
Integrated email marketing
Third-party integrations
Private student community.

Pro Plan
$99 per month, paid annually
All features that were included in the Basic Plan, plus:

No transaction fees
Five admin level users
Priority product support
Graded quizzes
Advanced reports
Unbranded website
Course completion certificates
Course compliance
Integrated affiliate marketing
Group coaching calls

Business Plan
$249 per month, billed annually

Twenty admin level users
Manual student imports
Bulk student enrollments
Custom user roles
Advanced theme customization
How can I get a thirty-day Teachable free trial?
If you are interested in getting a thirty-day free trial from Teachable, start by going to the Teachable website.
Click on the pricing button.
Choose any paid plan.
Login and enter the details.
Pay with your credit card.
Start your trial.
Avoid Automatic Renewal With DoNotPay Virtual Credit Card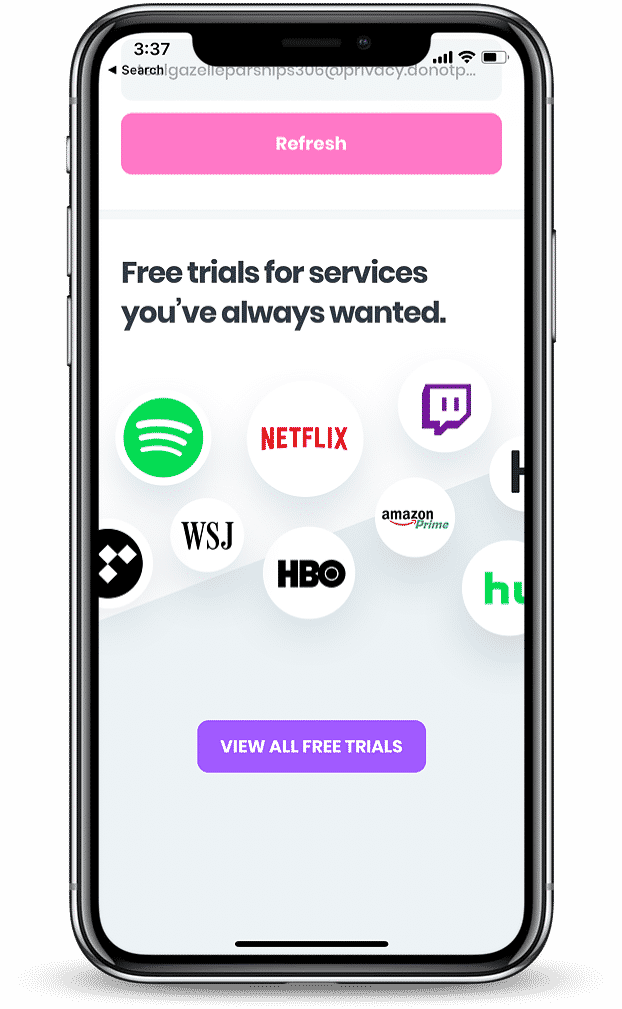 We know you are busy, and it's easy to forget to cancel a free trial.  But with DoNotPay's virtual credit card, you will not have to worry.  Even if you forget to cancel, you will never be charged.  Here is how it works:
Search free trial card on DoNotPay and enter the company you want a free trial for.
We'll automatically generate a virtual credit card that you can use for that merchant. Copy the card details shown on your screen.
Use the card to sign up for your free trial and sit back to relax and enjoy!
In just three quick and easy steps, you have gotten your free trial and will never be charged!  And you are keeping your personal card information private and secure.
What Else Do I Need to Know?
Using DoNotPay's virtual credit cards is a safe and secure way to be sure you can enjoy your free trial subscription, product, or service.  And even if you forget to cancel before the end of the trial period, you won't be charged.  But there are a few things that you should know.
Some things to note about our free trial cards:
You can only use each card once
Each card gets deactivated as soon as it's used
You can't make actual purchases using the cards
The main point of the card is to help you avoid unwanted charges and subscriptions that you do not want.
The card will be deactivated and will not be usable after one use.
What Else Can DoNotPay Do?
DoNotPay is your resource for solving nearly all your problems quickly and easily.  We work to get you the best results possible, no matter what problem you need solved.  DoNotPay can help with these problems and more, saving you time, money, and stress.
Try it today!