How To Claim Service Line Warranties of America Warranty the Easy Way
Service Line Warranties of America (SLWA) is a home repair service company from Pennsylvania. It offers repair plans for sewer, gas, electrical, and plumbing lines. The company covers damage to utility lines unlike standard home warranties.
If you are experiencing problems with claiming your home warranty, DoNotPay can assist you in the process!
Service Line Warranties of America Warranty Plans and Coverage
Service Line Warranties of America offers various plans for your utility systems, but it doesn't cover any appliances. Unlike other home warranties, it doesn't require a service call fee. You will only need to pay a monthly fee.
The company offers four repair plans:
Water line repair plan

Sewer line repair plan

Gas line repair plan

Electrical line repair plan
You can see what the plans cover below:
Repair Plan
Coverage

Water Line Repair Plan

Pipe replacement or repair

Repair and replacement of seals and joints

Pipe unblocking

Fusing

Welding

Pipe cutting

Sewer Line Repair Plan

Clogged drain

Leaking wax seal

Burst interior water pipe repair

Unblocking an overflowing toilet or sink due to a clogged drain

Leaking supply pipe to the water heater

Pipe replacement or repair

Repair and replacement of seals and joints

Pipe unblocking

Gas Line Repair Plan

Natural gas supply lines

Gas safety shutoff valve

Sections of the natural gas supply pipe

Sections of pipe furnace

Electrical Line Repair Plan

Faulty or damaged electrical outlet

Faulty or damaged GFCI outlet

Broken light switch

Faulty wiring to exhaust fan

Distribution center (panel or fuse box)

Insulator

Riser

Weatherhead

Permanent wiring

High voltage wiring

Service entrance conductor
How To File a Service Line Warranties of America Claim by Yourself
You can file a claim by calling the company's 24/7 repair hotline.
Here is how to do it:
Call the Repair Hotline at

1-866-922-9006

Provide the necessary details about your warranty

Tell the customer support specialist about your problem

Wait for further instructions
After you make the call, the company will send out a local licensed technician to your home. They should be able to assess the damage and provide a repair or replacement. After the repairs are complete, you have to sign a completion form, and the technician will be paid up to your annual benefit amount.
Is Service Line Warranties of America Legit?
Service Line Warranties has been accredited by the Better Business Bureau (BBB) for the past 14 years with an A+ rating. It is a legit company and a provider for the League of Cities Service Line Warranty Program.
The company charges low monthly premiums and has no service call fees. Even though it claims to respond to calls immediately, users have complained that the company is slow to send out technicians—even if it's an emergency.
The fees and process times are often incorrect and delayed, and warranty claims are denied due to late fees.
If you are having a problem claiming your warranty with this provider, DoNotPay can help you fix the issue easily!
Warranty Claims Are No Longer an Issue With the Help of DoNotPay
Claiming a warranty is a long process that often costs you time and energy. If you don't want to lose precious time while a home system is broken and would like to prevent further damages, you can file a warranty claim with DoNotPay. We can guide you through the process in a matter of minutes!
Follow these simple steps:
Open DoNotPay in your

Locate the

Claim Warranty

feature

Click on

Home Warranty

Select your home warranty provider

Explain your issue in detail
DoNotPay will submit the claim in your name and send it to the provider. The customer support or service contractor should contact you for an appointment.
We can also provide you with detailed reviews about the best home warranties in America.
Our app can assist you with claiming your car warranty or extended warranty for used cars, and we will help you with a dealer who refuses to cancel an extended warranty.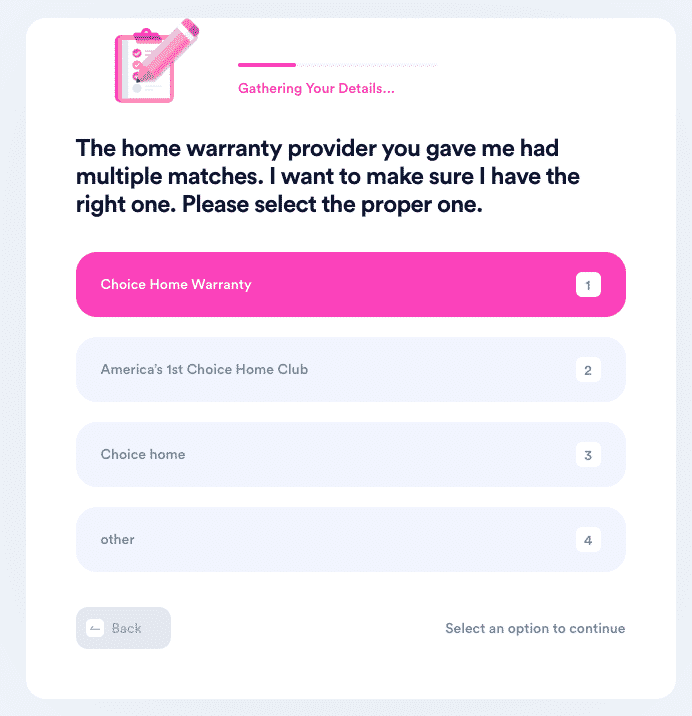 File an Appeal for Your Denied Warranty Claim With DoNotPay
Home warranty providers are quick to deny your warranty claim. If you don't act fast after your claim gets rejected, you will lose money. The utility system will also not be repaired, which can lead to further damage to your home. If your warranty claim was rejected by Service Line Warranties of America, DoNotPay has a solution for you! Our app offers an easy way to file an appeal.
You can do it by following these instructions:
Open DoNotPay in your

Go to the

Claim Warranty

feature

Select

Appeal a Denied Warranty Claim

Provide the name of the company and details of your denied warranty claim

Click on

Submit
Our app will generate an appeal letter and send it to the warranty provider in your name. A customer support rep should contact you soon.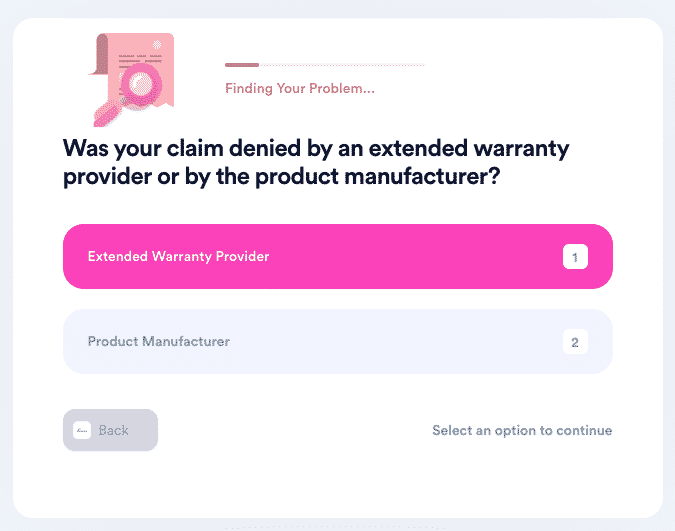 Explore the Full Range of DoNotPay's Services
Don't let annoying bureaucracy stop you from exercising your rights or finding new opportunities. DoNotPay—the world's first robot lawyer—comes with a diverse portfolio full of practical shortcuts for:
Struggling with finances? Our app will help you manage unpaid bills, find and claim lost money in any state, or get college application fee waivers.
Minimize Paperwork With DoNotPay
Writing letters, filing claims, sending requests—these chores are nobody's idea of fun. Thanks to DoNotPay, you can bypass these menial tasks with a few clicks in your browser.
Our platform is full of useful tips and features for filing insurance and warranty claims, dealing with parking tickets, getting refunds and chargebacks, or writing harassment cease-and-desist letters.
DMV offices don't have to be the place where hope goes to die. With DoNotPay, you will be able to schedule any DMV appointment without the nightmare of waiting in lines. While you're at it, you can check out our guides and practice tests for the best driving exam preparation!