A Quick Guide to Finding Scholarships for Second-Degree Students
Not interested in going to grad school? Pursuing a second bachelor's degree may be a better option than going for a master's degree—it's less expensive and allows a career change. You can make this journey even less expensive by applying for financial aid, but note that you'll only be eligible for a limited number of programs.
Take a few minutes to read this comprehensive guide and find out everything you need to know about applying for scholarships for second-degree students.
Financial Aid for Second Bachelor's Degree Explained
The only federal scholarships you can apply for as a second-degree student are:
Federal Loans

Federal Stafford Loans
Federal Perkins Loans
PLUS Loans

Federal Work-Study—mostly on-campus jobs
If you obtained a bachelor's degree from a foreign or non-accredited college, you're not eligible for federal aid. If an institution judges that the foreign degree is not equivalent to a U.S. bachelor's degree, it might make an exception.
Your federal financial aid options may be limited, but you can still try other sources. Pursuing a second bachelor's degree doesn't significantly affect your eligibility for most scholarships awarded by private organizations and companies. You might also still be eligible for some need-based aid.
When it comes to universities and scholarships they provide, most of them are available only to new students. Note that some schools offer reduced tuition to unemployed alumni, so make sure to check if this option exists at your alma mater.
What Are Some of the Best Scholarships for Second-Degree Students?
Here are some of the best scholarships for the second bachelor's degree, along with award amounts and eligibility requirements:
Scholarships
Award Amount
Who Can Apply?
Imagine America
$1,000
Adults who choose to improve themselves by schooling and aspire to work in a trade career
North Park University Second-Degree Merit Scholarships
$9,000 per year
Awarded to students who have already received a bachelor's degree with a minimum college GPA of 2.75 (out of 4.0).

Students must be enrolled full-time to receive this scholarship

Return2College Scholarships
$1,000
Adults of any age who are completing a bachelor's or master's degree
Other Scholarships
You can obtain funding for second-degree studies depending on the unique categories you may belong to, so make sure you organize your search accordingly. Some of the scholarships you may want to consider are the ones for:
Where Can I Find Scholarships for Second Bachelor Degree Students?
Finding scholarships is difficult when you are no longer a high school senior. What you should do first is contact the university you are applying to and get informed about scholarships and grants it offers to enrolled students.
Another way to look for scholarships is to search the internet, but this will take a lot of time and patience. Scholarship lists on different websites may be incomplete or outdated.
Assuming you're employed, you could also check with your employer if they are willing to pay a portion of your tuition—especially if your degree will benefit your current position.
If you don't have time to contact different institutions and go back and forth with them or spend hours on internet research, DoNotPay can save you the trouble. All you have to do is and take a few minutes to answer some questions from our chatbot.
How To Apply for Scholarships for Second Bachelor's Degree
Applying for non-traditional, second-degree scholarships isn't much different than applying for traditional scholarships. In most cases, you'll have to:
Fill out an online form
Submit an official college transcript showing the bachelor's degree and your GPA score
Write a

scholarship essay

Deliver a letter of recommendation
Attach your resume
Pay an application fee
If you want to get a second bachelor's degree from the same school where you got your first, you may have to fill out a readmission application.
Scholarship applications must be submitted within a certain deadline set by each college, school, or institution. To avoid being late and losing the necessary financial aid, check the deadlines as soon as possible.
Let DoNotPay Handle the Search for Scholarships for Second Degree
Finding a good scholarship you qualify for is a difficult task. To make your life easier, opt for DoNotPay. Our app can provide you with a list of scholarships you qualify for in a few minutes.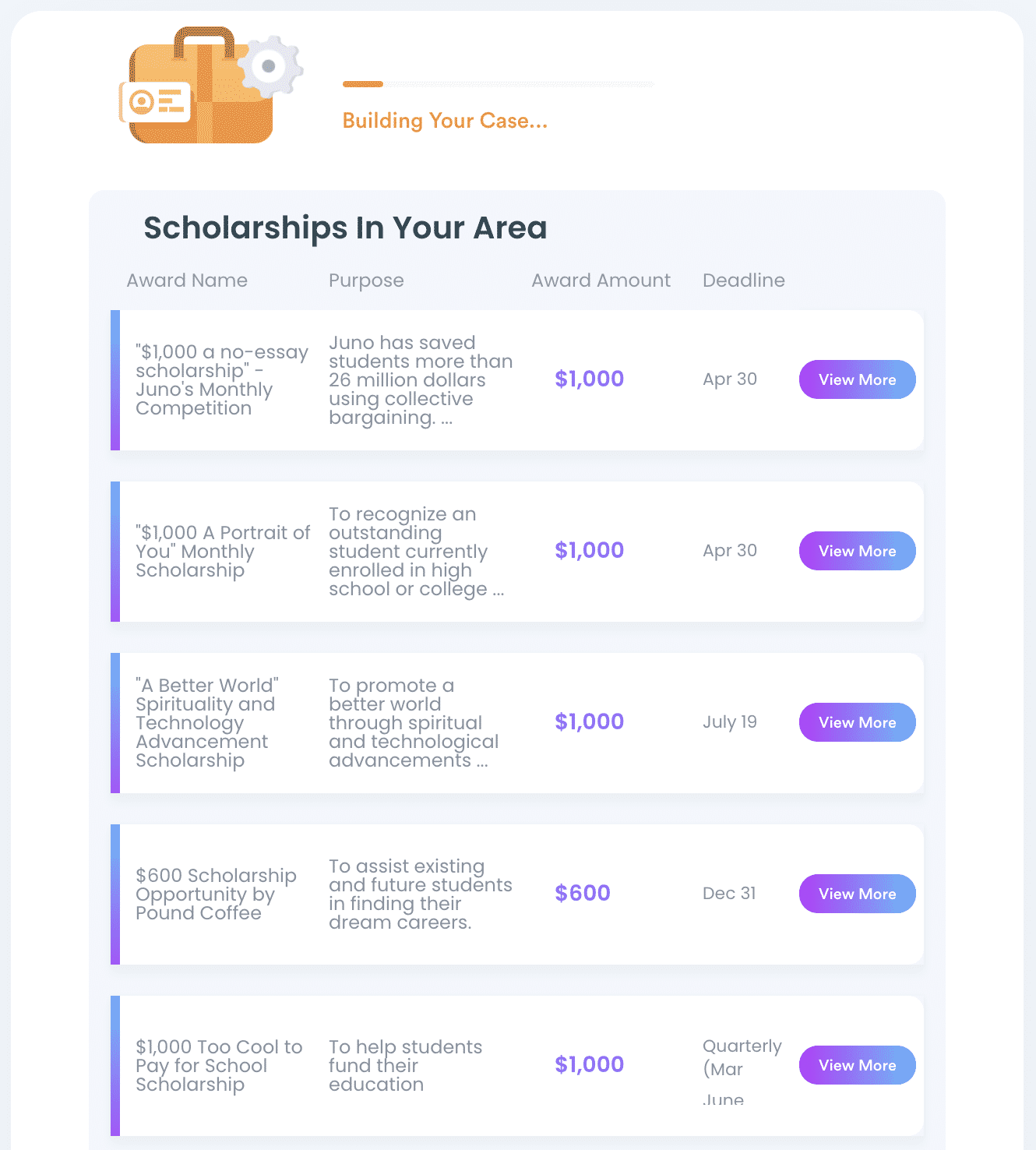 To make this possible, all you have to do is:
from any web browser
Search for the Apply for Scholarships feature
Answer a few questions about:

Your current level of study and grades
Qualifications you possess
Expertise fields you are interested in
Career goals

Click on the Submit button
If you plan to apply for a no-essay scholarship, we have good news! DoNotPay can do it in your stead, saving you the trouble.

Save Time With DoNotPay
DoNotPay is not done helping you! We offer you assistance in completing a variety of tasks quickly and efficiently, such as:
Canceling Subscriptions Has Never Been Easier!
If you keep getting charged a monthly subscription fee even though you no longer want to use a certain service, don't let your money go to waste! Some companies tend to renew your subscription automatically, but that doesn't mean you have to put up with it—use our app to terminate your membership or subscription in a few clicks!
Do you want to sign up for free trials and create a virtual credit card or a burner phone number to protect your sensitive info? Once you subscribe to DoNotPay, we will walk you through the process of doing all of the above in no time!
You can also count on our assistance if you need to get rid of spam or robocalls.