Robocall Lawyer Answers Common Robocall-Related Questions
Fighting robocallers is becoming the number one priority for the Federal Communication Commission (FCC) since more than 50 billion automated calls plague the phones of U.S. citizens annually.
Robocall scams are a lucrative endeavor with more than $10 billion lost on robocall-related frauds in 2019. The Federal Trade Commission (FTC), law-enforcement agencies, and phone carriers joined the fight in an attempt to detect, track down, and prosecute phone scammers all over the States.
Despite all the efforts, robocallers seem to be unstoppable and persistent, so you should learn what you can do to protect yourself from the automated-call pest.
How to Recognize a Robocall?
Recognizing a robocall is not difficult because there is no real person on the other end of the line. Robocalls are recorded messages, so it won't be hard to figure out that you are conversing with a machine.
The problem is that you won't be able to recognize a robocall before you answer the phone. With the number of unwanted calls an average American gets during the day, just picking up and realizing that you got spammed is stressful enough.
Most of us stopped answering calls from unknown or blocked numbers, but modern technology allows callers to use a few tricks that make it difficult to judge the phone call by the number. Robocallers tend to:
Change their number frequently, sometimes for every call, so it's impossible to blacklist or memorize a bad number

Spoof the numbers, which means that the real number is hidden behind a local, official, or familiar number because you are more likely to pick up if you think that a neighbor or a local business is calling
Are Robocalls Legal?
Robocalls are legal and useful. They're an excellent tool to reach out to a significant number of people in a short time. Apart from that, they became quite cost-effective due to the availability of robocall software.
Setting up a robocall operation is pretty easy, so many businesses and institutions turned to robocalls because call-centers are expensive and demanding to manage. Automated calls proved to be convenient to contact clients and spread the message, especially if a caller needed instant confirmation that the information had been received.
Various nonprofits and charities use robocall technology for fund-raising because they don't have to spend a lot of resources on call-centers, especially if they are not famous enough to benefit from volunteers.
Robocalls are also efficient in the case of public announcements or any other messages that have to be spread quickly. Although emails and text messages are even easier to send, robocalls seemed to have much better results.
You can check out the organizations that use robocalls legitimately in the table below.
| | |
| --- | --- |
| Organization | Reason for Calling |
| Pharmacy | To let you know your prescription is ready |
| The Internal Revenue Service | To inform citizens about tax deadlines |
| Educational Institutions | To announce unexpected closures |
| Political campaigns | To present their candidate's program |
| Charities | To ask for donations and explain how to make them |
How to Recognize Illegal Robocalls?
To cut right to the chase—all robocalls that are designed to take your money or your personal information are illegal. That doesn't mean that all of them are robocall scams. Some robocallers want to sell you something real, or they do conduct a legitimate customer survey, but they are not supposed to use automated calls to do that.
The truth is that the number of robocalls that legitimate businesses use is getting lower every day. With phone scams on the rise, robocalls became so unpopular that most companies are opting out of them for good.
The goal of any robocall scam is pretty simple—money. Robocallers can get it in a few ways:
They can obtain your financial data and use it to steal money from your account or to make unauthorized purchases

They can verify that your number is active and that a real person is using it, and then sell the number to other fraudulent businesses for thousands of dollars
If a robocaller asks for any kind of sensitive data to be passed over the phone, you can be sure that you are a target of a phone scam. You should know that fraudsters use various techniques to trick you into revealing that valuable info, so some robocall scams are quite elaborate.
Since spoofing is the number one trick of phone fraudsters, you should be aware that robocalls, allegedly coming from your utility provider or your bank, can also be part of a scam. You can check out some of the famous and ongoing robocall scams in the table below.
| | |
| --- | --- |
| Type of Scam | How to Recognize It? |
| Investment scams | The caller promises excellent returns for small investments |
| Travel scams | The caller offers too-good-to-be-true hotel deals and super cheap airline tickets |
| IRS Scam | The caller aggressively asks you to pay non-existing back taxes by providing your bank account details over the phone |
What Is Robocall Harassment?
Just because robocalls are legal, does not mean that they are not annoying. Some Americans receive up to 40 robocalls each month, which means that they have to put up with this menace every day.
Even if the robocalls you get are legitimate, you may still be a victim of robocall harassment. It's not just about the intention. It has a lot to do with the method as well. Robocall harassment is a real issue, and you can recognize it by the following signs:
You receive robocalls at odd hours

—Anything between 9 p.m. and 8 a.m. is unacceptable

You receive frequent calls regarding the same thing

—It doesn't matter if the organization is legitimate, calling a few times a day is disturbing

You get robocalls with offensive messages

—Some ultra-right or racist organizations, like

Road to Power

, use automated calls to spread hate messages, using foul language and defamation tactics
Robocalls don't have to be scam-related to be unlawful. In the case of robocall harassment, recipients can be bullied and disturbed for propaganda purposes.
How to Stop Robocalls?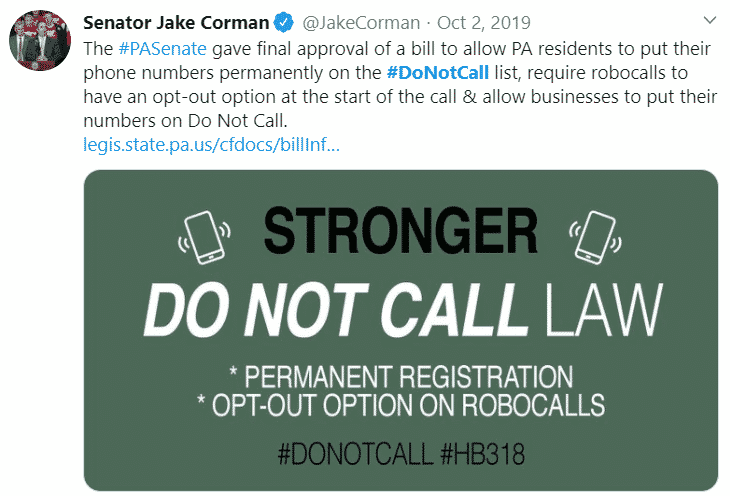 There is no way to stop robocalls altogether. Since some of them are lawful, there is no legal ground to ban them. What you can do is reduce the number of calls you get. There are a few measures you can implement to tone down the robocall volume:
Put your number on the National

Do Not Call List

Activate a

robocall blocker

from your carrier

Install a third-party app

Add an external call-blocker
Do Not Call List
The FTC introduced the Do Not Call List as a means to stop unwanted calls. All citizens that don't want to be disturbed on their phones should register their numbers on the List to announce to telemarketers that their numbers are off limits.
The List showed excellent results in the beginning but became pretty inefficient lately because of the enormous amount of fraudulent robocalls. Since scammers are already breaking the law, they don't have a problem with bypassing the Do Not Call List.
What's good about the List is that it will keep legitimate telemarketers at bay, so you can reduce the number of unwanted calls to some extent. You should know that there is no Do Not Call List expiration date, so once you register, your number stays there until you decide to remove it.
There are some Do Not Call exceptions that are not obliged to check if you are on the List. These are mainly charities and nonprofits but also political campaigns and government agencies that are allowed to use robocalls for public announcements.
Robocall Blockers
All phone carriers added robocall blockers to active numbers as a part of a national fight against robocalls. These tools use advanced call-screening technology to recognize and block spam calls before they get through to you.
In case you receive a lot of robocalls on your cell phone, contact your carrier to check if the service has been activated on your account. AT&T, Verizon, and T-Mobile have their call-screening filters, which are quite successful in detecting spam. You can choose the way you want such calls to be handled:
Blocked completely

Set to ring silently with a spam-alert notification

Redirected to voicemail

Sent to your Missed calls list
Third-Party Spam Blockers
Third-party apps use different methods to block robocalls. They can be excellent at stopping even more calls from coming down to you. Some of them block numbers that were used to make many calls in a short time because they are probably robocalls.
Others test the caller by asking them to follow certain instructions before they can get through to you. Robocallers are not able to press numbers or leave a voicemail, so those numbers are considered suspicious and, consequently, blocked.
Some of the most popular apps on the market are:
All of the above are available only for mobile phones, except Nomorobo, which works on digital home phones as well.
External Call Blockers
Call-blocking devices are not a perfect solution for robocalls, but if you have a traditional landline, they are one of the rare things you can get. You have to attach the device to your home phone physically.
External call blockers can use a:
Blacklist of numbers you don't want to hear from

Whitelist of numbers that are allowed to reach you
The second option is more useful for robocalls because you choose the numbers that can get through. Unless a robocaller spoofs one of those numbers, you are safe from unwanted calls at home.
How to Handle Robocalls That You Answer?
The FCC guide to robocalls states that the best way to deal with a robocall that gets through is to hang up immediately. This is a bit tricky because robocalls are getting sophisticated, and you may need a few minutes to realize that you are talking to a machine.
Some robocalls may appear to come from a well-established business or someone you cooperate with, so you may not be able to recognize the scam right away. The following advice is useful for handling robocalls adequately:
Don't talk to the caller because you will decrease the chances of getting tricked into revealing sensitive data

Don't say

yes

because the scammers can make a recording of your voice and use it for fraudulent activities

Don't press any digits or call back numbers provided by the robocall because it will just confirm that your phone number is valid and lead to more calls

Don't give away your Social Security, bank account, or credit card number to the caller

Don't hesitate to

report robocalls
In case you think that the call may be legitimate, you should still hang up. Once you do, you can look up the number and double-check the information yourself.
Are There Any Laws That Protect People From Robocalls?
The officials have been busy, so there are laws that protect people from robocalls. The most important ones are:
All of them regulate who is allowed to make robocalls and what rules such businesses and institutions should follow. The TRACED Act is the most comprehensive piece of legislation regarding robocalls. It broadened the authorities of the FCC and made the fight against spam callers more efficient.
You should know that telemarketing robocalls are not allowed unless the company has your written consent to make them. A company must inform you that they are going to use robocalls to promote their products. You can remove your number from their calling list whenever you choose to.
Although you are allowed to spoof your number for private reasons, businesses are prohibited from transmitting misleading numbers. They should always display the actual phone number that they are calling from. Robocallers must not use spoofing at all.
Are There Robocall Attorneys?

With the number of illegal robocalls being made daily, legal protection against robocallers is a necessity. There are law firms that specialize in robocall cases, which means that they are experts on the TCPA and TRACED Act. You should be aware that their expertise comes with a hefty price tag.
A good TCPA lawyer can help you sue a robocaller or another spam caller and get:
Up to $1,500 if you can prove that the caller violated the Telephone Consumer Protection Act on purpose

Up to $500 if the caller violated the Telephone Consumer Protection Act without intention

Up to $500 if the caller called you even though you are registered on the Do Not Call List
In case you've been a victim of a phone scam, you can take your robocall lawsuit further and sue the caller for fraud. This would be a more complicated operation, but you would be able to get back some of the money you lost.
Can a Robocall Attorney Help Me to Stop Robocalls?
Robocall attorneys can help you sue scam callers, but they can't stop them. Since robocalls are easy and affordable, the number of attempted scams is growing every day. Although the robocaller you sued will probably give up on calling you, numerous others won't hesitate to add your number to their calling list.
You should also be aware that a lot of phone scammers run their operations abroad, so the U.S. laws don't apply to them. While getting some money for robocall harassment is not that bad, the efficient way to reduce the number of calls is to get an advanced robocall blocker.
Can DoNotPay Be My Robocall Lawyer?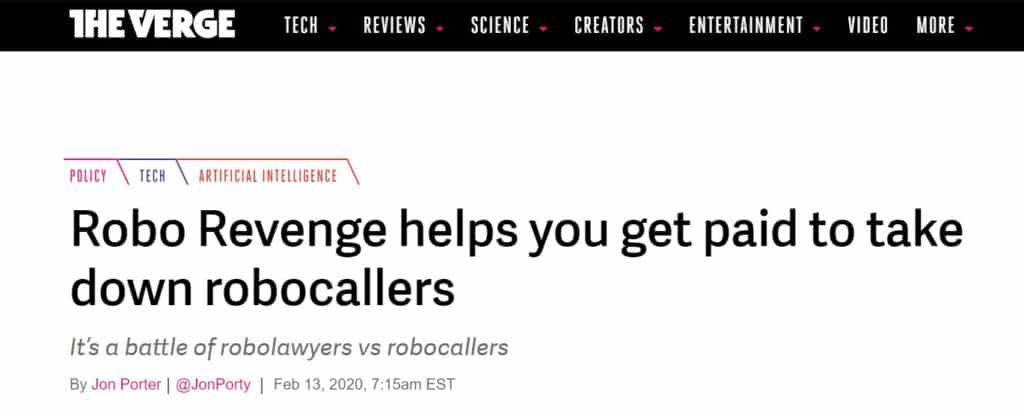 DoNotPay is the best robocall lawyer you can get because it can help you sue the fraudulent organization and get up to $3,000. The fascinating part is that we do almost all the work for you for free. There's no need to gather data or build a complicated case. All you need to do is:
Log on DoNotPay in your

when you get a scammy robocall

Select

RoboRevenge

from the menu

Enter your phone number and DoNotPay will put you on the Do Not Call List

Create a

free virtual credit card

Provide the details of the card to the caller

Wait for the caller to try to charge the card so that DoNotPay can extract their data

Follow the instructions from our virtual legal team and file a

robocall lawsuit
The process is entirely safe because the DoNotPay virtual credit card is just a card number and is not linked to your bank account. It has none of your personal information stored either. The card will look valid to the caller, and the attempted transaction will reveal all robocaller's details necessary for a lawsuit.
What Else Can DoNotPay Do?
DoNotPay created the world's first robot lawyer to help people who can't afford legal counseling. If you are struggling with paying bills, unfair fines, unused subscriptions, or even if you are just looking for ways to lower your bills, our virtual legal advisors are ready to assist you.
Log on DoNotPay in your if you are having a hard time with any of the following:
Disputing traffic tickets

Fighting speeding tickets