Get in Touch With the Reagan Airport Lost and Found Effortlessly
Losing a phone, laptop, or wallet at the airport is the last scenario you want to go through when hoping for a smooth trip. The good news is that, in most cases, the missing items get back to their owners via Lost and Found offices, but contacting them can be quite a challenge.
If you want to inform the Reagan Airport Lost and Found about the incident and get your item back fast, we can help! Check out our article and get a step-by-step guide on contacting the airport or other lost and found departments more efficiently by using DoNotPay!
How To Contact the Washington Reagan Airport Lost and Found Department
Reaching the Reagan National Lost and Found is the best option if you left your valuables in public areas within the airport, such as:
Terminals
Parking lots
Shuttle buses
Concourses
You can contact the office by calling (703) 417-0110 or sending a fax to (703) 417-0635. The working hours are Monday to Friday from 7:30 a.m. to 4 p.m., and most queries get answered within 24 hours. The lines are unavailable on weekends and holidays.
Here's what you should do:
Pick the desired communication channel and contact the sector
Explain what happened and tell the representative where you believe you left the object
Describe the item in detail, including brand, size, color, and other distinctive features
What Other Offices Can You Reach Out To?
Missing items can also end up in other parts of the airport and in surrounding areas, including:
Airplane
Transportation Security Administration (TSA) security checkpoints
DC taxis
Other taxicabs
Airline gates
Jetways
Here's a table containing contact information for all the departments in charge of handling missing item requests:
Where You Lost the Item
You Should Contact
By
Security checkpoints
The TSA Lost and Found
Submitting an electronic form
Airplanes, airline check-ins, jetways, and gate areas
Airlines operating at the Reagan National Airport
Calling:

(888) 247-2262 for Air Canada
(800) 252-7522 for Alaska Airlines
(800) 433-7300 for American Airlines
(800) 221-1212 for Delta Airlines
(800) 432-1359 for Frontier Airlines
(800) 538-2583 for JetBlue
(800) 435-9792 for Southwest Airlines
(800) 864-8331 for United Airlines

DX taxis to the airport
DX Taxicab Commission
Calling (202) 645-6018
How Can You Claim the Item Once It Is Found?
If the representatives confirm that your item has been found, you can get it back in one of the following ways:
Go to the airport's Lost and Found office (Terminal A, first floor, room M-160) to pick up the item yourself
Authorize another person to claim the item for you via a Property Release Form
Request the shipping of the object via Federal Express
Arrange the mailing of the item via U.S. Postal Service (USPS) for the items whose weight doesn't exceed five pounds— excluding laptops and electronic devices
Reporting a Missing Object Is Much Simpler With DoNotPay!
Are you looking for the simplest way to get in touch with the airport and trace your missing luggage or any other object you lost? DoNotPay is a perfect solution for you if you want to avoid:
Calling many numbers or sending emails to multiple addresses if you don't know where you lost the object in question
Waiting until the phone lines are available, which may take hours
Getting passed on to many different representatives
Repeating the description of the misplaced item every time you contact a different office—if communicating with multiple departments
Here's the drill:
Search for Find Lost Items
Give us the general info about the item in question
If an airline keeps your ticket money after calling off or delaying your flight, our app gives you a chance to get a refund. All we need you to do is answer a few questions, and DoNotPay will send a compensation request before you know it!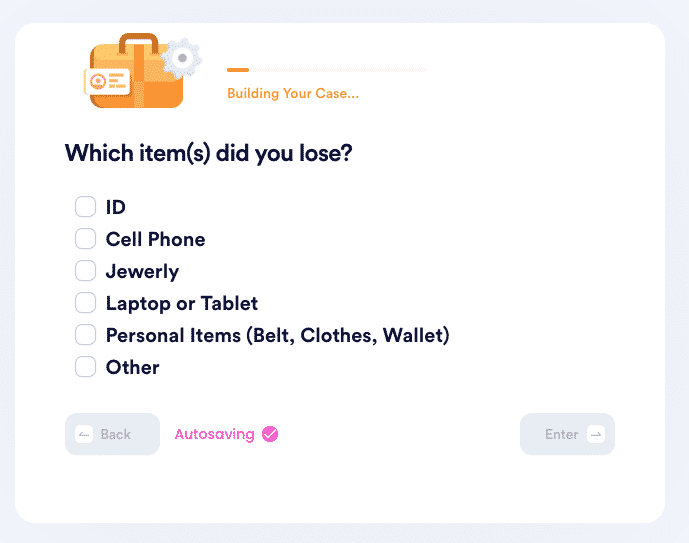 DoNotPay Handles Lengthy and Challenging Tasks on Your Behalf
No time to dedicate yourself to drawn-out procedures or solve administrative issues yourself? Keep calm—that's why DoNotPay is here! By creating an account on our platform, you will be able to:
Keep the Cash in Your Pockets With Our App
DoNotPay doesn't bring you money-saving hacks—it actually assists you in cutting out expenses and living more economically. The tools we provide are made to help you pay less for utilities, end unwanted paid memberships, have college fees waived, or get lower tax bills. You can also save more on education-related costs by applying for scholarships and other financial aid via our app!
If you have a few forgotten gift cards lying around, don't let them go to waste. DoNotPay can cash them out and send the remaining funds to your home address!