PDX Airport Lost and Found—The Best Way To Reach Out
Did you know that passengers at the Portland International Airport have lost more than 26,000 items over the last year? From cell phones, laptops, and wallets to marriage certificates and leaf blowers, travelers keep leaving their valuables in a plane or at the airport.
If you have gone through a similar situation and want to report the lost item but have trouble reaching the PDX Airport Lost and Found office, we have got your back! Our manual helps you discover the easiest way to contact the department without being on hold for hours. Sign up for DoNotPay and let us solve the issue for you in no time.
What Should I Do if I Lose an Object at the PDX Airport?
When you notice that you have lost something after leaving an airport, you have three options:
Whom Can I Contact for a Missing Item at the Portland International Airport?
If you believe you have lost the object in question in public airport areas, Portland Airport Lost and Found office can assist you with the search. It's important to note that this department doesn't keep all the objects they find. The staff keeps the items that belong to the essential goods group, which includes:
Personal electronics, such as phones, laptops, tablets, or e-readers
IDs, passports, and driver's licenses
Credit cards
Keys
Medical supplies
Prescription medications and glasses
Items whose value exceeds $250
Perishable foods and drinks, food containers, clothes, bedding, blankets, and pillows will be disposed of at the end of each working day.
How To Report the Loss to the Portland International Airport Lost and Found
Here's what the reporting procedure for PDX Airport looks like:
Visit the official website of the airport
Select the Traveler Info tab
Pick Lost and Found
Scroll down and click on the At the Airport button
Fill out the form and submit it
You can also call the Lost and Found office at (503) 460-4272. The working hours are Monday through Friday from 10 a.m. to 5 p.m. and from 10 a.m. to 12 p.m. on weekends.
For How Long Will Portland Oregon Airport Lost and Found Keep My Item?
All essential items found at the airport are kept in the PDX Airport Lost and Found for a month. If you don't collect your item, it will be donated or disposed of, which means you won't be able to get it back. For this reason, it's best to file a report as soon as you realize that your item is missing.
What If I Have Lost Something in an Airplane?
The items left in a plane are the responsibility of the airline that operated the particular flight. Here's a list of all airline companies operating at the PDX airport and their phone numbers:
| Company | Phone Number |
| --- | --- |
| Volaris | (888) 865-2747 |
| WestJet | (888) 937-8538 |
| United Airlines | (800) 864-8331 |
| Sun Country | (800) 359-6786 |
| Spirit | (801) 401-2200 |
| Southwest | (800) 435-9792 |
| JetBlue | (800) 538-2583 |
| Icelandair | (800) 223-5500 |
| Hawaiian Airlines | (800) 367-5320 |
| Frontier | (800) 432-1359 |
| Delta | (800) 221-1212 |
| Condor | (866) 960-7915 |
| Boutique Air | (855) 268-8478 |
| American Airlines | (800) 433-7300 |
| Allegiant | (702) 505-8888 |
| Alaska | (800) 252-7522 |
| Air Canada | (888) 689-2247 |
DoNotPay Is a Quick Solution for Reporting a Lost Object
DoNotPay features a handy product that helps you get in touch with the particular airport where you lost your valuables in no time. Tell us what the problem is and what item you misplaced, and we will reach out to the Lost and Found office or any other designated department on your behalf! This way, tracking a missing piece of luggage or anything else you have lost will be much easier and quicker than doing it on your own!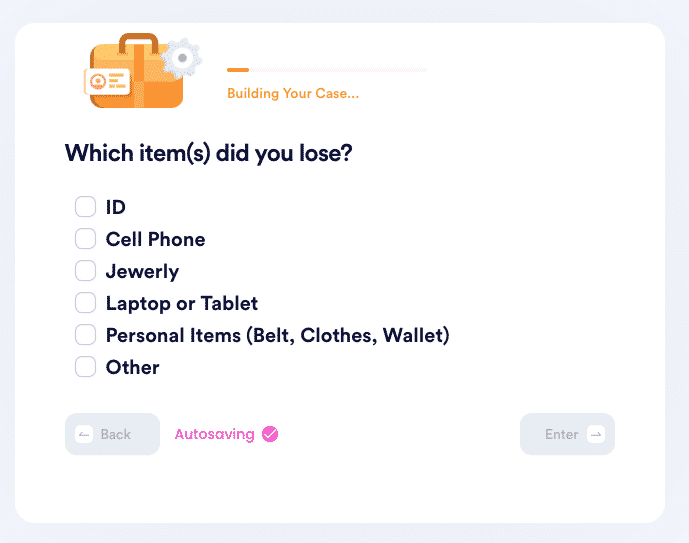 Here's how we can do it:
Go to Find Lost Airport Items
Complete our chatbot's short questionnaire about the item
Our app can also request a refund in your stead if an airline cancels or delays your flight!
Choose From a Vast Variety of DoNotPay's Handy Services
DoNotPay boasts an enviable collection of various tools that help you cope with administrative matters more efficiently. Here is a small portion of the services we generously offer:
| We Can Help You File | We Can Create |
| --- | --- |
| | |
Be Safe Online With the Help of Our App
Keeping your details confident when using the internet is simpler with DoNotPay! Check out virtual credit cards our app can generate for you, and have fun with the free trials no one can charge you for! If you need a quick solution for phone authorization but don't want to use your actual phone number, we can create burner ones and keep your info private.
DoNotPay assists you in reporting defamation as well as stalking and harassment, prevents copyright violation, and helps you eliminate spammers and their annoying texts, emails, and robocalls.