The Scoop on the California Notary Exam
Passing the California notary exam is a must for everyone who wants to become a notary in the Golden State. To make this mandatory step a simple task, you should use practice tests. DoNotPay has the best one available.
What Do You Need To Know About the CA Notary Exam?
If you wish to start working as a notary in California, you should first focus on passing the notary exam. A notary test is not mandatory in every state, but California needs you to pass it and prove you are capable of performing the job properly.
A private company, Cooperative Personnel Services (CPS), administers this proctored exam. This is a written test, and you will have to answer 70% of questions correctly to pass.
The Secretary of State will process test scores of participants who manage to get such scores. The ones who fail will get their retake voucher and original application back.
Why Prepare for the Notary Test in California?
Assuming you want to start your notary job as soon as possible, you wouldn't want to prolong getting your notary license. If you don't prepare for the test, you won't be able to pass—it's that simple.
In case you fail your notary test in California, you will be able to retake it, but only once during the same month. Setting aside some time for notary test preparation will get you feeling confident enough once the time comes to prove your knowledge.
What Are the Best Methods To Get Ready for the Notary Exam in California?
You'll need to use the ancient old technique for passing any knowledge exam—studying. It works because it ensures you have the knowledge you can use on the test later on.
You will have to study for the notary exam simply because you were not born with the knowledge of the notary's responsibilities and tasks. The question is not what, but how to study.
The first part of this process is a bit dry since you will have to read the Notary Public Handbook for the state of California. You shouldn't skip this step because this book contains every piece of information you need to pass the notary test.
It is not easy to remember everything you read in the handbook, and that's when practice tests come of use. Once you've read the book a few times, you can check your knowledge with practice tests. This study method even brings a bit of fun with it, but mind which one you choose. For accurate information and updated question forms, you should opt for DoNotPay!
DoNotPay Can Help You Pass the Notary Exam in CA
The notary test in California is simple if you use DoNotPay's practice test to get ready for it. Take the practice test as many times until you feel completely prepared for the real deal. You can retake the questions immediately or wait to finish the test and then retake it. Here are the only instructions you need to take:
Access DoNotPay from any

web browser

Enter the test name

Pick the test you wish to get ready for

Choose the number of questions you want to have on the test—10, 20, or 30

Initiate the text completion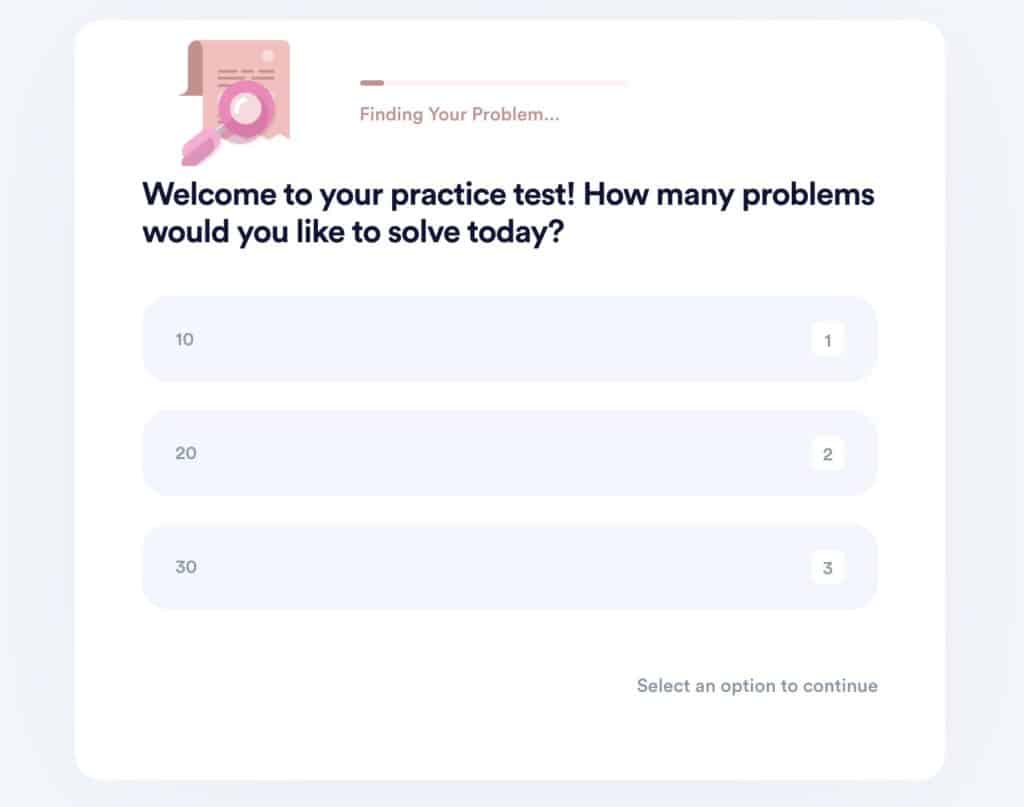 Preparing for Other Government-Issued Tests? DoNotPay Can Help!
DoNotPay offers assistance in preparation for a number of other tests. Whether you are trying to secure a job by obtaining a license or only want to learn to drive, we have you covered.
Take a look at the table below to check out your options:
| | |
| --- | --- |
| Practice Tests for Drivers | Practice Tests for Other Categories |
| | |
We have the info you need to check your ASVAB test scores. As for the drivers, DoNotPay can also tell them how to:
How Can You Schedule the Notary Exam Appointment in CA?
You may make the notary exam appointment in California in two ways:
How To Schedule the Notary Exam in California Online
To make an appointment for your notary exam in California online, you'll need to heed these instructions:
Visit the

CPS HR Consulting

page

Log in or create an account

Enter the required info

Pick the available date and time that fit your schedule
How To Schedule the Notary Exam in California Over the Phone
If you wish to make an appointment for the notary exam in California over the phone, you may do so by following these directions:
Call CPS HR Consulting at

(916) 263-3520

Tell the rep why you are calling

Provide them with the info they ask for

Pick the date and time for your exam
Keep Your Money in Your Pocket and Save Time
With our assistance, you can also appeal parking tickets in any city, get help with bills, make an appointment with the DMV, protect your copyright, and avoid phone number verification!
If you feel like you were wronged either by a faulty product or a delayed or canceled flight, DoNotPay will also help you request a refund from any company or airline hassle-free.
Being on a tight budget isn't easy—knowing that, we've developed features that will get you free trials, unclaimed money, extended warranties, college application fee waivers, and so much more!
Fend Off Scammers With DoNotPay's Help
Are you sick of having a cluttered inbox or getting robocalls? So are the majority of Americans. If you want to get rid of email spam, text message spam, or annoying robocalls, DoNotPay can help you put a stop to them once and for all.
Do you feel like serving justice to companies that wronged you or stalkers and harassers that won't give you a break? Use our AI-driven app to fight for your right!