Pass Your Louisiana Notary Exam With Flying Colors
The advantages of having a Notary license in the U.S. are numerous. While passing the Notary test is a requirement for certain jobs, people often take the exam to upgrade their resume or launch their mobile Notary or Notary Signing Agent business.
If these reasons apply to your situation, you are in the right place! DoNotPay offers a unique insight into the test requirements and the best practice material for your Notary exam.
What Constitutes Becoming a Notary in Louisiana?
Louisiana notaries base their service on several Louisiana laws, such as the Louisiana Civil Code, the Code of Civil Procedure, and the Louisiana Revised Statutes. The position carries a lot of responsibility, which is one of the main reasons applicants for a notary license must follow a complex application procedure. Take a look at the requirements you must fulfill before taking the exam:
Pre-Exam Steps
You should

Determine whether you qualify

Be 18 or older

Own a high school or a high school equivalency diploma, or a certification for completing a home study program authorized by the

State Board of Elementary and Secondary Education

,

Not be convicted or pardoned for a crime

Be a resident citizen or an alien of the State

Know how to read, speak, and write in English

Be registered to vote in the parish where you are seeking commission

Apply for a qualification

Submit your commission documents

Wait for an email confirming your application is approved

Use your applicant ID and the code from the email to submit your documents via the Louisiana Secretary of State website

File the admission documents (a Signature form, an administered Oath of Office, and a Letter of good standing from the LA Supreme Court)

Take the Notary pre-exam assessment

Register for the Notary Exam

Wait for your pre-exam assessment score

Take the notary exam online
Bear in mind that the pre-exam procedures take time and that the deadline for completing them is 30 days before the exam. Make sure to start the process well in advance.
What Does the Louisiana Notary Exam Look Like?
Notary test in Louisiana is conducted in a four-hour sitting. During the exam, you must demonstrate your understanding of the Louisiana notarial law and practice, including specific notarial acts and instruments.
During the exam, you will draw and respond to multiple-choice items based on the content from the official Louisiana Notary Public Examination study guide. You can bring your current study guide edition into the study room and reference them during the examination.
To pass the test, you must answer correctly to at least 75% of the items. The post-statistical analysis of the test can further influence your passing score.
The Louisiana Secretary of State conducts the examination twice a year. You must submit your Notary Exam registration and a $100 fee at least 30 days before the exam.
How To Prepare for Your Louisiana Notary Exam
The Louisiana Notary Test may seem difficult, but having an insight into the examination process and the preparation material should make it less nerve-wracking.
Take a look at the steps you need to take to reduce the test-related anxiety and ace the exam straight away:
Read our guide to pre-exam requirements and complete them in time

Acquire

the official Louisiana Notary Public Examination study guide via online registration that we mentioned above

Take practice tests

Take a look at the

list of applicants

for your term

Consider taking a course or an instruction class via the

Notary exam preparation course providers

list available on the website
Practice for Your Louisiana Notary Exam With DoNotPay's Help
With our Government Test Prep feature, you'll find everything you need to prepare for your Louisiana Notary exam in one place. DoNotPay has the most comprehensive practice test that will help you ace the exam on the first try.
Access the test by opening our platform in any and following this step-by-step guide:
Sign in to DoNotPay

Type in the test name in the search engine

Select the number of questions

Start practicing
DoNotPay offers neat additional features to make your experience even more enjoyable. You can adjust the number of questions according to your knowledge and free time and increase it as you become more confident. Our app allows you to take the test from any device and as many times as you need.
Whether you prefer to correct your mistakes during the test or wait until you finish to retake it, both options are available.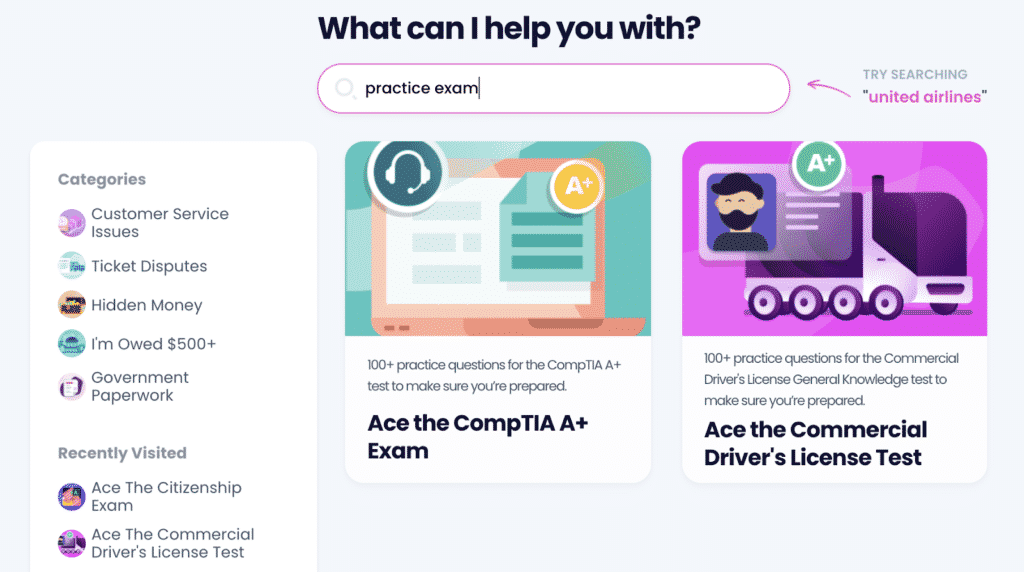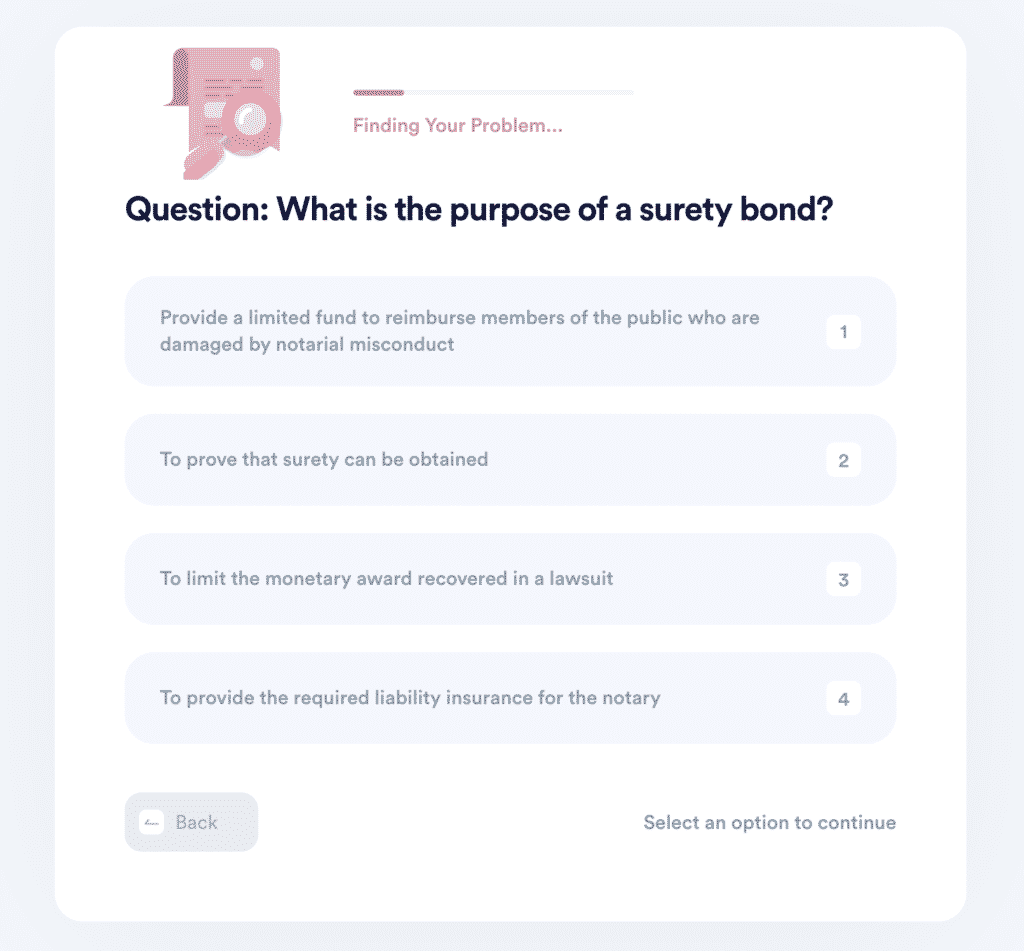 DoNotPay Can Help You Ace Other Government Tests
Use our platform to prepare other government tests! Open DoNotPay in your and access preparation material for:
We can teach you all about the ASVAB test scores. With our help, passing any written driving test and scheduling a driving test appointment will be a piece of cake!
Forget About Bureaucracy With DoNotPay
There's no end to what our app can help you do. From drafting legal documents and asking for bill extensions and reducing property taxes to connecting with an inmate in a federal prison and contesting parking citations, DoNotPay can handle it all and cut through the red tape.
Need to pass a government test? Use our practice tests database to nail it. Looking to file an insurance claim? You've come to the right place. College applications drained your accounts? Request college fee waivers with our assistance.
The DoNotPay app is so versatile that it can easily locate any unclaimed funds under your name or any clinical trials that you're eligible to participate in. We can also schedule DMV appointments and take care of your small claims court documents.
Check Out What Else DoNotPay Has in Store
DoNotPay never stops upping the game. You can explore some of our latest features and see how you can access public records, receive free online fax, submit a warranty claim, or get compensation if you were a victim of a crime.
Alternatively, check out some of our most popular products that aim to reclaim your funds—from getting airline flight compensation and submitting refund and chargeback claims to canceling your unused subscriptions and getting class action cash from email, text, and robocall scammers.